The weekend of the Bunyip bushfire in Victoria was one of the longest weekends of horse photographer and breeder Nicole Emanuel's life.
We were waiting anxiously, fully aware that we were going to have to evacuate. Two nights before D Day, I was up until 2.00am packing negatives, slides, artworks, family treasures, hard drives and camera gear. I spent the next day moving horses to a safe zone, thanks to the extremely generous assistance from dear friends as well as volunteers who dropped everything in their busy lives to come and help strangers. It's an unlooked for bonus, but a real one when people you've never met simply offer all the support they can give you.
I had my float hooked up and ready to go the day before the fires were expected to peak, and from my back verandah I'd been anxiously watching the grey smoke billowing in the distance close to Bunyip.
On the morning of Sunday March 3, my 12-year-old daughter Tilly loaded her two horses and we drove them south of Warragul to a friend's farm – at that stage considered a safe zone.
We'd been going well time-wise and of course I mistakenly thought that the rest of the move would be just as smooth.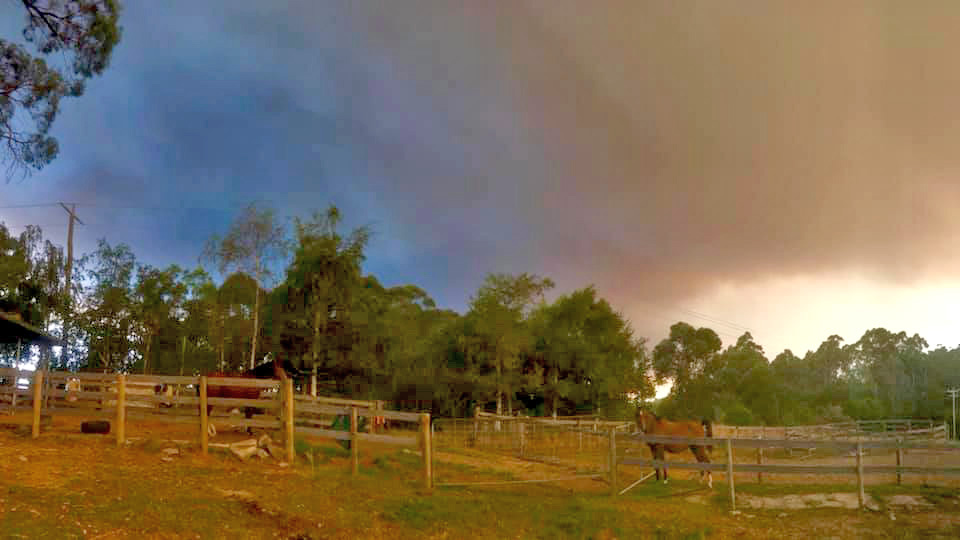 But one thing I now know for certain: if there is a threat of bushfire, and you plan how your day will go it's not going to happen! Particularly when it comes to horses. Horses that might usually load perfectly, may not in an emergency situation. Horses that are normally easy to catch may not be when you are stressed and anxious, and there's an urgent deadline.
We had this exact issue with a friend's appaloosa mare and her three-month-old foal. In hindsight I don't blame them. It was an extraordinary ask for both of them to load on a steep driveway, with a very steep loading ramp, and with a mare that had only ever been trucked. We ended up loading her foal successfully, but as soon as he realised he was on his own in a scary big space without his mum he did one giant cat-leap over the top of us to get back to her.
In the end I felt we were just causing unnecessary stress and wasting valuable time. I also had more pressing issues to deal because one of the volunteers came to tell me that my precious mare, Dancer, was suffering a bad case of choke. The last thing I needed!
Tamara opened the side door of her float to reveal Dancer saturated with sweat, her head down and mouth open, gagging, with a pool of green saliva at her feet.
Should we pull her off? Tamara asked. My mind was racing if we got her off the float, the roads might soon be blocked and that would prevent my vet from getting through to treat her. Was it worse to take her or to leave her?