It's show time! But in the highly competitive confines of the show ring, you'll need a cutting edge. AMANDA MAC asked Madeleine Leva for some tips on achieving that all important stand-out sparkle.
You've spent months in preparation. Your horse is conditioned, fit, healthy, well-educated and is moving beautifully. But no matter whether your thing is riding or in hand, you can bet your well-shined boots that other entrants in your showing events have also been hard at work.
So, what will give you that unmistakeable 'look at me' factor that judges just can't ignore? Essentially, it's all in your attention to detail. If you catch yourself thinking 'oh, that'll just have to do' while plaiting up pre-show, you're likely to discover that actually, it won't do at all!
To put this into perspective, I caught up with Madeleine Leva. Based in the north west of Sydney NSW, Madeleine has been prepping and showing horses (very successfully) for more than 20 years. And for the past 10 of those, she's also been turning out her client's horses to dazzling and show-winning effect. No time like the present then, to gather some great tips on how you and your horse can look your absolute best in the show ring.
Groomed to perfection
Whether ridden or in hand, a show ring given is that your horse should be groomed to perfection – and that includes having a coat that positively glistens in the sun. But how is that achieved? "I always shampoo my horse's body twice to ensure it's absolutely clean," explains Madeleine. "Then I give them a leave on hot oil treatment to seal in the shine. Also, when the plaiting and quarter markings are complete, I finish off with a spray on coat conditioner."
Those pesky plaits
Plaiting can be an exercise that leaves you with sore fingers and not a lot to show for your efforts, so what's the trick? "First off, if you're new to the process of plaiting or clipping, either watch as many tutorials on line as you can or find somebody who can help you. You can learn a lot from watching others at work. Plaiting horse hair takes practice. It varies in thickness plus you're not working on a human who'll sit still – your horse is a moving target," Madeleine laughs.
Her next tip is to buy a good quality plaiting spray, which gives you good grip, and plaiting wax, which helps to control flyaway strands as you sew or band your plaits. And here's another pointer: "You're not washing and conditioning your own hair! Don't use human shampoo on manes and tails, use a product specifically designed for horses with no conditioning ingredients in it. And never condition after washing. Plaiting can be tricky enough so don't make your life harder with silky, slippery hair. Plait first and worry about any additional products afterwards," she stresses.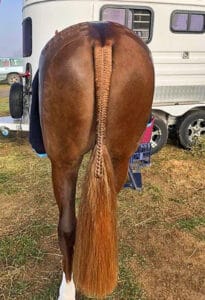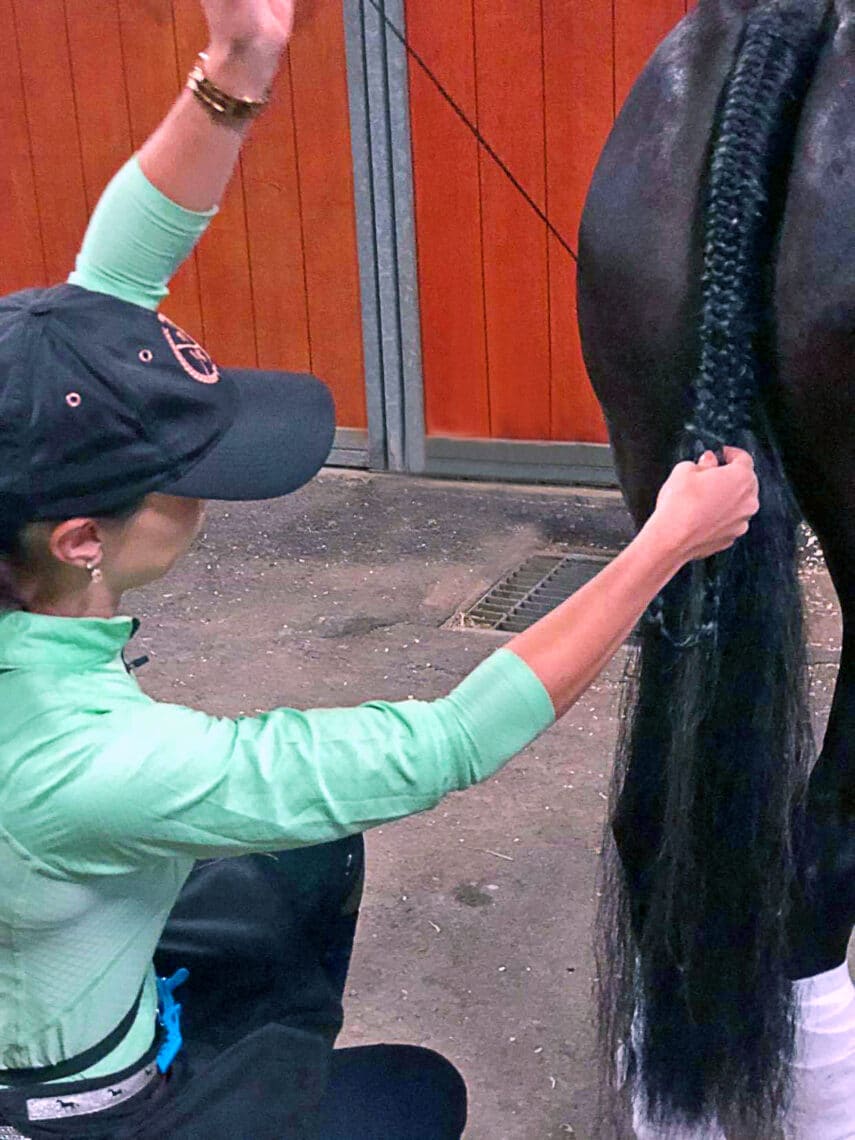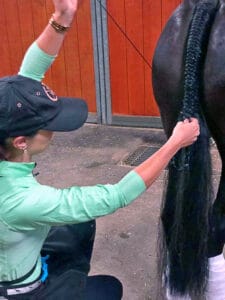 Faces and feet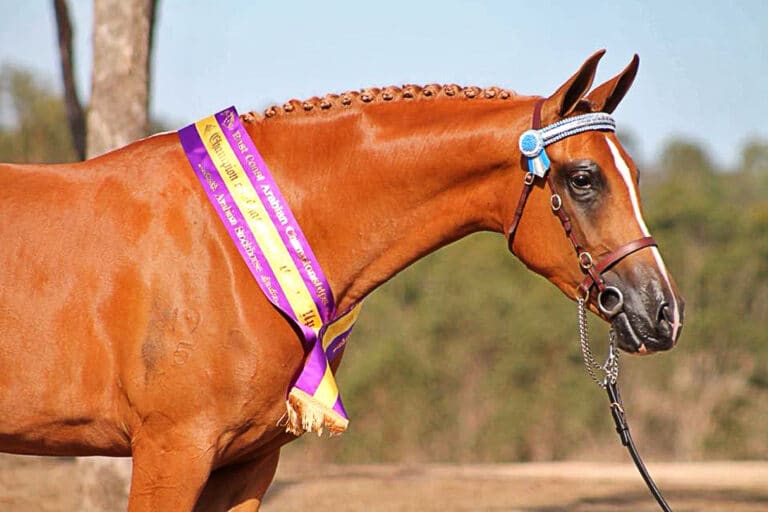 When it comes to makeup, Madeleine is a firm believer that less is more. "Don't overdo the products, it'll spoil the look. It's also easier to work on minimal hair, so I clip hair shorter around the area on which I'm going to apply product. Another benefit to shorter hair is that whatever you're using will have greater staying power and you'll need much less of it. I tend to stick with a good quality matt black for eyelids, and a nice clear gloss to enhance the eyes and muzzle," she explains.
And of course, you'll want to add some shine to your horse's hooves. Madeleine's advice is to sand the hoof before painting, which makes application much easier. "Shop around and look for a quick-drying formula that creates a really high-gloss finish. There're products that prevent dust and dirt from settling on the finished hoof, and also help seal out excess moisture, which is really useful if your horse has soft hooves," she adds.
Making your mark
Quarter marking is not for the faint-hearted, but Madeleine has a trick for creating even, neat squares. "You'll need a good comb that's purpose built. Then, pick a side and spray your horse's rump with quarter marking spray – it works much better than hair spray (Madeleine uses Smart Grooming's products – a product range available exclusively in Australia from Grosvenor Park). Then I use the width of the comb to draw a line along the top of my horse's rump – close to the dorsal – from above the point of the hip, along the croup, to the dock. That creates a guideline as well as giving you the correct width for your checker pattern. Next, I create my first square above the hip by drawing the comb down over the width of my initial line. Then draw another line parallel to and alongside the first and you can begin to fill in your checkerboard pattern, repeating these steps as you work your way down."
Madeleine recommends using small squares because they offer more opportunity to customise the pattern into an inverted pyramid or square. "If a horse is angular through the hips or has high quarters, I'd bring it into a pyramid and keep to small squares. If you've got a horse with a nice rounded rump, go for larger squares which will enhance their shape," she says.
And if you'd like to see exactly how Madeleine works, pop over to her 'Plait My Pony' Facebook page where she offers some excellent tutorial videos, including demonstrations on how to plait and create beautifully even quarter markings.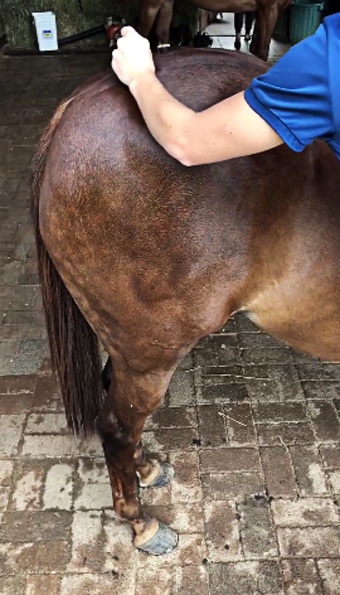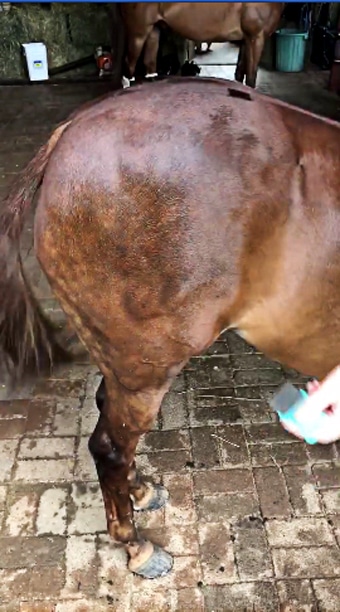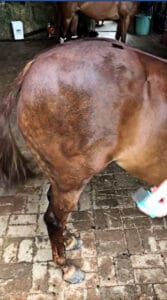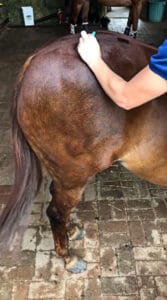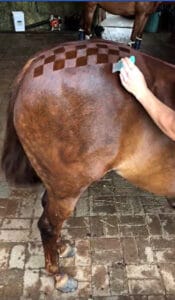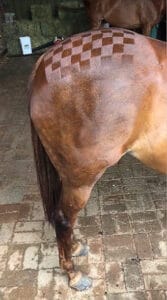 Strike a pose
Now that you have your horse looking absolutely sensational, it's your turn! No matter whether you show in hand or ride, buy good quality, classically styled clothing. "It will wear well, won't go out of fashion and will last over several seasons, saving you a lot of money in the long run," says Madeleine, who has some great dressing tips for in hand showing.
"The first thing to do when you design an in hand look is to coordinate colours for you and your horse. I recommend that you have up to three colours on their browband and match those in your own outfit. More than three colours and the look is too busy."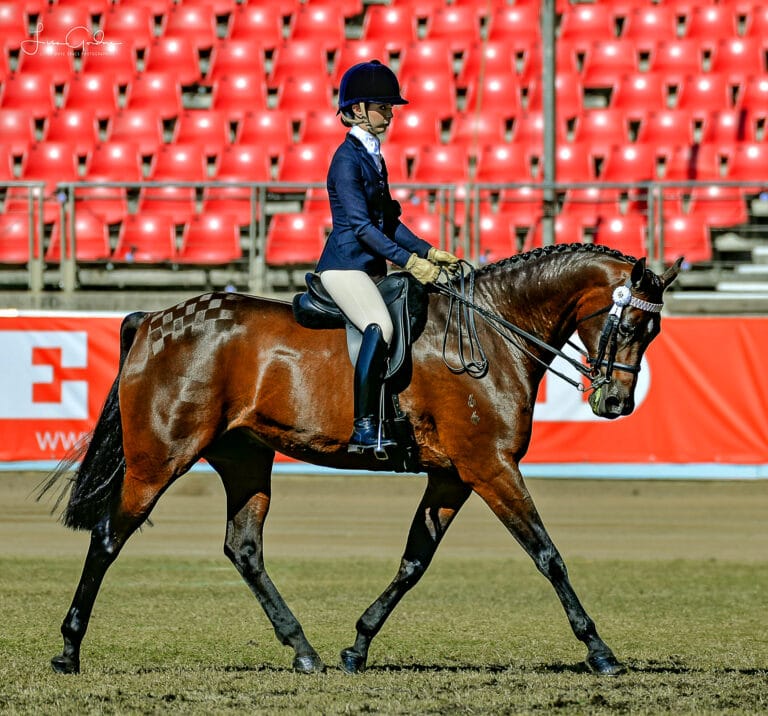 She's also a great believer in simple, clean lines. "For women, chose outfits that are easy to move around in. A business skirt and jacket with matching scarf look great, or a short sleeve dress that fits well so that it falls nicely. Avoid pencil skirts which will impede your movement, and 'A' lines, which lack shape. Tailored pants also look lovely."
A head start
Hats are an excellent accessory when you show in hand, but it's usually best to avoid fascinators during the height of summer. "You want a hat that looks really smart while still protecting your head," Madeleine explains. "Find someone who can make you an elegant hat – preferably one with a band that can be changed for colour matching – and dress it up with feathers or other decorations. Many boutique saddleries now stock hats suitable for showing, or you could have a look online".
When it comes to footwear, her preference is for a smart pair of boots or laced shoes if you're wearing pants. "Or, to go with a dress or skirt, a nice pair of flat shoes that cover your toes and most of your foot for protection – the show ring is not the place for ballet pumps or heels!"
For the gentlemen, Madeleine's message is simple: get a suit! "There's nothing more appealing in the in hand show ring than a guy dressed in a beautifully fitted suit with either a trilby or pork pie hat. You can change your shirt and tie colour to coordinate with your horse, and for your footwear, opt for a quality pair of leather boots or lace up shoes," she advises.
Fashion forward
In ridden show classes, the dress code is simpler. "Firstly, choose whether you want to wear a shirt and tie, or a stock. Stocks are lovely but are more formal. For lower level competition, a shirt and tie is probably the best option," Madeleine suggests. "And remember, choose quality and you'll save money. Stick with light colours for your breeches – cream or off white are great choices. A well-cut jacket is an essential investment and if you shop around you can find good deals. Be sure that your jacket is not too long and that you can breathe in it, and you're all set," she laughs.
And for those special finishing touches? "Invest in a waistcoat colour matched to your jacket. It looks neat and stops your tie from flapping about. For your boots, don't go over the top! Buy shiny leather and leave it there. A dressage cut is very flattering for most riders, but if your horse is 14hh or under, opt for leather jodhpur boots – they're a much more appropriate choice."
Madeleine Leva offers a variety of services including plaiting and braiding, quarter markings, makeup, and a styling for horse and rider. Go to www.facebook.com/plaitmypony/ or email on madeleine-leva@hotmail.com. Smart Grooming range is available from Grosvenor Park, visit grosvenorparkproducts.com.au.
Main Image: Madeleine and Chester, immaculately turned out winners of the 2019 National Capital Horse Show Junior All Breeds Ridden Challenge (Image by Jayzie Photography).