The indefatigable Australian dressage legend has already competed at five Olympic Games. With a move to new stables, a new trainer and new horses, she has Tokyo in her sights, writes Ute Raabe.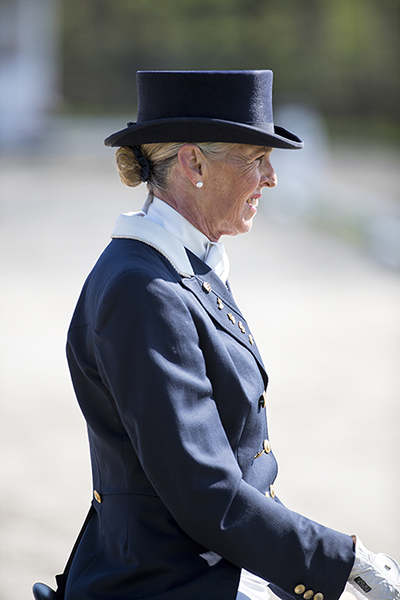 Mary Hanna has just finished schooling her three horses for the day. It's lunchtime in Germany, and a good time to chat at the end of a hectic week, with not just a move into new stables but also preparation for one of her horse's competition comeback the following weekend, but Mary is happy. Her horses have settled in nicely and she and husband Rob already feel at home at Eulenhof, the base for Sweden's top dressage rider, Patrick Kittel. When people ask me where I live, I have to say that I actually live in Germany now. I don't think my family quite get that, Mary confesses.
Between them Mary and Rob have been guiding lights in the Australian dressage scene for many years. Rob has competed successfully as an eventing rider and was the Chef d ™Equipe of the Australian Eventing team for the 2008 and 2012 Olympic Games. He was also the Chef d ™Equipe for Dressage from 2000 to 2005 before taking up the same role for the Eventing team. Mary has been the Australian National Grand Prix Champion on six occasions and works full time as an Equestrian coach and trainer. She gives much of her time to the sport as an NCAS Level III Dressage instructor and an A ™ level Judge. Together, they share a passion for horses and a vision to see Australian riders compete successfully nationally and internationally.
Mary Hanna, née Sutherland, was born in 1954, in Melbourne, growing up in the Western District of Victoria. She attended McArthur State School in Victoria before going to high school at Presbyterian Ladies College and she has a Bachelor of Arts degree from the University of Melbourne.
For Mary horses were part of her day-to-day life – her mother was keen on jumping and hunting and also trained racehorses. Not many people know that Mary came to dressage via a successful career as an event rider. She competed up to Advanced level and was even shortlisted for the World Championships in Kentucky with a horse called Suave, but it wasn't until her mid-twenties that Mary started to get serious about dressage. Fortunately for dressage fans, In the end it became too hard to continue both disciplines at the top level and dressage won out.
Does she miss her days of jumping? She smiles, Occasionally I set up a small jump, like a pole or a cross rail, and have a little pop over it. But my eventing days are well and truly over. At the time I was obsessed with eventing, as much as I am now obsessed with dressage. And if you want to be good at anything, you have to be like that " totally absorbed and passionate.
That passion, followed with absolute dedication, last year saw her receive one of the Federationan Equestre Internationale's (FEI) most prestigious accolades, the Gold Badge of Honour, which recognises athletes who have been among the 15 best finishers in the Grand Prix in at least 14 CDIO competitions. She has also represented Australia at the World Equestrian Games on five occasions – 1994, 1998, 2002, 2014 and 2018 to be precise.