Together, Craig and Prue Barrett have over 50 years' eventing experience. CHRISTINE ARMISHAW asked them for some tips on starting out in cross country.
A passion for the sport brought international level eventing duo Craig and Prue Barrett together when they were working pupils at Heath and Rozzie Ryan's equestrian centre. They went on to travel overseas to work, ride, and compete, before coming back to Australia to set up Sandhills, their very successful equestrian business. They breed, produce and compete their own horses, campaign clients' horses, and do plenty of coaching, so it's safe to say they know their stuff when it comes to getting started with cross country training.
First steps
Before simply heading out and hitting a cross country track, it's worth making sure your horse has dabbled in some jump training first. "If the horse has done a bit of show jumping, up to say 60 to 80 centimetres or similar, and the horse is happy to jump, then it's not too hard to introduce them to cross country because they sort of know what they're doing," says Craig.
He adds that it comes down to the level of the rider and the level of the horse, but in general the aim is to keep it simple and interesting and move up from there. "We often joke that we only have three rules: the first rule is to get on and stay on; the second rule is to get between the red and white flags; and the third rule is to refer to rule one!" he laughs.
Fundamentally, it's all about safety and the confidence of the horse. "Usually, you'd start popping over small logs that you can trot to," Craig explains, pointing out that natural looking logs are easier for the horse to jump than man-made obstacles. Once the horse becomes confident with those, you can start to introduce other fence types. To foster and build confidence in both you and your horse, stick with the lower fences on your first time out. "When we talk about getting between the red and the white flags, it means not biting off more than you can chew," Craig continues. "The horse needs to be confident, wants to do what we're asking them to do, and understands what we're asking them to do."
Craig coaching a group of young cross country riders (Image courtesy Sandhill Horses).
Sometimes, you may need to go back a step further from that. Not all horses and riders are used to cantering around an open paddock, with many routinely riding only in an arena. Getting used to trotting and then cantering around a large, open area of undulating terrain is important for getting a feel for the world of cross country, and that's before any jumps are added to the mix. "Your horse has to become comfortable walking, trotting and cantering, through water too," Craig adds. Progression
With your horse feeling brave and keen, you can start to branch out. "Once you get up to 80 centimetres, you have to start tackling pretty much all of the obstacles involved in a cross country course; water, ditches, apexes, even arrowheads now," Craig says, explaining that all the fences you see right up to Olympic Games level start to pop up much earlier than they used to.
He comments that the challenge with narrower fences at lower levels is that horses potentially have more options to run out relatively early in their training: "In years gone by, we could go all the way to 4* and your horse would never run off, but in today's game, with narrow fences being introduced so much earlier, it's just part of the package."
And for this reason, narrow fences do need to be integrated into your initial training plan, with the onus on training the horse for straightness. Prue joins the conversation by making the simple, but often overlooked point that before you attempt a narrow fence, you must first be able to jump your horse in the middle of any fence you point them at.
What approach for which fence
Prue negotiating a narrow brush fence (Image by Britt Groverner Photography).
There are certain speeds at which you can jump each fence, and it's important to know which gear to use. "A small, narrow fence is jumped at a show jumping pace; whereas a ditch-type fence with a rail over it can be jumped at a faster pace," Craig says, adding that the face (front) of the jump dictates where you need to take off and how fast you should ride to it.
If the face is upright, it is best tackled at a show jumping pace, if it's a bit softer and sloping, then you can increase the pace of your approach. "The way courses tend to be designed these days is that you've got to gallop really fast, then slow down to the appropriate speed efficiently and quickly, jump your fence, and then get back into your gallop quickly," says Craig. Course designers intentionally make the optimum time difficult by slowing the rider down with particular jumps and turns on the course.
The technique for a drop fence should be taught gradually, with the horse allowed and encouraged to lower their neck. "Start off with a small drop that the horse can walk off. Teach them the concept of how to use their body and progress from there to trotting off," Prue explains, adding that horses need to associate a drop fence with being able to stretch their neck forward and down to help with balance, which makes for a much easier jump. With a ditch it's the same – encourage your horse to reach down and forward so they can use their body correctly. "You don't want them coming to the edge of the ditch with their ears in your face," she adds.
Anything your horse has a bit of an aversion to, say water, should be factored into your training routine and repeated regularly.
Start off slow
Craig next identifies perhaps one of the biggest challenges associated with learning the basics of cross country: essentially you have to do in 'cold blood'. "The difference between schooling cross country and competing cross country is the adrenaline that both the horse and rider run when they're at a competition. At an event, that adrenaline will cover a multitude of sins. But, when you go schooling and the adrenaline is not there, it can become difficult to keep the horse and rider confident."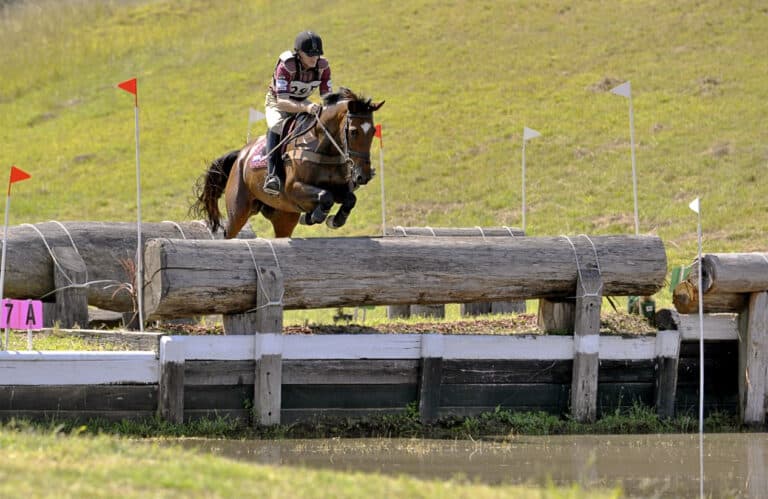 Craig jumping into water during the 2012 Scone 3* cross country phase (Image by Main Event Photography)
However, he emphasises how important it is to be able to school cross country slowly, and with control. "You've actually have to be very accurate, like you do in show jumping. You've got to be able to ride a deliberate line, at a deliberate pace, to a deliberate distance; there's no winging it," he explains. "It gives your horse a chance to get confident with what you want, then, when you go to your competition, you can add speed," which should be the last thing you do.
Once you're riding consistently with accuracy and feel ready to pull out a better time, it comes down to a mix of riding more quickly between the fences and jumping some faster. You can add speed at certain fences, if it's got a sloping face or a ditch in front of it for example, but it's usually how you ride on the approach to and away from the fence that makes the optimum time more achievable. It's all about adjustability, Craig reckons: "The reason the really, really good guys can ride fast is because they travel very fast, come back down to their jumping pace very quickly and easily with no fuss, then get going again," adding that sometimes a strong horse can make achieving the time difficult because they take too long to organise before the fence.
Jumping up a step – a short canter, close take off, and let your horse stretch out their neck (Image by Main Event Photography).
A good way to prepare is to practise riding to the optimum time. Prue explains: "At clinics we often set up a timed course. The rider will first ride it with no jumps, then walk back, then ride it with jumps, then walk back." This is a great way to get the rider familiar with the canter they need and give them an awareness of how fast they are travelling.
Final thoughts
The fundamentals of effective cross country schooling are having control of pace, and being able to make your horse jump the part of the fence you want them to jump, while staying safe and having fun. And, you have to deliberately train for all of eventing's three components: "People train dressage and they train show jumping; I don't think cross country gets an equal amount of training, but it should," muses Prue. "It's all about layers and giving yourself time. It takes years to master things like a flying change, and it's the same with learning all aspects of successful cross country riding."
Expand your horse's horizons as much as possible when it comes to introducing all the different fences and questions; work on accuracy, consistency and then on speed. Repetition is your friend and creating confidence in both horse and rider is ultimately the key to both entry level success, and beyond.
You can watch the Zoom interview with Prue and Craig at Equestrian Hub. Find out how they got into horses, and hear their additional thoughts on how to set your horse and yourself up for success when you start cross country schooling.
Feature Image: For successful cross country, you have to be able to ride a deliberate line, at a deliberate pace, and to a deliberate distance.