When journalist and writer Jane Camens returned to live in Australia after many years overseas and horseless, she found that horses were a way back to her soul. We welcome Jane, who will be writing feature stories for HubVibes, to our stable ™.
My mother said I became horse addicted when I was ill as a child. She'd employed a girl to help look after me, and that terrible (according to my mother) girl not only filled me with horsey stories, but also rode her horse into suburban Brisbane for her sick charge to pat. I can still remember inhaling the sweet smell of him. Consequently, I started riding when I was five years old, first at Miss Warner's (long defunct) riding school in Chelmer, and later at Mr Nunn's stables out on Rafting Ground Road. I'd be sick with excitement on the drive out to ride Tommy or Duke. My best girlfriend, also called Jane, came with me.
The first book I remember reading all the way through was Elyne Mitchell's The Silver Brumby. I refurbished my cubby house as The Horsery, filling it with horsey books and riding paraphernalia.
Then Jane, the other one, was given her own pony. Disaster for my parents. I nagged my poor father, a city man, until finally, when I was 13 years old, he promised I could have a horse if I did well in my exams. Subsequently – Hallelujah! – Ben galloped into my life.
Benjamin Franklin was perhaps not a great beauty "thick set, super woolly in winter, with oddly long ears " and he had a mouth like a steel trap. But, to me, he was handsome. On him I was a Joan of Arc: invincible. Although not allowed to ride a bicycle on
the road, my horse-innocent parents allowed me to ride alone on Ben. We galloped up the Mount Coot-Tha fire trails, followed tracks sprinkled gold with fallen wattle to hidden water holes, and every other Saturday I'd dress up for pony club. One Christmas holiday I joined the club's three-day riding trek, covering many miles and sleeping under the stars, which was definitely the highlight of my short life.
I had owned Ben for just two years before I went to boarding school. I went away cheerfully, knowing the school had horses. But in the three years I attended the New England Girls ™ School the school had undergone a change of policy and there were no horses at that time. My poor mother gave Ben away, blaming the untimely death of my beloved father on the stress of driving out to the agistment to feed the Horse.
I didn't ride again until I met the editor of this magazine, my friend of many decades, Candy (Candida) Baker.
When were both in our mid-twenties Candy and I both worked for a magazine in Sydney, me as a writer, and Candy as a sub-editor. She still believes I befriended her only when I learnt she had horses. (Ummm, she knows you only made friends with her when you found out she had horses. Ed.)
In those long-ago days on the magazine, we'd leave work early on Friday and drive for five hours, singing into the night, to Candy and her then partner's property, just outside the old gold-mining town of Hill End. One of our favourite songs was Cole Porter's Don't Fence Me In Oh give me land, lots of land and the starry skies above, Don't fence me in ¦ ™ which seemed very appropriate as we drove through the night to the 1700 acre property, where Duffy lived, a beautiful and lively bay pony whom I'd ride while Candy rode her
stockhorse. We'd traverse the steep stony paths to the river and beyond. It was always the best weekend.
But times change, and after leaving the Sydney magazine, I moved for a job to Canberra where I leased a pretty white mare, Belle, whom I rode on weekends around the Mount Stromlo Forest Park trails. We gained minor notoriety when we cantered over to the cricket pitch where Prime Minister Bob Hawke was playing against the Press gallery.
Gradually my professional life took precedence over my horse ™ life. It gave me the opportunity to work outside Australia and for the next 20 years I rode maybe half a dozen times. The most memorable of those rides was in southern China with a group of Hong Kong Chinese male equestrians. We caught a ferry to the mainland and rode at a daredevil pace through farms and rural villages. I wrote about it for the HongKong Standard. On my occasional visits back to Australia I rode with Candy at Centennial Park or on the Central Coast, but horses were not a part of my daily life.
When I made the decision to come back to Australia after many years overseas, working most of that time for international corporations in Asia, I didn't seem to fit in " not here, or anywhere. Australia no longer resonated with who I'd become or who I thought I was. My soul had disconnected. I imagined myself an outsider a bit of a global soul. To be honest I was a bit of a detached snob, a malcontent. Not sure where to settle, I visited Candy up in the hills behind Byron and not long after decided to try the Byron lifestyle myself.
By now Candy and I were both in our early 50's and I hadn't ridden for years when we had our first ride with me on her son's Arabian
Johnny, and Candy on one of Sam's showjumpers. I was instantly enchanted by Johnny, with his pretty dish-face and his feisty Arabian temperament. On our rides around the neighbouring macadamia farms I found that I was more fully in the present than I'd been since getting off the plane. We talked of horses, and of writing. And Candy said: You should sing again. ™ Had I stopped?
In those first years back I didn't ride that often. Either I was travelling in my restless state, or my old friend was busy. But Candy – who by then had Beau, a beautiful big old Anglo-Arab – and I went out as often as time would allow. Beau was not a young horse and after seven years, it became obvious that his arthritis was getting to him. At the good old age of 30 was time for him to retire, and I was also finding that I was increasingly nervous of Johnny's occasional flighty leaps sideways.
What I didn't k
Candy suggested I ride a horse that had taught her son's partner to ride. To be honest, until I rode him, I'd barely noticed Charlie in the paddock. An 18-year-old 16.1hh chestnut thoroughbred, he was a gentleman, known to look after his riders. But to ride him, I needed to buy my own properly fitted saddle and what better 60th birthday present from my husband than my very own saddle?
A couple of weeks later, I was told that Sam and Brendon had decided to sell Charlie. Candy told me I had to buy him. I'd be insane to miss the opportunity. So I did, telling my husband there's no point having a saddle without a horse to put it on. Husband decides (for the first but not the last time on my horse journey that he's been tricked).
With Charlie I discovered many more ways of being with your horse than I ever known about. First, I joined a nearby adult riding club. Some of the riders were almost a decade older than me and been involved for years in different horse disciplines. I took baby steps into some of those new worlds and loved it, doing several natural horsemanship clinics with Charlie.
But of course to have a saddle and then a horse, you actually have to have a yes you guessed it – horse float! Thanks again to the husband, and also to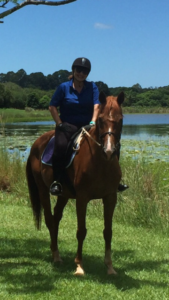 now then was that all of this was really leading to the beginning of my horse journey, which instead of ending, didn't blossom until I turned 60, three years ago.
Candy who helped find it. (Husband isn't sure by this stage that he likes Candy quite as much as he once did.)
Float, horse, saddle. It was time to take Charlie to the beach and on horse-friendly forest trails, and then for overnight camps at the foot of Mount Warning. I found I had now officially reinhabited my old-self, and that I was singing again.
Charlie and I found our sea (or forest) legs together, and I did a three-day trail ride in Tenterfield, and now, finally, I am home. I know this country from my time at school on the New England tableland.
But it becomes gradually becomes apparent that Charlie's age means he isn't going to stand up to the kind of tough country riding that lifts my spirit. I look for someone to do no more than short, gentle rides and give him a forever home, and the gods take pity on us and find Charlie a wonderful family.
For several months, with no horse of my own, I rode other friends ™ horses " a pushy Percheron, a gentle Morgan, a naughty brumby, a fancy Appaloosa, and take riding lessons so I ™ll be ready when the right horse comes along. As it turns out Harley was waiting for
me not far down the highway, having recently arrived from the south. An 11-year-old 14.3hh Quarter Horse, he didn't look anything special at first sight, but on a two-week trial he didn't do anything wrong and everything right. He was perfect for me. (Except, of course, Charlie's saddle didn't fit ¦)
Harley and I have done many things in the relatively short time we've been an item. We're so much an item someone remarked the other day that we seem to have morphed into the same creature. We did our first endurance ride earlier this year and right now are doing a lot of arena work so I'm saddle fit for a week of classical dressage in Portugal. We do Working Equitation and clinics in different disciplines to find out where we are most comfortable.
We already know, Harley and I, what we love most. We love discovering countryside on trails not yet taken. We are rediscovering Australia.
I'm not the same person who arrived back in Australia with red manicured nails. She no longer needs to exist. I'm right at home now in my riding boots and my Akubra, still singing Oh give me land, lots of land, and the starry skies above ¦Let me ride through the wide open country that I love ¦. ™ and I AM.