Lucy Galovicova is an expert on bringing a mare back under saddle after foaling. She shares her knowledge with RACHEL ROAN.
Lucy Galovicova is an equestrian entrepreneur and the Director of Kentaur Australia, which she established here in 2004. She is also a successful show jumping competitor in Western Australia, and has been for well over a decade.
It was Lucy's keen interest in breeding performance horses that led to the development and growth of Kentaur Australia Performance Horses. Her vision is to breed international quality horses to meet the needs of today's rider, and in the process she has gained considerable experience in the best way to manage her mares.
There are many points to ponder when bringing a mare back into work after foaling. It's not as simple as saddling up and getting on with it. Considerations such as how long the mare had off while foaling, whether she was ridden in the lead up to or during her pregnancy, whether the pregnancy and/or birth were difficult, and whether the foal is weaned or still at foot, all need to be taken into account when deciding how best to approach bringing her back into work.
The rate at which each mare is brought back into work is largely determined by their level of fitness.
When it comes to weaning, Lucy believes that there are no hard and fast rules. "We generally wean our foals at around four to five months, depending on the foal and mare. But, I've also taken foals off mares at six months, and I've taken foals off mares at three and a half months. It really varies and depends on each pair. Some mares give everything to their foals and end up looking a bit poorer, so for those mares, and for those foals that are super independent, we wean a little bit earlier. You need to assess each pair on a case by case basis." As with so many aspects of good management, a one size fits all approach clearly isn't appropriate.
Regardless of the weaning age, Lucy follows the same process. Mares are left relatively undisturbed up until the time of weaning, at which point the foals are taken off the property, often in pairs, for the first week. Lucy finds that this gives the mares' milk supply sufficient time to dry up.
She notes that not all her horses need to be brought back into work after foaling. "We have three types of mares in our breeding operation," she explains. "There are the younger mares that we put into foal before they go on to have ridden careers, then we have the older ones that are at the end of their careers and are not going to be ridden ever again." Thirdly there are the Thoroughbreds and Standardbreds, which Lucy and her team use to carry embryo transfers from mares that are under saddle. "Mares who are currently in full competition work are not taken out of work to be bred. Instead, they are put in for embryo transfer," she explains.
Kentaur Australia Performance Horse foals Liamantono and Diamanta (Image courtesy Lucy Galovicova).
So for Lucy, the issue of bringing a broodmare back into work really only ever comes up for her younger mares. Following the first week of mare and foal separation, the mare is started on light work, either with light lunging or by spending some time in the walker. Gentle exercise is beneficial not only in terms of regaining fitness, but also in helping the mare to eliminate any fluid left over from the pregnancy.
But the key here is gentle exercise. "You don't want to put too much strain on your mare too early," Lucy advises. "Early sessions may look something like walking for ten minutes and trotting for five. As you slowly increase the exercise you can include light riding for 10 to 15 minutes and build up from there. We sometimes introduce a chambon to slowly build up the top line and ease them back into it. Every day and every horse is different – but you need to do things in moderation."
When I asked her if she would ever start working a mare earlier, while the foal was still at foot, Lucy tells me that while she personally doesn't do this, it doesn't mean that it's necessarily a bad practice. Again, it really depends on your mare and also on your set up. "There are 20 show jumpers on our property. Can you imagine what would happen if I rode out with the mares and foals?" she laughs.
The rate at which each mare is brought back into work is largely determined by their level of fitness, whether or not they were ridden through their pregnancy, and how easily they foaled – whether that was with or without complications. If mares are going to be ridden while pregnant, Lucy always abides by the advice of her vet and never rides them before the 45-day pregnancy confirmation scan. "In my experience, riding can actually decrease the chance of them getting pregnant," she says.
It's only when the mare is well and truly in foal that Lucy hops back on, and she stops riding them before the mare's last trimester. "Most of the foal and the size of the foal form in the last three months," she explains. "I believe it's the majority of the growth. That's why we're also particularly careful with what we feed our mares in the last three months of pregnancy."
Never underestimate the importance of feeding a lactating mare.
Good nutrition is essential for any horse, and it plays a significant role in the success of the breeding program, and later in bringing the mare back into work. "A lot of people underestimate the importance of feeding a lactating mare," says Lucy. "It's important to follow the recommendations of the feed brand that you use. Here in
Western Australia, we don't have a lot of quality, nutritious grass, so we essentially control around 95 per cent of their food intake." When broodmares are pregnant, Lucy gives them around six kilos of hard feed per day. When they are lactating, this goes up to nine or even ten kilos per horse.
Another consideration is the age of the mare and the number of foals she's previously produced. "Older mares can come back into work with a weaker pelvic floor," Lucy notes. "Some may also have required a Caslicks procedure during pregnancy to prevent prolapse. If that's the case, you would need to follow a different exercise regime from three months after bringing them back into work, and before making any attempt to jump again."
Similar to humans, pregnancy has a considerable impact on a mare's body. Both her abdominal muscles and the pre-pubic tendon (which runs from the sternum to the pelvis) will stretch. Additionally, she will lose top line and carrying the weight of a foal will change her musculature. And in the lead up to the birth, her ligaments become increasingly slack to allow for easier delivery of the foal.
Mares and foals are left relatively undisturbed up until the time of weaning.
So understandably, the two areas to concentrate on with exercise, regardless of the mare's history, are firstly to increase fitness, and secondly, to strengthen the pelvic floor. Lucy starts all her mares back with lunging, then slowly introduces trot poles and cavalettis before moving on to transitions and hill work. She finds that it can take from twelve to eighteen months to return a mare to peak performance fitness and eliminate any weaknesses.
To reduce the risk of injury, it's important to take things at a rate the mare can handle. Stretching exercises are also invaluable, as it encourages the horse to use their back and activate their core muscles.
Lucy sometimes introduces a chambon to slowly build up the top line.
While mares that have been embryo transferred are out of work for a much shorter period of time, there are unique considerations that apply to these girls. "In Perth, it gets quite hot after Christmas," Lucy says. "But the season is still going. And you have to consider any potential clashes with shows. Once the vet does the flush, the mare is then given prostaglandin, which essentially aborts anything that's left, so one minute they're pregnant and the next minute they're not," she explains. "So it must affect their hormones and behaviour and put them out a bit."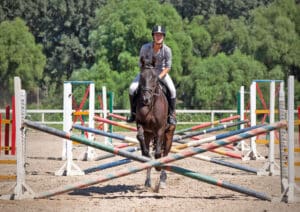 It can take from twelve to eighteen months to return a mare to peak performance fitness.
Physically, mares recover more quickly from an embryo transfer, hence the reduced time frame for them to be out of work. "Plus, it's a lot less risky for the mare," Lucy adds. "Embryo transfer is the new way of doing things. If you have a young mare and you breed her early on and then put her into sport, you will have a much better
chance of breeding her again down the track. I think this strategy is much preferable to say breeding a 12-year-old maiden mare that has been in sport for her whole life."
In general, the best advice is to pay close attention to how your mare is responding as you bring her back into work. "Pregnancy is not a disability," Lucy adds. "Following the pregnancy, just use common sense and don't put too much strain on your horse." And of course, if you have any concerns, or if your mare has had a particularly difficult birth, always seek the advice of your vet.
For more information on their stallions, brood mares, and horses for sale, visit Kentaur Australia Performance Horses.