As the old saying goes: She may be small but she is mighty ™, and this saying definitely applies to dressage coach Nicole Tough, writes Dannii Cunnane, who interviewed Nicole to get her training tips.
Nicole Tough has racked up more dressage titles and awards than most of us have had hot dinners!  She's an accredited Level 2 Dressage Specialist Coach, a Level A National Grand Prix and Young Horse Judge and Judge Educator.  She's trained nine horses to FEI level, has more than 25 State Championships to her credit, and has variously been Equestrian QLD Coach of the Year, Sports Star of the Year and Volunteer of the year. Nicole is always happy to share her wealth of knowledge to with those who want to learn.
Dressage is easy, unless you want to do it well, and then it's really hard
Her first training tip is perhaps the hardest to take on board, based as it is in down-to-earth reality. Dressage is easy, unless you want to do it well, and then it's really hard, she says. Nearly every horse and every rider can learn or teach the tricks of dressage and do them accurately; but to do them precisely, with suppleness, energy, engagement of the upper line muscles in every step, in self-carriage and with willing co-operation – that's a whole different ball-game. To achieve this, riders simply must be dedicated to correct practise. They must think of dressage with a systematic approach, they must remember that it's a gradual muscle and strength building sport. Training for each level of dressage should never be a rushed or corners cut. Horses are ready when their trainer/rider has done their homework; and not when their rider/trainer is bored with current level and impatient to move on.
Nicole is adamant that if the rider/trainer has done their homework, the dressage test will look easy, and therefore the pair will score well.
Nearly every horse and rider can get through the preliminary and novice level. It is the elementary level, where the concept of collection begins; and where rein aids can be incorrectly utilised, that we see the difference between dressage as a hobby and dressage as a sport.
Rein aids are not for slowing down or for restraint
She explains that rein aids are not for slowing down or for restraint. Collection is not achieved by using the reins. In fact rein aids kill collection. Reins that have any backward tendency restrict forward thrust, interfering with the beat, and causing resistance and training issues. Preparing a horse for elementary level and upward requires thousands of transitions, building the sitting and pushing muscle teams of the horse and always correcting that unbalanced moment, that moment against the hand or that moment of crookedness. It means not attempting the trick or movement, if anything goes wrong.
Horses learn through repetition
Horses, she says, as all of us know, learn through repetition. Every step the rider accepts – they believe was approved. Remember that to accept, is to approve. So, if you accept a dodgy transition in your training, you are telling your horse, that transition was good and I would be happy with it in a test. These thousands of transitions and corrections, increase the muscular strength of the horse, and prepare them for elementary and beyond.
Good dressage is all in proper training
She's adamant that good dressage is all in proper training. We cannot pull the horse into smaller canter steps, slam dunk them into a walk, and shock them into a canter strike off and call it a simple change. To do so is trick riding, and not dressage the judges will reward. All we can do as a rider is strive to be better with as much help as we can get; which includes going to forum's, seminars, workshops, masterclasses, reading, learning and getting lessons!
Also, every horse is different, as Nicole reminds us. Remember difficult horses can be good; and good horses can be difficult. There is no easy way, no easy horse and no short cuts. My biggest tip is: avoid training on your own. No one can get better on their own, in their own back yard. Find a coach to help monitor your training, check your feeling, and help you progress when the horse is ready. Enjoy the journey and don't be frustrated by it.
Nicole's Top Three Tips
Find a coach that has already proved themselves as a trainer/competitor and coach.
Set some realistic goals at them start of year. Goals help riders focus, motivate you for the weekly/monthly plan and help you organise your time.
You are ready to compete at a level IF you can ride the test through at home, asking yourself, did my horse understand all the movements and did they perform them easily. If the test was hard to perform at home, it is because either the horse or you are not ready, and it's going to be even harder to perform them in a competition environment.
You can learn more about Nicole by visiting her website – www.nicoletough.com.au/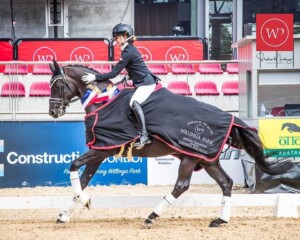 Nicole and Ferragamo