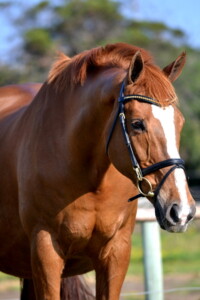 So chestnut coloured horses, mares in particular, have a bit of a bad reputation.
A bit like poor old redheads accused of being moody, temperamental and hot-headed because of the colour of their hair, the chestnut mare is just as misunderstood.
Now, in my own personal experience (consisting of 25 years of chestnut ownership, more than half of which have been mares) there is some element of truth to this. And while it hasn't been confirmed scientifically, I am yet to find anyone with any personal experience with a chestnut mare who disagrees!
First there was Dimples, the quintessential chestnut mare, cute by name, not so much by nature. A beautiful, well-bred, liver chestnut pony, she was a complete princess through and through. Moody, narky, quick to lay her ears back, she had me well trained from the very beginning (I was a 10-year-old beginner when she arrived).
It didn't take long to find out what my (her!) limits were and she was pretty clear about them. Like the day I'd spent hours with her in the backyard washing, brushing and plaiting (just for fun mind you, no show in sight) and she just decided she'd had enough.
So she simply untied herself, trotted the length of the backyard and popped over the 1.2m wire fence back into her paddock. But if you asked her to pop over a cross rail under saddle and she would act like you'd asked her to jump the moon!
Then there was Goose, aptly named because she was forever getting herself into trouble.
Like the day she decided she wanted to swim in the bathtub. And proceeded to bust all the trough water pipes, creating a sprinkler that she could stand under in the 38 degree summer day, running the family out of tank water in a drought (Dad nearly put a free to good any home sign out the front of our house that day!).
Then there was Zarah – the matriarch, the alpha, the wise old woman who knew how to keep everyone else toeing the line. Including the people.
She's since found a home where she has trained her owners to never, ever move her from her ™ paddock with her ™ tree, to keep the carrots coming at specific intervals, occasionally deigning to accept a pat or hug always on her terms of course. If she doesn't feel like it, she just walks away (or, in the case of the farrier, gallops wildly off, refusing to be caught, because after all she's only 21-years-old and doesn't know anything yet.)
I have also discovered however, that, on the odd occasion when you and your chestnut mare find yourselves on the same page (when the stars all align and the wind is blowing in the right direction. And it's the right time of the month!) then for that moment in time you become unbeatable.
You can do anything and she will do anything for you and nothing quite tops it. And chasing that feeling means that you can put up with all the less desirable unique characteristics ™ of a chestnut mare that you wouldn't accept from any other horse!