The Boy from Bega – excelling at everything he does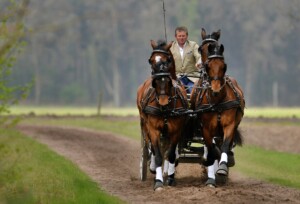 His achievements are the stuff of legends, and his commitment and dedication to his sport second-to-none. HubVibes takes a look at this month's Hub Hero – the world's best carriage driver, Australia's very own Boyd Exell.
Growing up in the country town of Berry in southern New South Wales, All the young Boyd Exell ever wanted to do was to be around horses, but unfortunately for the budding equestrian, his family weren't the least bit interested in horses, although his mother did introduce him to a local, Max Pearce, who had a passion for cart-horses.
I was pretty devastated that the only horses easily available to me were cart horses, Boyd said, but it turned out well in the end!
Turned out well ™ might be the understatement of the century just some of Boyd's achievements include becoming four times World Champion, seven times FEI World Champion. He has been name the REEM ACRA Best Athlete, Ariat International Athlete of the Year and is one of the few equestrians to receive the Order of Australia Medal in recognition for his services to sport, especially in four-in-hand carriage driving.
Sometimes a passion and a purpose come together with full force, and with Boyd his talent for the art of carriage-driving was obvious immediately, so much so that at the tender age of 16 he won the Australian Pairs Championship.
If his mum was responsible for the introduction that led him to his sport, his parents were also accidentally responsible for Boyd's departure from Australia. When I turned 21 my parents offered me a party, or a ticket around the world, he said. I chose the ticket! I thought I would be away for a couple of months, but it turned out to be a lot longer.
A lot ™ has become a lifetime, as the young man worked his way up through the ranks in the UK, building himself a reputation as a fearsome competitor on the carriage driving circuit.
But then in 1997 disaster struck. I had a driving accident, and broke my leg in five places, Boyd said. When I recovered I was determined to catch up on that missing year, and I became even more focused on success.
It was while he was injured that his then partner, now wife Preetha learned the art of carriage driving, so that she too could participate in what was rapidly become an international career. So much so, that after some years in the UK, the couple moved to the Netherlands where they now live with their two children, 11-year-old James, and nine-year-old Olivia.
No stranger now to success he has represented Australia on three occasions at the World Equestrian Games (WEG) and won Australia's first WEG gold medal in 1990 in Kentucky. With 104 driving starts, Boyd has won an impressive 76 of those.
In its full form, Carriage Driving, or four-in-hand, is the equivalent of a three-day event, including dressage, cross-country and an obstacle course instead of show jumping.
The dressage is all about the training and skill and movement of the horses, Boyd said. The second day is all about the rough and tumble and the speed over a 20km course, and the third day is the cone driving, which makes sure the horses are still supple and balanced and controlled after the previous day.
Boyd is famous for the fact that he lives and breathes his sport. His facilities include an indoor school suitable for carriage driving, a full dressage arena, a cones course and an built obstacle course purposely built so his horses and clients can improve their skills. Off-road carriage driving takes place on the extensive trails of surrounding forest.
To reach peak performance you need a training environment conductive to success, explained Boyd. And here we're constantly refining our facilities as we strive to take sporting excellence to new heights. The Excell facilities are so grand the property even hosts the prestigious Driving Valkenswaard international driving event at his property.
What does it take to become a champion carriage driver? For Boyd, it goes way beyond the technique, no matter how good that is. You still have to have a connection with horses grooms who work with the animal have a connection when they're handling them and I have a connection when I'm training with them, he said. So I can feel a trust with my horses I can feel down the rein if they're feeling stiff, or if they're expressive and wanting to show off.
An interesting difference between the horses competing in carriage driving and other equestrian high-level sport is the age of the horses. This is a sport for horses that learn the business over some years, bringing maturity to the technically demanding discipline. For many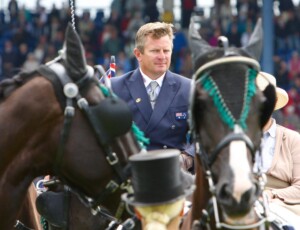 years, my secret weapon was my horse Bill, Boyd said. When he was 22 he was still the leader if I made a mistake, he would assume I didn't mean it, and go the other way!
When you're guiding four horses around a course of gates at high-speed, aiming to avoid the five-second penalties given every time an element is bumped into by a horse or carriage, you need horses who can think. The front two have to be intelligent, sensitive and forward, Boyd said. The two behind need to be powerful and able to hang back just a tiny bit when needed they're the foot soldiers if you like.
These days much of Boyd's life is spent travelling, either competing, or when he's not competing teaching clinics around the world. A recent visit back to Bega this January was a welcome change to the extraordinary commitment and dedication that a sportsman at his level needs to have on a 24/7 basis. Said TNT magazine back in 2014 about one of our most successful exports: When it comes to dominating a sport, Aussie Boyd Exell is the equivalent of Jordan, Phelps, Pele, Bolt and Armstrong (without the drugs) in the world of extreme carriage driving, a discipline combining the grace and control of a royal procession with the speed, skill and courage of a wild west chase scene. ™
Amen to that.
What is carriage driving? While we may have visions of the olden days and grand royal carriages, the sport of driving is very different. Drivers sit in a lightweight vehicle that is drawn by a single horse or pony, a pair or a team of four and face three trials dressage, marathon and obstacle driving. It's the driven
version of eventing. Dressage phase In carriage driving, dressage is performed within a 100 x 40 meter rectangle arena with a sequence of compulsory figures. The movements must be executed from memory and include gait and speed transitions as well as circles and halts. Each move is given a score out of ten with points deducted for incorrect moves or grooms dismounting. Marathon phase This is a timed run across a designated course that has natural hazards to judge the horses stamina and fitness levels as well as the drivers judgement of paces and control. The course has hills, sharp turns and water passages as well as halts for vet checks along the way.
Obstacle course This course follows the marathon and is a test of skills for the driver. The horses and carriage must weave through a narrow track laid out by cones with balls balanced on top. The horses and carriage are not to touch the cones or drop the balls else penalties will occur.