Best way to clean your leather saddle and tack
Cleaning tack is a job most of us don't enjoy, but one that is necessary for competition presentation and the health and longevity of our expensive saddles and gear.
Products and process have come a long way since the days of using elbow grease ™ with your saddle soap, soaking with oil then polishing at speed until your arm felt like it was about to fall off.
Where to start
Depending on the condition, age and residue build up on your saddle will depend on what products you choose and where to start.
Our favourite leather saddle cleaning product at the moment is Sterling Essentials spray cleaner. We are in the business of cleaning and presenting saddles to their best, and it is the best leather saddle cleaner we have used!
There is no need for tack cleaning sponges or rags, just grab a clean towel, some Sterling Essentials cleaner and you're ready to begin.
How to Clean your saddle
When using a sponge or a rag, you only clean a portion of your tack. It misses all those hard to reach spaces between leather stitch joins and around buckle ends. Then add a leather conditioner, and you're left with an unhealthy, sticky residue build up that looks dull and is not nice to use.
To begin with, you're going to want to clean your tack with a clean dry towel – not a sponge. Sponges have a small surface area that once dirty, just starts spreading dirt and grime all over the place. A towel has a large surface area, and once one area is dirty, you can flip it to a new clean spot as you go. It's also a greener ™ choice where you can throw it in the wash and use it next time!
When cleaning, I start at the top and work my way down one side, flipping to clean towel sections frequently. Be sure to work quickly so the spray product doesn't dry because if it does, your tack will stay dirty and looking very dull.
Pro Tip ¦ Clean in a cool area. Warmed leather opens its pores, causing it to be more susceptible to releasing its dyes (think about the seat of your breeches or underside of your white saddlecloth after a hot day of riding).
Don't forget to clean all the small spaces between stitching, under stirrup flaps, around the base of the cantle, as well as billets, sweat flaps, and underside. If you keep missing these smaller spaces (or the ones no one can see) you will have a gunk build-up over time and eventually deteriorate your leather. The underside is especially easy to forget, but gets covered in all of that damaging sweat from your horse so take 30 seconds to flip it and give it a clean.
How to clean your bridle
You may not believe it, but bridles are actually easier to clean that a saddle!
We've got a little trick you can try (thank us later) ¦ Hold a towel behind your bridle and then spray with the Sterling Essentials Leather Cleaner. The towel catches all the spray and voila an easy wipe and done! Plus, the spray and wipe makes cleaning braided reins and tooling an absolute breeze. It gets into all those small spaces where your cloth and fingers can't so no more toothbrushes and cotton buds trying to get into those hard to reach spaces.
Once you're all squeaky clean, you're set to go ahead and condition your tack but only if it needs it.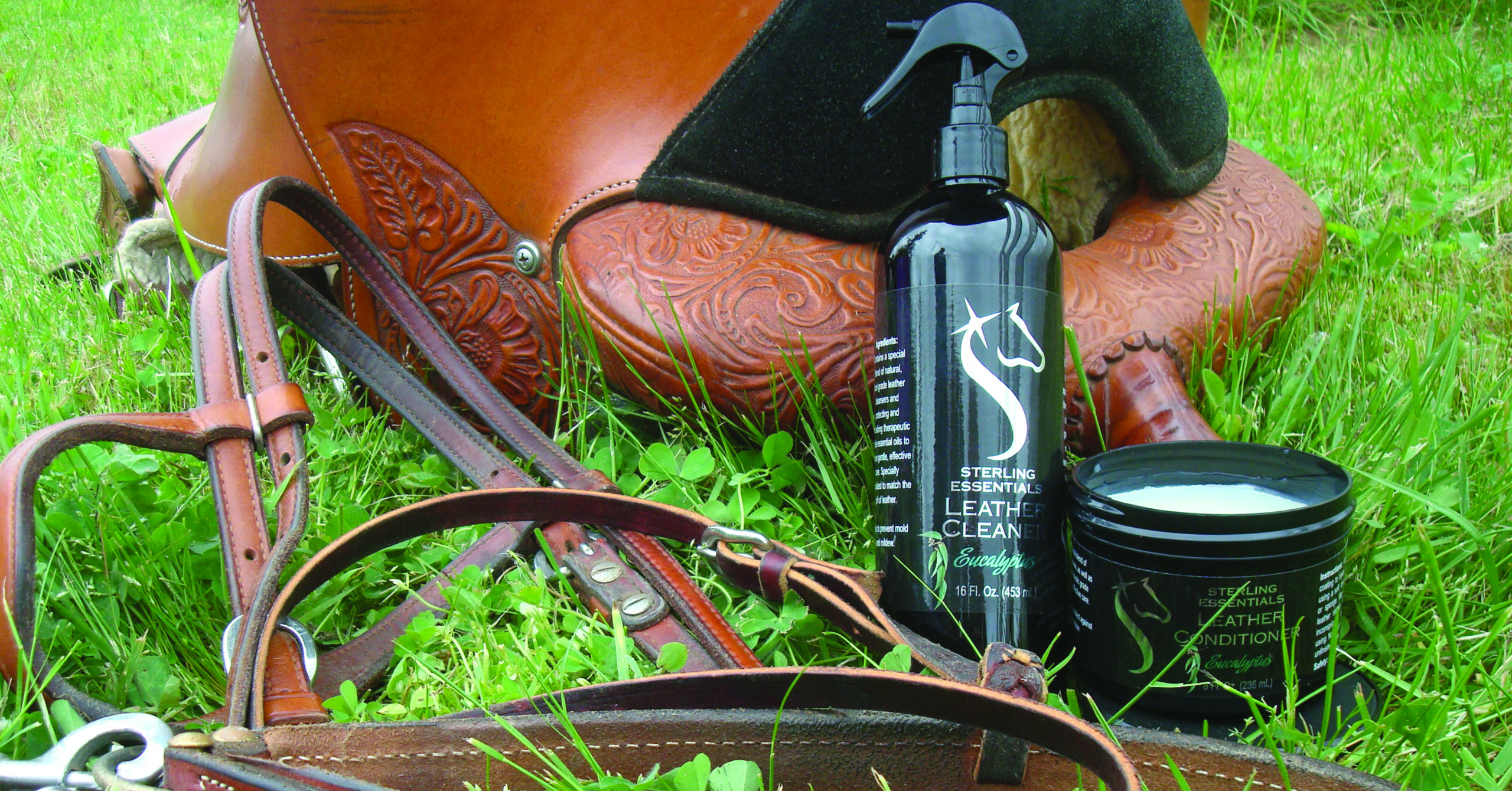 How to make cleaning even easier
Use Sterling Essentials Leather Cleaner as your first step in leather care as it not only removes dirt, grime and sweat but creates a healthy leather surface.  It really is as simple as spraying your leather directly or spraying onto a soft, clean cloth until damp. Wipe leather to clean away oil, dirt, sweat, grime, and mould in one step.
All you're left with is a beautiful natural finish without any residue or build-up. No rinsing or wiping off required!!!
What's more, it is pH matched to the pH of leather so it won't damage like many other products on the market can. Many have a harmful alkaline pH which will prematurely ruin your leather.
Cleaning products that are gentle on your skin and your horse
Sterling Essentials cleaner not only smells amazing, but is a vegetarian product that contains a special blend of natural food-grade products, as well as therapeutic grade essential oils. These protecting and nourishing essential oils ensure that your leather is nourished and protected, preventing mildew and mould, while still being gentle on you and on your horse.
What about traditional Glycerine tack cleaning products?
While glycerine is a well-known product for use on leather, it is a humectant. This means it actually pulls water vapour from the air into your leather.
As you may know. Too much moisture is the enemy of leather and causes significant damage and is the perfect breeding ground for mould. We've all pulled out some stored gear at one point in time and it is covered in that awful green mould build up.
If you want to keep your leather fibres strong and prevent mould, you can see why using glycerine-free products will help you.
Last minute pre-ring cleans
Sterling Essentials spray cleaner is a huge time saver for the quick cleaning and spiffing up of boots before going into the show ring.
Competitive riders seem to really appreciate that these products don't leave their hands or their tack greasy, sticky, or slippery. Also, based on product testing efforts from Sterling Essentials and ourselves, we've found that the product doesn't cause tack dyes to transfer or stain breeches!
Before and After
These boots have been cleaned ONLY (no conditioner) with the Sterling Essentials spray… and look at that shine!
Who Says Tack Care Can't Be a Little Bit Fun?
Although tack cleaning is still a chore, we've learned that our customers and friends really feel that tack care is a little bit less of a burden with Sterling Essentials products. Having the stables smell lovely, having your horse enjoy the product fragrances, not being a sticky, greasy mess and having to wash your hands with degreaser after cleaning and conditioning tack, the time savings ¦ are all great feedback we've received, and have experienced on our tack ourselves!
You can try the amazing range of products here: https://equestrianhub.com.au/product/sterling-essentials-leather-cleaner/ and choose from a range of scents: Lavender, Eucalyptus or Floral Citrus.