Hub Hero Heath Ryan
Top riders in any equestrian discipline know how hard it can be to reach the top, but in the case of Heath Ryan a stroke in 2009 taught him to dig even deeper than he'd ever imagined possible writes Candida Baker.
Lovely ¦ the voice at the other end of the phone is so loud I have to tone down the volume. Ok, now sit back, just take it easy ¦
This is my second attempt to nail Heath Ryan down for an interview. An hour earlier he was on his horse, jumping, now he's teaching. An hour later, at 9.30pm, it's third time lucky.
And it says a lot about his high levels of enthusiasm for his sport that he's still going flat-chat after a day that starts at around 5.00am every morning.
Optimism, and the desire to win, or at least to achieve his personal best, is what has fuelled Heath's career. And what a career! Three times Australian Eventing Champion, three times Australian Dressage Champion, three times Assistant Coach to the Australian Olympic Eventing team (well, they do say good things come in threes!); eight horses trained to Grand Prix. Not to mention, of course, that horse the insanely beautiful, insanely talented Regardez-Moi (literally translated as Look at Me), who won 40 Grand Prix competitions during his stellar career, and whose son, Utopian Cardinal won Australian Dressage Champion of the year in 2016.
It's an obvious statement to say that it's passion that drives him and his equally talented and successful wife Rozzie and yet, one of his basic beliefs about life, is that passion must be tempered by a large amount of logic in order for success to occur.
The way I see it, the whole world is an energy equation, he says. You work hard that's energy, and you have to do it with as much passion as you can. But here's the flip side it's passion that stops all of us from being sensible! As a coach I'm always trying to encourage riders to be rational and logical so that they can achieve their full potential, and to be honest very few of them get there, because emotion gets in the road.
At their Heatherbrae property the Ryans run their massive and highly successful breeding program, as well as training and riding their own horses and coaching horses and riders in all the Olympic disciplines at the Newcastle Equestrian Centre. Over the decades Heath and Rozzie have mentored hundreds of young people through those emotional teenage years.
It's tough, Heath says speaking of the teenage propensity to go AWOL from their riding commitments for a while. It's like when parents know full well that their child has fallen for someone completely unsuitable, but you can't do anything about it you just have to stay quiet and hope it will pass.
The more he talks about success in the equestrian world, the more it seems, to me at least, to be an almost impossible equation. We try really hard ourselves to be always calculating, thoughtful and progressive in our actions, and to teach this to our riders and horses, he says, but then there's no tricking your way through this at the end of the day you have to be in love with your horse ¦you have to have that heart to heart connection.
I'm trying to take all this on board use logic, be passionate, be calculating, love your horse. No wonder getting to the top isn't for the faint-hearted!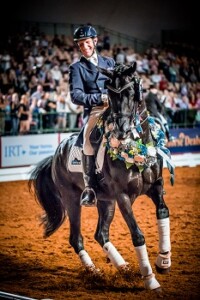 Nine years ago when Heath was 50, the Australian horse world almost lost one of their greats when he suffered a severe stroke. He can remember the day with absolute clarity even now, he says. I was coming back from the World Cup Dressage finals in Las Vegas, he tells me. I landed on a Wednesday, and that weekend there was a one-day event at Camden. We had 15 horses there, with riders and people who work for me. We'd done the show jumping and dressage, and I'd promised one of the riders I'd walk the cross country course with her early in the morning. But when I woke up I couldn't get out of bed I had to force myself, and I felt peculiar. I thought to myself that I must be having what my Gran would have called a turn ™. Then suddenly the truck was going sideways and I went straight down.
Heath was remarkably lucky that he was spotted by his staff almost immediately and they had a doctor to him within five minutes. Within a very short space of time he was in hospital where it was discovered that he had a DVT from flying. It had travelled up his leg, and into his heart which, unbeknownst to him had a hole in it, and up into his brain.
It was a life-changing experience. I couldn't walk, I lost the side of my face, I couldn't go to the toilet without a nurse and a crane, and a belt around my midriff, he says, but I wasn't going to give up. I refused to be dependent on other people to go to the toilet, so I would wait until the middle of the night, and pull myself along using beds as a support, and literally drag myself to the loo.
Something most of us would describe as a nightmare, he casually refers to as: amusing myself, but the after-effects have been ongoing particularly for his vision and balance, but fortunately, as he says, I didn't lose my ability to think. Nor, in due course, did he lose his ability to sit a horse.
But despite his determination to ride again at the same level as before the stroke, there was no question he says that he lost his edge. It was a huge disappointment. The stroke stole a good six years from me, and during that time I was really sub-standard. At the same time I absolutely refused to pass over Regardez Moi to Rozzie, I kept riding him even though our dressage scores dropped significantly. I think that is the saddest thing that it stole Regardez Moi's best years. He was the most amazing horse ever he's 23 now, and he's still King of the place. He's had a very, very fortunate life and so have I but I do wonder what he might have reached if I hadn't had the stroke, or if I had passed him on to someone else. I always had the feeling that he might possibly have had the chance to be one of the best horses in the world.
If it seems as if coming back from a stroke, competing again, running the Newcastle Equestrian centre, and looking after with Rozzie their family of young riders seems like hard work, Heath refutes that notion entirely. I've never done a days work in my life, he says. I just do what I want to do every single day.
Doing what he wants to do includes constantly planning for the future. Having spent so much time coaching young riders, he's come to the conclusion that one thing Equestrian Australia doesn't understand is the worth of high performance programs. Tokyo is only two years away and the World Equestrian Games are only two months away and some disciplines still don't even have their teams, I find that incredibly frustrating.
Part of his frustration is based on his pride in how well Australia does in equestrian disciplines with very little government support. We are the third biggest dressage nation in the world, he says, below Germany and Denmark, and above the UK and the US we have 30 FEI horses which is extraordinary when you think about the size of our population.
While I'm writing this article a few people who have been to Heath's clinics, or known him for sometime, tell me things. He never seems to eat, says a clinic participant, he seems to keep going on air. Someone else tells of his kindness showing them his horses at a Werribee auction when they weren't even in the market for buying. Aha, said Heath, but you might be one day!
A lot of his dedication and enthusiasm obviously comes from his family. He and his brother, fellow-equestrian Matt Ryan, were born in Sydney where their father Rod was a lecturer in veterinary science at the University of Sydney. Their mother, Sue, wasn't from a horsey background but had grown up in India where her father was from the British Army. After 12 years or so the family moved to the NSW Central Coast where Rod worked as a vet for Bruce Steggles, of Steggles Growing up in the countryside meant that Heath and Matt could seriously begin to explore their horse obsession. I was given a pony, Trigger, when I was 12, Heath says. He had a mouth of cast iron but I rode him anywhere I could and of course, he taught me a lot.
A lesson learned over the decades of competing is, says Heath, one that is easy to understand intellectually but less easy to apply. Accuracy. That's it in one word. You cannot unleash riders onto cross-country courses, or into show jumping rounds or into dressage tests that they have not nailed over and over again, he says.
I ask him about bravery is that not an essential ingredient particularly for eventing, and his answer surprises me.
It's a tricky thing to be brave, he says. To be honest a rider that does not feel fear is far more a danger to themselves than a rider that feels the fear, and is able to risk-assess, be scared and go ahead and still do it. I get scared for sure I do. We're all human, we all make mistakes and horses have self-preservation. What you want with your horse is such a strong relationship that when you make a mistake he, or she, can help you out.
He also blows out of the water the whole idea of getting back on ™ after a fall. If someone falls off I tell them don't you dare get back on until we're sure you're ok, and until we know it's not going to happen again, he says. When you think about it, it's often a recipe for disaster because something has gone wrong, the horse is in the wrong space, the rider is not good, and then you make the rider get back on again. Where's the sense in that? There's no harm in letting it go. If things go pear-shaped don't be gung-ho is my advice.
As for massive leaps of progress, he's not a fan of those either. If your progress is logical, thoughtful and progressive, and if you make progress by just a millimetre, but that millimetre is absolutely accurate in whichever discipline then you OWN all that territory, however small, he says, and then you can add on another millimetre. That's how you build for success. That's how you create a horse that when you're galloping cross country together you're on song ™ together. He's not just a piece of flesh he's thinking with you. He knows you might need a bit of covering or help. Great horses become like huntsmen watching for the fence, they stalk that fence, they watch for added challenges they're like warriors try me, they say. Great polo ponies will protect the ball they ™ll charge at an oncoming horse to give their rider a clean shot at the ball.
Perhaps because, sadly, Heath and Rozzie don't have children of their own, their knowledge and passion has had the chance to flow into a far larger family – their family of riders, some of whom have been with them for over ten years. I've always thought that it's parents, and the sacrifices they make that produces Gold Medals, he says. And that is, in our way, what we help do here at the Newcastle Equestrian Centre parent these incredibly talented riders through to their highest potential.
As for Heath's next superstar, it is of course the beautiful Utopian Cardinal, son of the breathtaking Regardez Moi. I think he's a better horse than people know, Heath says reflectively. He's had to cope with me handling the complications of the stroke and I wonder how much better he we could be without that.
Given that the combination won the 2016 World Cup Grand Prix Freestyle at Werribee for the second year in a row, the idea (to a lazy trail-riding outsider) that there's room for improvement is somewhat startling, but then winning and high achievement has always been part of Heath's make-up and he's certainly not looking to give up that part of his personality any time soon.
Thank goodness.
Photo credit: Stephen Mowbray