With a work ethic that puts many younger riders in the shade, this self-confessed "not great" Junior rider became an elite athlete and a household name.
Born in Melbourne to a horse-loving mother, the Rose family moved to Sydney when Vicki was seven. Both her brother and sister rode, but Vicki was less enthralled: "To be honest I used to kick and scream my way around the horse shows. It wasn't until I was 13 or so that I got interested and then my siblings gave up as they got older whereas I just kept on going."
A random conversation between her mother and renowned racehorse trainer Tommy Smith at a cocktail party resulted in the family taking ownership of Harvest Time, an expensive yearling but slow racehorse who blossomed as a successful hack, eventer and show jumper for all three Rose children.
When Vicki married Wayne Roycroft in 1976 she was 24. The Roycroft family produced over 25 horses that went to Olympic Games for Australia, an extraordinary record
One of Vicki's best known horses was Apache, a skinny 15.2hh Thoroughbred with a dismal racing history who she bought for a mere $500. But Apache was extremely scopey and brave. He went on to win the Grand Prix at Wentworth Park, and was runner-up in the Geneva World Cup. In 1987, Apache won the Rome Grand Prix, one of the most hotly contested events on the planet, against an outstanding field that included Katherine Burdsall and The Natural who a few weeks previously had won the World Cup; the 1984 Olympic gold medalist Joe Fargis and Touch of Class; and Pierre Durand and Jappeloup, who won Olympic gold the following year. That victory made Vicki the first woman and the first Australian to win the title, and propelled Apache into the ranks of the world's top ten horses.
But amid the triumphs there have been tragedies and challenges: the loss of her eye through a melanoma, the breakdown of her marriage to Wayne in 2000, and most tragically of all, the death of her only son in 2003. Although the heartbreak nearly brought Vicki's equestrian career to an end, she fought through and today she still competes, produces horses at her Mount White property, and enjoys teaching and coaching as a way of giving back to the equestrian community.
Q: What was your dream or what were your goals when you first set your sights on the equestrian industry?
I grew up in the city so that wasn't really conducive to having an equestrian dream, and I didn't get keen on horses until I was around 13. Of course, then I had vague ideas of going to the Olympics, but certainly not a concrete dream. It wasn't until I married Wayne that all that changed. He had three horses and couldn't ride them all, so he asked me to ride his eventer Faro. We didn't compete at Gawler, but I won Melbourne and Sydney with him. Those three events were the three selection trials for the Olympics, so they really couldn't leave me out of the team and it was off to Los Angeles.
Q: We believe in the great value of mentors, did you or do you have a mentor that has made a significant impact in your life or career?
Mum was always a great supporter, but it was Bill and Wayne Roycroft who had a big influence on my career. The other huge influence was the great American rider and trainer George Morris. All put a lot of emphasis on flatwork and taught me so much. None of my thinking or training is original, it's all based on the amazing knowledge of these people.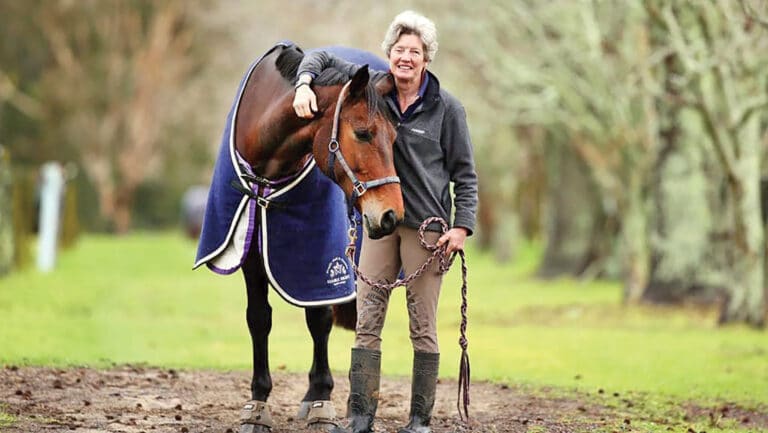 Q: What is the best advice you were ever given?
Put your head down and work hard. Talent is a great help, but determination is the key to success. And always observe other riders. The ones that are the best at consistently producing top horses are the ones you want to copy.
Q: What roadblock or roadblocks have you overcome to be where you are today professionally?
Finding the right horse – there are more good riders than there are good horses – and your own injuries and health issues. I've had my fair share of physical challenges, but I've rarely let them stop me.