Emma is a 4* eventer with a long-held passion for horses. She competed as a Junior in Queensland, was shortlisted for the 2012 London Olympics, and won the 2017 Adelaide 2* with heart horse Warrego Marco Polo.
Born in Brisbane to a non-horsey family, I was always obsessed with horses. I was around eight when Dad told me if I was still keen, I could have a horse when I was thirteen. He figured it was a phase I would grow out of, but at 13 I was keener then ever so along came Gypsy.
Eventing was always my thing and I competed as a Junior in Queensland until late 2000.  Riding Starstruck, I won a Young Rider class at Toowoomba. The prize was a lesson with Heath Ryan, who judged the class. The next thing I knew, I'd arranged to go to NSW to work at Heath's over the summer.  My plan was to be there for a month or so before returning home to start a vet science degree. Five years later I was still there and I've lived in NSW ever since!
I studied law at Newcastle University, and I've worked as a lawyer to help fund my riding since 2011, starting my own practice, Somersby Law, in 2015. Being self-employed gives me the flexibility to work my own hours and attend lessons and competitions.  I enjoy coaching and still do the odd bit when I can fit it in.
My career highlights include being shortlisted for the 2012 London Olympics on F1 Pharinelli, winning Adelaide 2* with Warrego Marco Polo, and representing Australia at the 2019 Oceania Championships in New Zealand.
In 2019, I married my best friend and moral supporter Brett Jones. We have a son, Eddie, who recently turned two, with another baby due in March. I am as driven as ever to one day represent Australia at an Olympics or World Championship, and to compete overseas. With the help of a great team at home, wonderful sponsors Brighton Saddlery, Kingsland Equestrian Australia and TBV Equestrian, and the support of the Equestrian Australia High Performance program we will make it happen!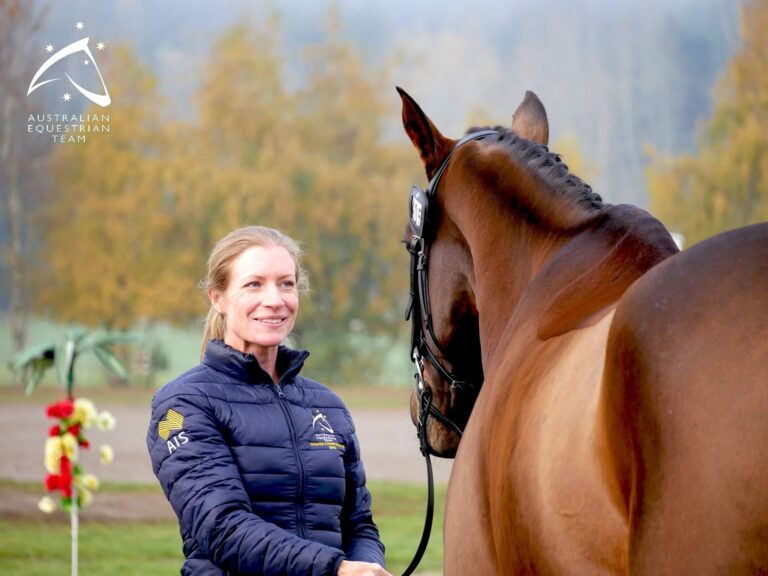 What was your dream or what were your goals when you first set your sights on the equestrian industry?
I wanted to be really good.  I remember pointing out professional riders to Mum at a Goondiwindi event when I was a Junior rider, commenting that they had a 'look' and I wanted to look like that when I rode.  I can't remember exactly when I began dreaming of representing Australia but it was pretty early on.
We believe in the great value of mentors, did you or do you have a mentor that has made a significant impact in your life or career?
Heath Ryan was a big mentor in the early days.  He is a real believer in throwing everything at your dreams and working harder than your competitors.  My time at Heath's was tough but it gave me a good grounding.  Since then, and particularly since becoming part of the Equestrian Australia High Performance program, I feel lucky to have input from several amazing coaches and riders.  I try to soak up as much information and advice from them as I can and use it to develop a system that works best for me and my circumstances.
What is the best advice you were ever given?
1) Never eat anything bigger than your head.
2) "Don't expect it to be pretty," which was Prue Barrett's advice to me in the start box at Adelaide, where the course had created carnage for the riders before me. It really helped me get my grunt on and attack the course.
What roadblock or roadblocks have you overcome to be where you are today professionally?
While I wouldn't call it a roadblock, Eddie's birth in 2019 threw up some logistical hurdles and it wasn't easy juggling a baby, work, and riding while trying to get back to competition fitness.  With the help of a great support team, I was able to ride competitively at 4* level a few months after Eddie came along.
An obvious roadblock for many of us is the cost of training and campaigning eventing horses.  I think starting out as a working pupil for a professional rider opened doors and gave me experience and opportunities that I wouldn't otherwise have been able to afford.  I got a uni degree because I figured it would give me more options as far as finding work to support my riding.  I also try to find owners/part-owners for my horses – I love the team feeling it creates plus it means the costs are shared.
I would love to say that I have overcome the cost roadblock. But trying to come up with a model that lets me put in the amount of time and effort needed to perform well enough for team selection while making enough money to pay for it all is a constant challenge. Having said that, I enjoy the challenge and wouldn't have it any other way.