Winning Olympic gold is the dream of many an athlete, but for Olympian WENDY SCHAEFFER OAM it was a dream that came true.
Aboard her Pony Club horse Sunburst, 21-year-old Wendy Schaeffer became the youngest woman to win Olympic equestrian gold. It was at the 1996 Atlanta Games and what's more, after breaking both bones in her lower leg just weeks before the Games, she was barely able to walk the course. But ride she could! Wendy rode so well that had the rules not been changed just one Olympics previously, she would have won the eventing individual gold medal as well as team gold. The following year, she was awarded the Medal of the Order of Australia for her outstanding contribution.
Sun Quest, the 2021 Wandin CCI3*-L winner, at the Naracoorte SA State Championships.
How it all unfolded
Wendy says she was lucky to be born into a horsey family with a very competitive rider as her mother: "My mother, who was not from a horsey family, did very well. She rode at the 1986 World Championships for Australia," recounts Wendy, who at that time was an impressionable 11-year-old.
Seeing her mother's lifestyle with the horses, her ambition, work ethic, and the effort it took to achieve at a high level, Wendy decided that that was what she wanted to do. "I remember writing lists saying at this age I'll do this and at that age I'll do that," she says. "I showed my mum and one of the things was that at 35 years old, I'd ride a 3* – and she said to me, 'I think you need to be doing it a lot earlier than that!'" Wendy chuckles at the memory, noting that the dream was always there. It was simply part of her world and something she was always going to do.
Finding 'the one'
It was at this time that Wendy found Sunburst, an off the track Thoroughbred. Wendy laughs at how she discovered the horse that was 'the one' before the boyfriend that was 'the one': "I'd been riding a lovely little horse prior [to Sunburst], who tragically broke his leg in the paddock," she recalls. In a random turn of events, it happened to be the very same day that Wendy's mum heard about Sunburst. He came for a one-week trial and ended up staying.
Sunburst started out as a low-level Pony Club horse who Wendy systematically went up the grades with. He wasn't the only horse she was working with either. "In 1988, I was very privileged to take over the ride on my mum's World Championships horse,"
Wendy explains. She really valued the opportunity to ride a horse that had been to Advanced level, because it meant she was able to bring Sunburst up through the grades without as much pressure.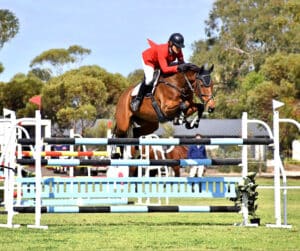 With Sparkling Sun, show jumping at 1.3m Mini Prix level at the Strathalbyn Jumping Club Championships.
There were other horses too, which all ultimately rounded out Wendy's level of experience: "Mum certainly wasn't the person who would put you on the 'right' pony," she says, recalling what she describes as a few different 'feral' ponies. "Mum bought a cute little Galloway and broke it in herself, then chucked me on it as about a seven or eight-year-old kid and wondered why it wasn't always super successful!" But Wendy was grateful for all the knowledge and training that came with riding such a variety of mounts.
A fractured road to glory
So, how does such a young rider deal with the build up to, and actually competing at one of the world's biggest events? Looking back, Wendy sees being younger as an advantage. "You haven't really had many setbacks in life," she remarks. At that point, the worst thing that had happened to her was failing her driver's licence test, so she had no real experience of things not working out.
Prior to Atlanta, Wendy went to the 1994 World Games as a 19-year-old, where she came 16th; then in 1995 she competed at the Open European Championships, placing 9th. In the Olympic year, Wendy also rode at Badminton for 11th place, before coming home to keep riding and to stay in competition mode. While she'd been away, the horses at home had been ticking over, but not competed. So Wendy decided to go to Naracoorte Horse Trials, where she'd been competing for many years. One of her novice horses ran out at a bank-to-bank fence, tripping, falling, and crushing Wendy's leg in the process. She suffered a broken tibia and fibula with the Games just nine weeks away.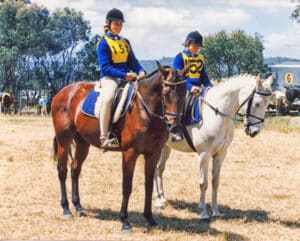 Wendy and her younger brother, Tony.
The leg was screwed and plated back together and Wendy was riding and walking – after a fashion – about four weeks later. "I remember doing the last of the gallops in England prior to going to America, and coming back in saying the horse was feeling great, but I didn't dare tell them how much my leg hurt!" she laughs. But where there's a will, there's a way. Heavily strapped, Wendy not only made it work, but aboard her 16-year-old off the track Pony Club horse, she achieved the best overall eventing score in the Atlanta Olympics. Their double clear show jumping and cross country rounds secured team gold glory for Australia.
Retrospection
Following her dramatic success, Wendy came home with her beloved Sunburst and, after letting her leg properly heal, continued to do great things. She took another horse to the Melbourne International Three-Day Event and placed second; she became the first rider to win the Adelaide 5* twice; and she competed at all the 5* events around the world.
Reflecting on what she might have done differently, Wendy is contemplative. "If someone had said to me in advance 'this is what will happen', I would still have taken the whole package," she says, although in hindsight she wishes she'd capitalised a little more on her Atlanta success.
Looking ahead
Wendy has dabbled in coaching as she's gone along, but in recent years has found it becoming more of a focus: "I have students coming through who remind me of myself at that age, which is really fun. Looking ahead, it would be great to focus on coaching some teams." On top of that, Wendy has just begun her journey on the pathway to becoming a dressage judge. It's plain to see that she's got a lot to offer, and wants to give back to the sport. "We've got a beautiful 110-acre property with a cross country course, so another goal is to keep developing that," she adds.
Wendy's jumping mare Koyuna Sun Set (who qualified for the 2012 Olympics but was injured before the event) contesting the famous Hickstead Derby
After suffering a traumatic brain injury (TBI) in August 2021, life has changed a little for Wendy in recent times. "It was a mild TBI, but I suppose it was a result of repeated concussions throughout my career," she says. She blacked out while in the air over a 1.30m show jumping fence, which didn't end prettily. "But life is a risk. You could get hit by a bus. I'm still riding, but I'm just selective about which horses I get on," she remarks, smiling as she chats about the two cute four-year-olds she is currently bringing on.
Words to live by
For anyone looking to chase their dreams, Wendy's message is this: "Believe in your dreams and be prepared to work on the issues that are going to come along. If you really want to do something, you can, but you've got to want it enough and believe in yourself."
Go to Equestrian Hub for Wendy's full interview, including her hilarious stories and memories.
Feature Image: Koyuna Sun Dancer at Badminton in 2014 where he was the only double clear in cross country and show jumping.