There for the horses
The veterinary checks undergone by Melbourne Cup runners are extensive.
AMANDA MAC
spoke to
Dr Grace Forbes to learn more.
Instead of our usual Life After Racing article, we thought that with the Melbourne Cup nearly upon us, now would be a great time to find out how the health and welfare of horses racing in Victoria is managed – and who better to speak with than Dr Grace Forbes, General Manager of Veterinary Services for Racing Victoria. 
Grace grew up with horses. Not racehorses, although she did have a retired Thoroughbred, but ponies she rode at Pony Club and later at Interschool competitions. There was a hiatus when she went to university to study veterinary science, but she always knew that ultimately, she would work with horses. "Having grown up with them that's really where my passion lay. So I worked in mixed practice for a number of years before going to Melbourne University's Equine Centre for specialised training." 
It was after specialising that Grace began working privately for racehorse trainers, her interest in horse racing originally sparked by her grandfather, a farrier and a trainer. "I enjoyed it a lot," she says. "Working with elite athletes, and helping their trainers manage their preparation was really fulfilling."  
Then Grace, who had also been working casually as a racecourse vet, was offered the opportunity to take up a full-time position as a regulatory vet with Racing Victoria, an opportunity she seized: "I really wanted to impact the whole racing population, to work with private vets and trainers to help them ensure that the health and care of their horses was at the highest standard possible." 
Ten years later and Grace is still loving her job. It's a broad role which can roughly be divided into two key areas: the oversight of Racing Victoria's services, offered at race meetings conducted across the state by a team of experienced and dedicated vets, vet nurses, and assistants; and in an advisory capacity relating to equine welfare, particularly with horses during their racing career, which can include liaising with stewards, the licensing panel, and race day programming staff. "We're really there to provide advice and to be an advocate for the horse across many elements of the industry," she adds. 
The team Grace works with most closely is Integrity Services. "That's the area that veterinary services sits within, alongside a dedicated equine welfare team, the stewards, licensing, and our investigatory team. We have two core goals that complement each another: one is to ensure a level playing field, and the other is to ensure the welfare of the horse." 
And within Grace's ambit are those stringent pre-race veterinary checks, which have undergone a significant upgrade. "After the running of the 2019 Melbourne Cup, Racing Victoria conducted an extensive risk assessment of the Cup and the international horses that compete in it, with a view of trying to understand and then develop a number of strategies to minimise the risk of injuries," she explains.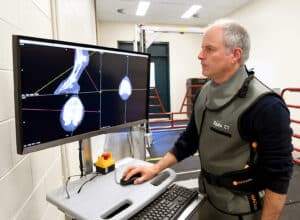 The University of Melbourne was engaged to review the data that had been collected, and a large number of trainers, veterinarians, jockeys, and track managers in Australia and internationally were consulted. The result was an extensive list of recommendations designed to work together to minimise the risk to international and domestic horses competing in the Spring Racing Carnival.  
For the international horses, veterinary assessment begins some time before they leave for our shores. Because Australia is an island and we're free of many diseases endemic or common in other countries, every horse must comply with Australian regulations and quarantine for two weeks in their own country, followed by a further two weeks upon arrival here.   
Then there are the three components to their pre-travel assessment. "Firstly, we gather the horse's veterinary and medical history, as well as a report from their private veterinarian after they've examined the horse," Grace tells me. "Secondly, the horse undergoes advanced diagnostic imaging of all four fetlocks, either with a standing CT scan or a standing MRI. We then send those results to a panel of three experts to review and provide feedback." 
The final component involves an examination by a Racing Victoria vet, or one appointed by them, prior to the horse's departure. Grace herself recently went to the UK and Ireland to assess horses due to compete in our Spring Racing Carnival.  
Once the horse has arrived, they undergo weekly inspections and a standing CT scan prior to each race start they have while they're in Victoria. "And for the Melbourne Cup," Grace continues, "all the horses, local and international, undergo two veterinary inspections; one on the Thursday or Friday prior to the Melbourne Cup, and the second on the day before the Melbourne Cup. They're also all required to have a standing CT of all four fetlocks within the two weeks prior to competing."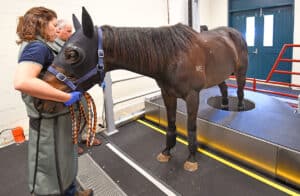 On the morning of the Cup, as on any other race day, a large team begins work: "We would typically have five veterinarians, at least one vet nurse, and four assistants. Jobs are divided into four main areas, one of which is overseeing the anti-doping program, taking samples from horses before and after they race," Grace explains. "We also inspect horses for their suitability to race, and that might be at the barriers. Then we'll examine horses after the race where the horse has perhaps performed below expectations, or if the trainer is not happy with how the horse has run they'll present them to us to examine. And then finally, we're on hand to provide first aid if necessary." 
It's interesting to note that concern for the welfare of racehorses hasn't stopped with these stringent protocols. For the past five years, Racing Victoria, the Victorian state government, and the University of Melbourne have been jointly funding research into an equine limb injury prevention program, at a cost of approximately $11 million.  
The research is focussed on identifying why injuries occur and what can be done to minimise the risk of them happening. And there are other projects that Grace is equally excited about: "These involve a significant investment in technology," she explains. "In 2019 we installed the first standing CT in Australia, and this year we've purchased a second unit which will be installed at the Cranbourne Training Center's new veterinary hospital. We've also purchased a standing PET scan, the first in Australia, which is relatively new technology in equine diagnostics. It was developed in California several years ago, and it's been successful as another way to detect injuries at an early stage and so avoid them from becoming more serious." 
And then there's Racing Victoria's rather novel program, dubbed 'Medicare for Horses', which began in 2021. "This ties in with the proactive approach to injury prevention, and encourages owners and trainers to make use of these different types of advanced diagnostic technologies. So we now subsidise fifty per cent of the cost of advanced diagnostic imaging, which could represent a saving of up to $1,600 for a trainer or owner." 
In this case, proof of the pudding is in the uptake, and in the last two years there's been a steady increase in the use of diagnostic technologies, as well as some encouraging feedback, which, as Grace points out, is positive in a variety of ways. "Being unfamiliar with that type of technology had made trainers a little hesitant to use it. But with the encouragement of the subsidy, the trainers' knowledge and understanding of when best to use the technology, as well as the benefits of each type in terms of finding out exactly what's wrong, has increased." 
Accurately identifying an injury helps the trainer to know how best to manage it, including whether a time out from racing is appropriate. It also helps in planning the horse's return to training, so that every effort can be made to ensure that the injury doesn't recur.  
And as Grace says, that really is a very exciting initiative.