Meaning 'fine step' the Paso Fino was originally bred for travelling in comfort, writes SUZY JARRATT.
Pregnant ladies, elderly clergymen, postmen with parcels and farmers surveying their land could all go about their business without being shaken in the saddle, courtesy of the Paso Fino (PF).
Today the breed is still coveted for their smooth movement, and is much loved by the aged and infirm keen to continue riding despite their ailments. Riders sit securely with long stirrups as rising is not required. Even chiropractors recommend this gaited breed to patients with bad backs! But not in Australasia – here the Paso Fino's status is critical. There are only a few purebred mares and stallions on this side of the world.
In Europe and the Americas they are widely used for pleasure, endurance, harness and mounted games, and as workhorses on Peruvian coffee plantations. Closer to home you might glimpse one or two in an obscure breed class in New Zealand, or out on an Aussie bush ride if you're sharing the trail with Dr Christiane Bahlo.
Dr Bahlo runs Narrawin Stud at Dereel in Victoria, and is an authority on these endangered horses. Her interest in them was ignited by the late Jorge de Moya, a Cuban civil engineer who created OliVaylle, an olive oil company on Telopea Downs. "In 2000 he imported some Paso Finos and a year later I was appointed as his stud manager. His enthusiasm for the breed was contagious," she says.
Dr Bahlo often participates in jousting events with Reverende de United (Image by Amber Fitzpatrick).
Dr Bahlo was breeding and training other gaited horses prior to working with de Moya. American Saddlebreds, Icelandics and Peruvians all fit the definition and there are many in-depth articles about their unique movement which is exhibited from birth. A simple description is that each hoof hits the ground independently, with forward power coming from the rear legs, allowing for a higher (but not exaggerated) action from the front legs.
The Paso Fino descended from 15th century Spanish horses brought into the Caribbean in 1493 by Christopher Columbus, and the breed developed over hundreds of years. Puerto Rico, where the first registry started in 1943, is regarded as their home. There are two main types: the slightly smaller, finer Columbian PF and the bigger Puerto Rican PF. "Some Columbian bloodlines aren't gaited, but all other Paso Finos are bred to perform a smooth gait," explains Dr Bahlo. "The breed signature 'paso fino' is very short and fast with little forward motion, mainly for showing. The 'paso corto' (short step) is more forward, and the 'paso largo' (large step) is increasingly ground covering."
In the past Dr Bahlo has taken them into open ridden and led classes at some smaller ag shows. "And we've displayed them at Equitana and lifestyle expos. My passion is mounted combat, and I've successfully competed on them in Extreme Cowboy and skill-at-arms contests."
She also participates in jousting events, wearing full armour, often with Reverende de United. This PF stallion had a successful show career before being exported to New Zealand, where he sired a number of lovely foals before arriving at Narrawin in 2013. At one time 'Rev' was owned by Shania Twain when she had a property in Queenstown. The country singer loved the breed for its gait, soft eye and kind temperament.
Another to sing the horse's praises is Marti Winn, who ran Winnfarms in Christchurch, NZ until sidelined by ill health. "I was born in the Panama Canal Zone and lived there until I was eighteen. Gaited bush ponies were everywhere and we'd ride them all over the place," she recalls. "Twenty-two years ago I developed my Paso Fino stud which I've now had to close. I would ride all of them without bits and they would just glide; I miss them so much."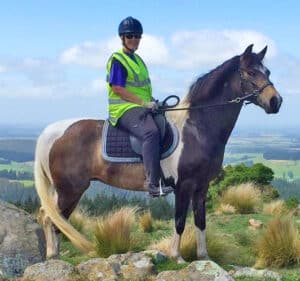 Marti Winn and Pacifica Baile (Image by Brian Pelham).
Two Winnfarm progeny are now with Dr Bahlo. In 2016 Pacifica Baile came to Narrawin in foal. "She's fun on trails, loves obstacle courses, has done horse archery and armoured riding. I regularly ride her at Military Equitation training days. She's a buckskin Tobiano and was the first pinto Paso Fino in Australia. Her colt foal, Darien, was born in 2017. A smokey black Tobiano, sensible and beautifully built."
Clearly this breed has many appealing attributes yet only a few Australians know anything much about them. "We need to raise public awareness by being involved in breed displays and getting them out and doing things," Dr Bahlo tells me. "They'll give everything a go and they have 'brio', which is a desire to work and a lot of pride. They're nice medium-sized horses and a great pleasure to ride."
General Characteristics
Paso Finos stand between 13hh to 15.2hh, with most in the 13hh to 14.2hh range. They are intelligent, come in all colours except spotted (there are no restrictions by the various breed associations) and often have thick manes and tails. Their legs are strong with well-formed tendons, large hocks, and a fairly straight hind leg that comes well in under the body. They have strong backs and loins, well-defined shoulders and strong hooves. The Puerto Rican PF is the only breed in which the distinctive 'tiger eye' has been found.
For more on the Paso Fino, visit Dr Christiane Bahlo's Narrawin Stud.