Winner: Kristle Cross
Discipline: Dressage, eventing, show jumping
Mentor: Vicki Roycroft
Kristle Cross's proudest achievement to date has been taking a horse from never having jumped through to Mini Prix, and winning the Amateur of the Year Series at the 2015 Forbes Show. She has since followed up with a 2022 ACT Cup Mini Prix win, and was runner-up Category A Champion at the 2022 ESP Winter Festival with current horse Little Bit of Blue.
But not one to rest on her laurels, Kristle has been busy: "I attended Waratah Warm Up Weekend, show jumping and eventing at Willinga Park, and the NSW State Titles at Willinga. Now I'm looking forward to the Stonewall Showjumping Championships and Jumping NSW Summer Showjumping Classic." And after achieving her 1.30m goal, 1.40m is on her radar.
With a long-term Grand Prix dream, the mentorship couldn't be more appropriate. "I was so surprised when I got the call telling me I'd won that I didn't know what to say! I'm just so excited and grateful for this amazing opportunity."
Kristle is a firm believer in giving back to her sport and decided to get her EA Level 1 Coach qualification. "I love helping riders achieve their goals, and the more knowledge I gain on my own journey, the more I can pass on to others to help them become better horsemen and women."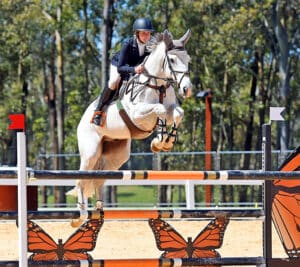 Kristle and Little Bit of Blue competing at 2022 NSW State Show jumping championships (Image by Oz Shotz Photography).
Mentee: Naomi Vanderweg (Life After Racing Series)
Discipline: Dressage
Mentor: David Shoobridge
One of Naomi Vanderweg's most significant equestrian challenges was overcoming a break in her back after a bad fall. "I'm very proud of my journey to achieve the mindset I needed to retrain, relearn, build confidence and resilience, as well as create realistic goals for myself as a rider. I'm now competing to Novice level. It's been a journey with lots of tears and many joys."
Winning the mentorships was a shock for Naomi. "It took a couple of minutes to properly register. It's a once-in-a-lifetime opportunity and I'm so excited," she says.
With a soft spot for OTT Thoroughbreds (she has three – Lorenzo and Charlie, both now retired, and Hugo, her current partner) Naomi's goals are first to continue to learn and grow at Novice level while continuing to support OTT dressage events, and later to compete in Country and State championships in South Australia, her home state.
And she has another dream: "I want to show other equestrians that they can reach their goals with dedication and hard work. It's vital to have a positive and realistic mindset and, like I've been lucky enough to have, to create a support network of people who'll be there to ride every stride with you."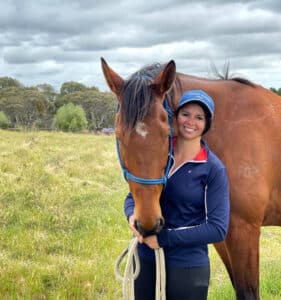 Naomi and Hugo are currently competing at Novice level and loving the journey they're on together.