In a perfect world, our horses stables (and our homes) would all be built from natural materials. These stunning equestrian properties, which range from minimalist wooden homes to lavish international complexes, have been designed with sustainability, renewable energy, integration with the surrounding environment and equine wellbeing in mind.
MG Coudelaria: Portugal

Architects: VISIOARQ Arquitectos
Photographs: Maria João Gala
Created almost entirely with natural pine wood, this Portuguese property breeds and trains some of the finest Lusitano horses in Iberia. The structure blends in so naturally with its surroundings that it's hard to see from a distance.
Centro Ecuestre Robledales de Ultzama: Spain
Architects: Francisco Mangado
Photographs: Pedro Pegenaute
In the middle of one of the most humid valleys of northern Navarre, Spain, this elite equestrian center is a contemporary facility especially developed for dressage riders. The stables natiraò design ensures soft lighting and ventilation all year round.
The Boulonnais Horse House, France

Architect: Joly & Loiret
Photos: SCHNEPP RENOU
Providing a mix of French flair, sophistication and simplicity, this farm at La Ferme De La Suze, Samer has an important job to do. They are responsible for breeding and rehabilitating rare Boulonnais draught horses.
Klagsham Riding Club: Sweden

Architects: FOJAB arkitekter
Photographs: Felix Gerlach
The Klagshamn's Riding Club was formerly based in an old concrete factory. When the city of Malmö decided it was time to build a new facility for local horses and riders, the concrete factory was demolished and the ruins were turned into a park. The new equestrian center lies parallel to the ruins, utilizing elements of it in its unique design.
Azienda Agricolo Alterreno: Italy

Architect: Angelika Schnieder
Azienda Alterreno is a refreshingly modern horse facility with a minimalist design and carefully considered composition. Set in the green heart of Tuscany, Italy, the complex has both an indoor and outdoor arena, grass gallop track, 32 boxes and 12 paddock shelters.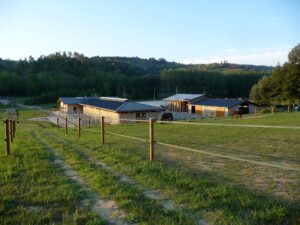 Pedras Salgadas Horse Riding Centre: Portugal
Architects: Luís Rebelo de Andrade
Photographs: Fernando Guerra | FG+SG
From the sustainable materials used to its functional design, this contemporary complex is one-of-a-kind. Inspired by an intermingling between old versus new, the original center was totally renovated in 2012 to meet the demands of modern-day equestrians. Two new buildings were added to the original design, and these complement not only the pre-existing structure but also the surrounding countryside. The boxes are made from renewable cork panels, while the riding arena is enclosed by logs that allow it to blend nicely with the surrounding environment.
VG Horse Club: Ukraine

Architects: Drozdov&Partners
Photographs: Andrey Avdeenko
This riding club's smart and modern design stimulates the diffusion of natural light whilst blurring the edges between indoor and outdoor riding. The international equestrian complex has two riding arenas (one indoor, and one outdoor), and newly built hotel rooms for riders to relax before and after training. An eco-friendly manure-processing system heats the stables when the temperatures drop.
Kekkapää Stables: Finland

Architects: POOK Architects Ltd Finland
Photographs: Kuvio Ltd
Entirely built from unimpregnated conifer wood, this stable in Northern Espoo, Finland was built to ensure ease of operation and management. The horse's free range stable is directly linked to the pasture, while the riding arena and local riding trails are all connected from the courtyard.

Hípica La Llena: Spain

Architects Vicente Sarrablo and Jaume Colom
Photographs: José Hevia
Instead of starting from scratch, this edgy equestrian home was built on the foundations of the old hay barn. Plywood panels were used to create distinctive curved walls and ceilings, while salvaged timber made outer walls blend in naturally with the local landscape.
Leça Da Palmeira: Portugal

Architects: Carlos Castanheira, Clara Bastai
Photographs: Fernando Guerra
Pentagonally shaped, with walls that angle outwards and windows that project from the roof, this unique center has an enviable location near Cabo do Mundo beach in northern Portugal. The facility has two covered riding arenas, an external riding school, stables, turnout paddocks, jumping arenas and specially built riding trails that lead to the sea.