With the continued uncertainty in our lives, spring's arrival couldn't be more welcome. So don't hesitate, it's time to revitalise your wardrobe with some stylish, on-trend riding wear. 
The sun is out, the birds are chirping and it's finally getting warm enough to peel off some layers. So as the days become longer and you have more time to ride, you can ditch the heavy outerwear and slip into some of the latest beautiful, lightweight equine fashions just in time for spring.
Whether you're schooling at home or enjoying a lesson, there's a hot trend in the pants department. Save your breeches for the competition arena and let comfort combined with fashion reign supreme with a pair of riding tights. Growing more and more popular, if you're still sitting on the fence with this one, try riding in a good pair to see what all the fuss is about.
Step out in style with the stretch, comfort and feel of yoga pants, coupled with the grippy knees and seat of traditional jodhpurs. Fun silicon grip prints are super for that added staying-aboard adhesion. Features and options abound with cell phone pockets, belt loops, pretty bits of bling and more, so you'll certainly find the perfect pair to suit your mood – a must have for every rider. Plus, if you need to swing by the shops on the way to or from the stables, you'll fit right in with the current activewear vibe. The fashion colour palette for our lower halves is more muted this season, featuring the core classics of black, navy and wine, ideal foundation pieces for any rider's wardrobe.
Another legwear option worth considering for great fit, feel and comfort in the saddle is a pair of horse riding jeans. With well thought out features, like being high waisted with inbuilt tummy support, a thigh pocket for your phone, and hidden underfoot keepers to make sure they stay in place at any pace, you'll hardly want to take them off. A seamless inner leg, plus a suede seat for extra security in the saddle seal the deal for us. What's not to love?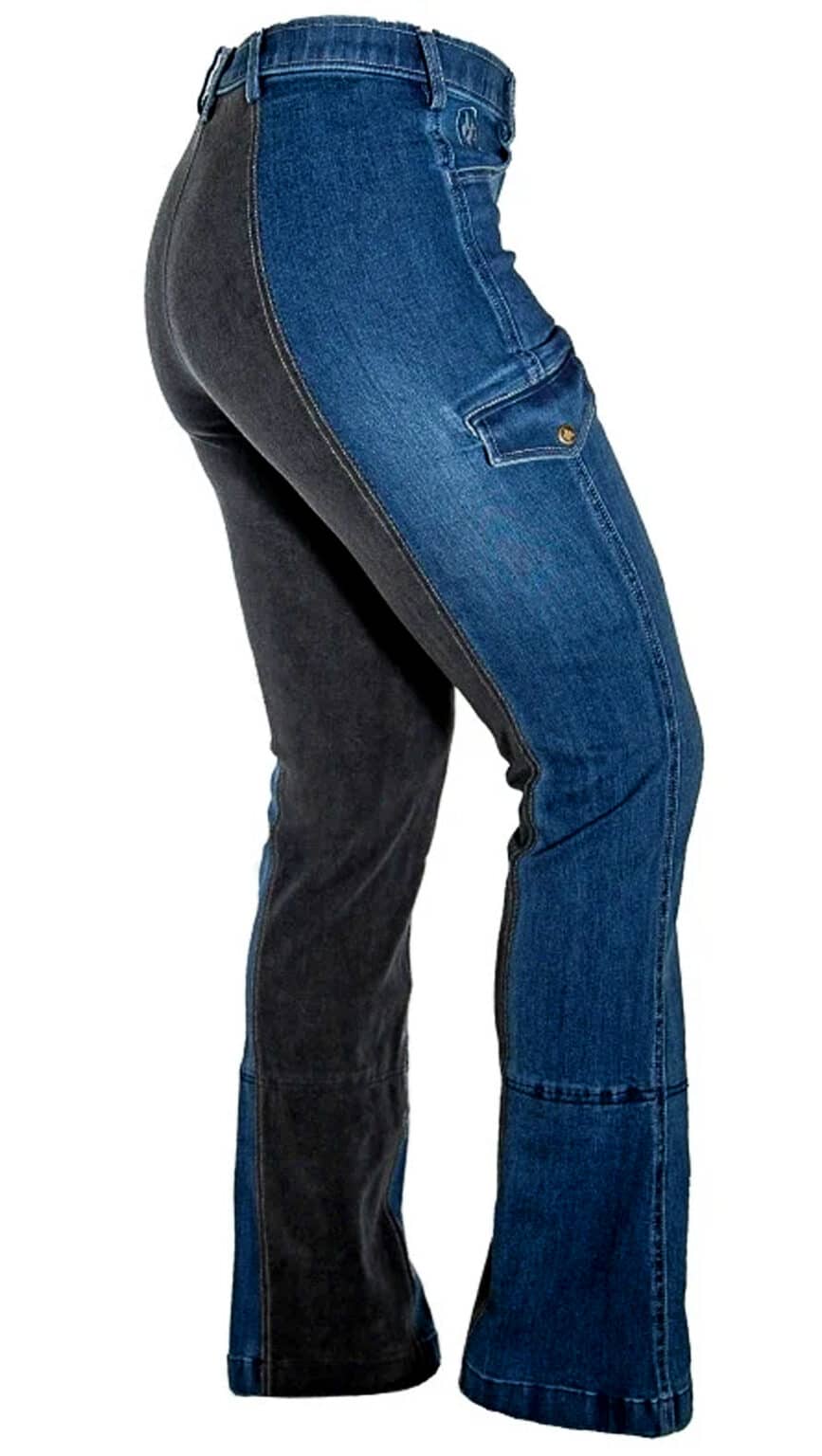 While the colours for tights and jeans this season are simple and straightforward, designers have launched happy, bold colours to pop on top! If the arrival of the warmer weather makes you want to let your personality shine bright, this is your moment. Paint box options like pastel mint, soft pink or teal are box-tickers, or stand out in a statement piece with chevron stripes; two-toned navy and peach; or something with some floral flair. Of course, classic black is always on the radar for a flattering, edgy look.
If you're well and truly ready to feel the sun on your skin, short sleeves are where it's at. Polo shirts are still a much loved favourite, with their bright colours, moisture-wicking ability, and timeless style. Riding T-shirts of the less traditional variety are also making an appearance in the form of eco focused equestrian wear. Made from recycled plastic bottles that would otherwise have ended up in landfill or in our oceans, these are pieces you can feel good about wearing every time you mount up.
While the days are still feeling fresh, bare arms may not be for you just yet. For added atmospheric buffering, long sleeve base layers are a super choice. Different weights offer various levels of insulation to banish any chilly spring morning breeze. Pick something moisture-wicking to keep you dry even when you start to turn up the heat. Plus a four-way stretch for fit and freedom of movement, and a neck zipper to adjust to the temperature are both ideal.
As the season progresses and it starts to heat up, base layers can also offer protection from our hot Australian sun. Choose from styles that have built-in UV protection. SPF30 and SPF50 are readily available and are well worth it if you're out in the saddle during the peak of the day. In hotter weather, or when you're really moving and getting a workout, staying fresh is key. We love breathable fabric, antibacterial odour reduction and, the best bit, cooling mesh inner sleeves – the ultimate base layer recipe.
If it's something less fitted you fancy, relaxed-fit shirts are an excellent spring choice. Find yourself a cool cotton blend, collared number for an all-over, lightweight level of protection from both the sun and wind. But relaxed doesn't mean boring. Available in fun colours like pastel pink, lemon yellow, cactus green and pistachio, work shirts like these will brighten up any rider's day. Double buttoned breast pockets keep your necessities secure, while sleeves that roll up and button out of the way let you get your hands dirty while keeping your shirt clean. No more water dripping along your sleeves to your elbows when you get stuck into spring cleaning your horse!
Spring is a finicky season. The days can start cool before heating up, so the trick is to layer up and then remove one layer at a time as temperatures rise. A stylish vest to keep you warm and looking oh, so smart is an equestrian fashion essential. Puffer vests are ideal, styled to flatter a woman's body with both the cut of the garment and just the right amount of angled stitching on the puffs to keep you looking great. If you like to keep the rest of your equestrian wardrobe more muted, a bold vest can be the cherry on top when it comes to letting your glamour side out.
We're seeing figure-flattering, down-filled vests in metallic gold and bronze strutting onto the scene. Tailored for the ultimate in fit, the addition of stretchable panels at the back allow for perfect comfort while in the saddle. Two-way zippers are the way to go and, if you like something a bit different, an off-set front zip can make for a cool twist on a traditional style. Water repellent and windproof, a good vest can bring your comfort level up quite a few notches.
To keep yourself snug for just a while longer, go one layer more with an on-trend, tailored hoodie. Choose from a pullover or zip-up front, with a corded hood and kangaroo pouch to keep your hands and neck warm while you wait for the sun to get going on fresh spring mornings. Cherry blossom pink and night blue are our favourite hoodie colours – but you can choose to suit your mood.
Spring grass doesn't grow without seasonal rain, so if you do find yourself caught in a semi-tropical downpour, or in the midst of a whipping spring wind, it's worth having a light jacket on hand. Soft shells are perfect for adding layers without too much additional bulk. A full-length zip is the standard set-up, but it's interesting to note that quarter zip soft shells are also available as handy fleece-backed, mid-layer pieces. In either case, zip up pockets and thumbholes finish the job. A vest over a soft shell still allows for freedom of movement, but keeps in the heat when you need it.
Lightly quilted jackets are another stylish look catching our eye around the stables this season. We're all over the alternating stitching lines, which create a feminine and fitted silhouette, while thumb holes at the cuffs add to the overall quality and feel. For a sophisticated look try out colour blocking, with the chest, upper back and inner arms contrasting to the body of the jacket. Looking and feeling this good will make you want to keep these jackets on even beyond the barn.
Good gloves are an essential for any rider and you don't have to compromise your grip just because it's getting warmer. There are a couple of tracks you can go down in this department. Consider a pair made of sweat-wicking Lycra, a handy form of moisture management. Or, choose a pair made with breathable mesh-backing to keep you cooler while you keep a contact. Want to use your phone to check a message before mounting up? You can leave your gloves on when you're wearing touch screen compatible feather touch fingertips. Add extra reinforcing on the rein-holding fingers and you get the best of both worlds with durability as well as sensitivity. Silicon print on the palms keep the reins in your hands, while a little bling detailing on adjustable Velcro wrist closures will add spring time sparkle to your ride.
Feature Image: Epona Elite Ella Ladies Long Sleeve Base layer