Jurox has long been at the forefront of veterinary pharmaceutical manufacturing, developing solutions for livestock producers, veterinarians and pet owners. With spring well underway, the topic of worming and the many questions associated with it are at the forefront of many horse owners minds. The rotation of active ingredients to slow the development of resistance in worms can be confusing for horse owners, so with the launch of Axis, along with their existing Promectin Plus and Promectin Plus LV, they have simplified worming. With the creation of a seasonal guide, they are making it easy for horse owners to choose the right wormer, at the right time of year.
When should I deworm my horse?
Do I need to change the type of treatment I am using?
Do all my horses need to be dewormed at the same time?
These are all common thoughts that some might have as horse owners, just know you're not alone! Deworming horses can be complex at the best of times and with resistance on the rise it can be daunting to think that you could potentially be exacerbating the problem! To maintain good health, Jurox suggest targeting specific parasites at the correct time of year, not only that, but also performing faecal egg counts to decipher which specific horses require more frequent treatments than others.
Below Jurox have put together some helpful information to assist with making the right choice.
Parasitic worms found in horses
Small Strongyles (Cyathostomum spp)
Large Strongyles/Bloodworms (Strongylus spp)
Pinworms (Oxyuris equi)
Tapeworm (Anoplocephala spp)
Bots (Gastrophilus spp)
Ascarids/Roundworms (Parascaris equorum)
Types of active ingredients
Macrocyclic Lactones – Abamectin, ivermectin, moxidectin
Benzimidazoles – Oxfendazole, Albendazole
Tetrahydropyrimidines  – Pyrantel, Morantel, Oxantel
Praziquantel
Integrated Parasite Management
Faecal egg counts performed yearly to identify "high shedders" and "low shedders" amongst your herd. "Low shedders" will require less treatments
Dose accurately based on horse weight
Follow the Jurox Seasonal worming guide to assist with deciding which dewormer to use and when
Jurox Worming Range
Axis
Rotational wormer
Recommended for use in the warmer months
Unique mint flavour
Contains Oxfendazole and Pyrantel embonate
Treats horses up to 700 kg with a dial-a-dose plunger
Promectin Plus
Recommended for use in the cooler months
Contains Abamectin and Praziquantel
 Promectin Plus LV
Low volume option
Recommended for use in the cooler months
Easy to administer
Contains Ivermectin and Praziquantel
Treats horses up to 600kg (LV Horse variant)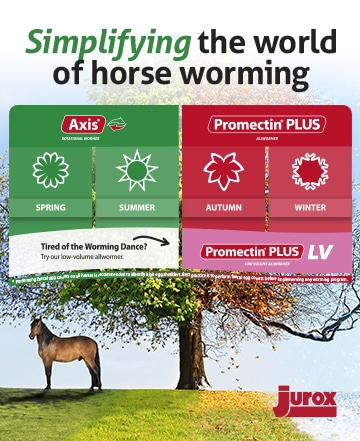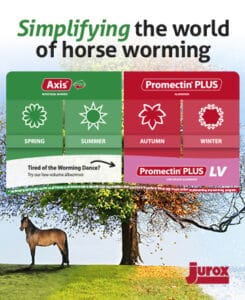 More information on all their products can be found on the website www.jurox.com.au