So far, eventer Shenae Lowings has achieved some notable successes, and the best may very well be yet to come, writes RACHEL ROAN.
Twenty-five year old eventer Shenae Lowings is proving to be an up-and-comer in the equestrian world. After winning the CCI4* at the 2022 Melbourne International Three Day Event, she represented Australia at the World Championships in Pratoni, Italy, last month.
Originally a West Australian girl, Shenae grew up in Attadale in suburban Perth. Despite being around horses as a child, she admits she never dreamed of going to the top. Her grandfather was a bookmaker and from the age of five, she accompanied him to the races every Saturday, becoming familiar with trotters and gallopers and gaining confidence around the business of the track. While her family were "kind of from a horsey background" (her mum had done a bit of non-competitive show jumping and hacking and her dad had trained trotters when he was younger), by the time she developed an interest in riding they were pursuing other hobbies.
She recalls her first pony arriving when she was around ten. After months of lessons at a local riding school, her parents purchased one of the school's horses. "He was a proper little hacking pony," Shenae recalls, a stark contrast to the eventers she now rides. Although making it to the Perth Royal in ridden classes, Shenae found it left her wanting more: "I wanted to go out in the bush and jump fallen logs. The pony hadn't jumped before and didn't like it, and I wasn't overly excited about hacking."
Finishing with only 25.3 penalties, Shenae and Bold Venture led throughout the CCI4*L (Image by Australian Equestrian Team/Kirsty Pasto).
Finishing with only 25.3 penalties, Shenae and Bold Venture led throughout the CCI4*L (Image by Australian Equestrian Team/Kirsty Pasto).
So when her parents purchased a five acre property, they took the opportunity to buy 12-year-old Shenae her first competitive show jumping pony, Belina Rapsody. It was meant to be. The 14hh superstar had talent to burn, and he loved the sport. Even though he wasn't too keen on water jumps, he took her through to 105cm.
By this time, Shenae had developed a passion for eventing. "I was obsessed with watching Badminton DVDs," she confesses, "and my dad would always be googling thrills and spills." I question whether watching eventing falls ever
made her reconsider her decision to event: "No, not at all! My sister was very turned off by all of that, whereas I didn't care. I just loved it." Attending events with BML Performance Horses, a local agistment centre, sealed the deal for Shenae. "They did a lot of eventing and I would go with them. Once I saw what it was all about, I didn't want to do anything else. That was all I ever wanted to do. I didn't try anything else."
But the path to professional riding is rarely easy. "I finished school in 2013 and got an office job. I worked in admin and accounts for seven years, but it paid the bills and allowed me to keep doing what I wanted to do," she explains.
By 2016, Shenae had moved across the country with four horses to base herself in NSW with Prue and Craig Barrett, finding another office job to keep herself afloat financially. "Prue is a major influence on my riding and gave me the system that I still use to this day. She has a very methodical style of coaching and it becomes a real routine for the horses. She asks the horse to use every part of their body and it really brings out the best in them. That's what I love about her." Shenae adds that it's important to continue to learn, to be coached by a range of people, and to ride as many different horses as possible.
In 2020, Shenae felt ready for another change and took up a job with Shane and Nicki Rose at Bimbadeen Park, employed for the first time in a role that actually involved working with horses. "Bimbadeen's an extremely busy place. You start work early and don't finish till late." And for Shenae, that was exactly the right move. "It was so beneficial for what I wanted to do, and I believe it made me a better rider. I learned a lot of new things."
So far, Shenae has accrued some significant achievements. At 3* level, she found success with Venture Sky High (Squirrel to his friends) her Warmblood cross gelding. "He was the first major horse to give me success in eventing. He taught me a lot on the flat. He was good in dressage, a great show jumper and while he was not overly brave in cross country when he started out, he tried hard and eventually became very consistent." Consistency and training paid off when Shenae and Squirrel qualified for two Young Rider teams chosen to compete at the Oceania Games; in New Zealand in 2015 and Melbourne in 2017.
Shenae's first 4* horse was Ballyhoo. "He pretty much taught me all I know about cross country," she tells me. "He was an amazing cross country horse and he gave me heaps of confidence, which has stayed with me really, for all the other horses I've had since." And for other young riders, Shenae has some advice: "It's really important to ride different horses when you're starting out. It makes you realise what type of horse you should look for. I think if you just stay with the one type, then you'll only ever know that one type."
Because of its three phases, each one challenging in its own right, eventing is a sport that requires a horse to be talented in multiple disciplines, and a rider isn't always blessed with a mount that excels in all three. Which is why Shenae believes it's important to look at temperament when you're shopping for a horse. "I don't really have an ideal horse. I love working with one that's willing to try and willing to do things for you," she says. "I do love Thoroughbreds. I've had some good ones and the best horse I've had to date is a TB, but it doesn't mean I won't ride anything else."
When she takes on a new horse, Shenae doesn't trial them first. "I know the trainers I buy them from," she explains, "but I do look at their confirmation and their breeding. You can get a bit of a gauge on what their temperament is likely to be from the breeding."
Shenae hopes the naturally talented SS Graphite will be her next top horse (Image by Derek O'Leary Photography).
She notes that many OTT Thoroughbreds can be quirky and stresses the importance of being picky when looking for one. "It's hard to find an OTT with a good mind that hasn't been buzzed by racing." That said, Bold Venture (aka Bentley), her partner when she won the Melbourne CCI4*, was originally off the track. "He's the quirkiest horse I've ever owned, but I knew that he wasn't fried," she says. "When I put work into him, he didn't panic. While he might have other little quirks, like being startled if I walk up to him too quickly in the paddock, he's always been good with work. I knew he was going to be able to cope with the pressure of higher level events."
Shenae has her sights firmly set on the future, and has been busy training. Her current team consists of Bentley, her main 4* horse, and SS Graphite (Smokey), a recent off the track addition. "Hopefully Smokey is going to be my
next top horse," she tells me. "He's naturally talented, a really good jumper and he doesn't lack confidence. I've been able to move him through the levels quickly because he is such a good jumper." She also has her first home bred mount, Bold Cointreau, a five-year-old out of a Thoroughbred mare by Contendro I. "He's 2* at the moment. He is still so young but is ticking all the boxes, so with time he should be a really good horse," she adds.
After last month's World Championships, competing overseas is an experience that Shenae is looking forward to repeating. She's excited by the prospect: "I definitely want to do this as my profession. I've set goals to compete on the European circuit, to do all the 5* events, Badminton, Burghley, plus Kentucky. And who knows, hopefully one day the Olympics," she muses, "that's my big goal."
OTT Thoroughbred Bold Venture has been able to cope with the pressure of high level events (Image courtesy Shenae Lowings)
With partner and fellow eventer Sam Woods, Shenae is now based in Milton on the NSW's South Coast. They have plans to open a breaking and pre-training business, as well as to take on some coaching, something she really enjoys. But big dreams call for hard work, which she's well prepared for: "It's not an easy sport. If you want to put in the hard yards and make it work, then it absolutely can." At the same time, she knows it's important to enjoy the journey. "You'll ride many ups and downs. Just go with it," she advises.
While every rider has their own strategies for producing successful horses, Shenae says that for her, getting them really round over the back is the main aim. She believes that building a horse's strength is crucial and having a good dressage foundation will help make the other two eventing phases easier. "I want them to use their own neck and find their own balance. It just makes them so much stronger. Even if you don't like dressage, it's really important to have that foundation. If your horse is schooled well on the flat, it makes the jumping aspect a lot easier," she explains. "Eventing is a tough sport, especially at the top level. It's very demanding on both the horse and rider."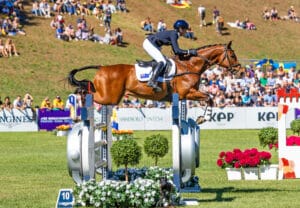 The quirkiest horse Shenae has ever owned, Bold Venture has more than proved himself (Image by Australian Equestrian Team/Kirsty Pasto).
But Shenae is realistic about those demands and is prepared for injuries and disappointments. "I know that, as with any athlete, there can be wear and tear on the rider as well as on the horse, and there's an expectation that either one of you may be injured at some point." She believes a good strategy is to have a backup horse and keep an open and positive mind. Ideally, she tries to run no more than five competition horses: "But there are always other young ones coming up, so if anything happens to one of your team, there's another in the wings you can bring in to take their place."
All in all, Shenae Lowings seems to be blessed with talent as well as level-headed realism – and what better characteristics could there be for a successful career in the exacting world of eventing.
Feature Image: Winners at the 2022 Melbourne International 3DE (Image by Australian Equestrian Team/Kirsty Pasto).