Some people think mind over matter is just another random phrase – Denmark based equestrian vaulter JAMIE HOCKING thinks otherwise.
I've been competing at international equestrian events since I was 12. Initially I was the smallest flyer in a team of six vaulters, so I had the moral support of older team mates in pressure moments, including performing in front of a huge crowd at the 2010 Kentucky WEG.
By 15, I was representing Australia as an individual. Suddenly I was performing on my own on borrowed horses, so my nerves were usually frayed long before I even entered the arena. My survival plan was to grit my teeth and hope it would be my lucky day. Looking back, it seems ridiculous that this was my only mental strategy. I stuck to this dismal technique for eight years – but my own mind was still a mystery to me.
Last year, feeling a bit bummed about COVID and other challenges, I read about Brisbane-based high performance mindset coach Amon Woulfe, whose clients include professional athletes and business executives. I contacted him, arranged a virtual meeting, and pretty soon we were regularly working together via Zoom.
Amon and his team have researched and identified a number of tools for benchmarking mental performance, one of which I now use all the time. It's a finger ring that monitors sleep patterns, so if you notice my 'wedding ring' in photos, no, I didn't get married! It's just a monitor collecting my biometric data.
Competing in Le Mans last July
Sleep is probably the single biggest and cheapest improvement you can make to personal performance in life and sport. It amazed me to see real data measuring the quality of my sleep, and to learn about the impact that has on brainpower and physiology. The second surprise was that with improved sleep, my mental wellbeing, and ability to stay focused, calm and clear-headed ramped up almost instantly.
And sleep is only one of the revelations. I've discovered more:
Mental trumps physical: Many athletes have great skills and physical abilities, but the rider who has developed the mindset to deal with pressure has an instant advantage in the arena and life in general, as well as an improved perspective on training and readiness for competition. Anyone serious about progressing in their sport should dedicate time to mental training. As Amon says: "It's the invisible that always drives the visible."
Train the mind: Under pressure, it's usually the mind that quits before the body. It's that moment when you suddenly decide you're not going to make it and give up seconds before you could have actually crossed the finish line. No matter what level equestrian you are, targeted training for better mental performance is as vital as training for physical fitness and improved technical skills.
Science and technology: Recent developments in these areas have significantly increased the capacity of self-monitoring devices, which now provide valuable data on stress levels, sleep patterns and other biometrics that impact upon mental performance. Monitoring your biometrics gives you the feedback you need to make tangible improvements.
If you ride, you're an athlete: As an athlete, being open-minded and honest with yourself is vital to perform at your best. If you're cruising along thinking 'well, I'm doing ok so I'll just keep doing what I do', that's when you're least likely to change. Amon says only two motivators inspire people to want to change, and sums it up in a few words that ring true for me: "Either your heart is on fire, or your ass is on fire." I'm familiar with both!
Monkey mind: On average, a person has 50,000 thoughts in a day, and 95 percent of those are the same as the day before. But what kind of thoughts are they? You better be sure they're the ones that will support you in achieving your goals and dreams, rather than self-critical, unhelpful thoughts. Mental training can help you recognise thought patterns and learn techniques to deal with them when they come up.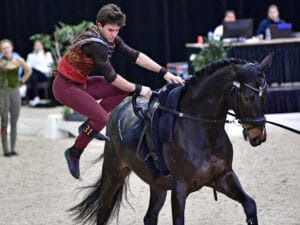 Looking stressed as I fall off French Kiss at Aachen, which was predictable given how tense I was at the time.
Mindset coaching is new for me, but it's already a game-changer in my equestrian journey and overall life. Amon is helping me solve the most challenging puzzle I've ever dealt with: my own mind. Hoping for good luck and kissing four-leaf clovers is no longer my 'go to'! I'm learning to regroup and respond, because my horse (who picks up on every stray stress vibe) and I performing at our best is totally on me – so getting it together in any situation is essential.
Mental strength training is equally important, if not more important than the physical and tactical aspects, and has already been incorporated into many sports. It's the training that helps to develop mental resilience, so be open to the science behind mindset, including new discoveries about the impact of sleep and diet on neural performance.
Regardless of your age, you can upskill. If you're serious about getting the most from your sport and your life, start learning about your own mental performance and how training can improve it.
Jamie Hocking is an internationally successful equestrian vaulter. You can find him on Facebook at J H Vaulting or catch up with him on Instagram james.hocking96
Feature Image: With French Kiss in the Freestyle round at Aachen CHIO in 2019