When you're driven by your passions, in this case for show jumping and off the track Thoroughbreds, more often than not magic will happen.
In April 2019, in the small North Queensland country town of Ingham, great things were stirring. A group of five show jumping enthusiast sat in the pavilion at the local showground and began brainstorming what a show jumping club might look like. As the constitution, affiliations, and mission statement started to take shape, one of the then newest show jumping clubs in Australia, the Tropical North Showjumping Club (TNSJC), was birthed.
From small beginnings the club grew. Now delighted to call the Ingham Showground home, the TNSJC is even more delighted to have the use of the showground's large, multipurpose, undercover sports arena.
But there's more! Having secured Queensland Racing's assistance and sponsorship, the TNSJC committee began planning for the club's first OTT Spectacular, which they held in conjunction with their 2020 Championships. The combined events, officially known as the Tropical North Showjumping Championships and OTT Spectacular, were held once again over the three day October long weekend last year.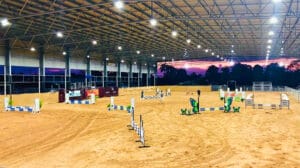 All set and ready to go in Ingham Showground's beautiful undercover arena
Club secretary Laura O'Connor is excited that overall, the number of entries have increased, along with even more interest in the OTT events. "Our main OTT comp is the Queensland Racing Off The Track Spectacular, a 1.05m event with a rug, cash and other prizes up for grabs. But after running the event in 2020, we realised there were OTT horses whose jumping skills were still developing, so in 2021we decided to include the Queensland Racing Up and Coming Off The Track competition, an 80cm event."
With entries for the OTT classes on the rise, Laura expects to see even more interest in 2022. But for her, there are other considerations: "It's just wonderful to see all these OTT horses being cared for and loved. They might not all be top show jumpers, but our OTT classes are exactly that – they're for OTT Thoroughbreds only, so they're competing against each other on a level playing field."
High on the agenda is celebrating a new life for horses when their racing career is over, while opening up exciting opportunities for competition and performance. When they leave the track, many Australian Thoroughbred racehorses go on to achieve great things across all equestrian disciplines, and OTT classes are an excellent showcase for their many talents.
One of the 2021 Spectacular's youngest riders was Ruby Collins and her horse Sugarbag Red Impressions, who happened to be one of the oldest horses in the competition. Under the track name Bright Selection (by Famous Nick from Brightly Chosen), Red raced a total of 18 times before retiring as a four-and-a-half-year-old.
Six months later he arrived in the yard of Rebecca Henry, a well-known Far North Queensland show jumping rider and Equestrian Queensland Level 2 Course Designer. For the next seven years, Red competed successfully in 1.20m classes, before being sold in 2016 to Rob Button for his daughter to ride.
Then in early 2020, Red found his forever home with 14-year-old Ruby. "He is a very special, a once in a lifetime horse," Ruby says. The pair won the OTT Spectacular in both 2020 and 2021, a fitting finale for Red who is now in retirement. In the Up and Coming class, Karen Sullivan and 13-year-old Benji's World (Benny) triumphed. Benny's racing career ended around five years ago when he was rehomed with a young girl from Toowoomba. Although he received a basic education, for various reasons he spent most of his time in a paddock.
Equestrian Queensland judge Robert McLachlan with Up and Coming winners Karen Sullivan and Benji's World (Image by Sue Real).
But when Karen's husband Don, who had been coaching Benny's owner, mentioned he and Karen were planning a trip north so he could course design for TNSJC, she asked if they would like to take Benny along with them to give him a little competition experience. "That turned out to be a memory maker. Benny is a very sweet horse who took everything in his stride and improved with every start," Karen says.
Benny won the class and took home a trophy, a beautiful rug, prize money and bags of feed. An unexpected win but one that won't be forgotten in a hurry!
Giulia Rogato and Fire Engine competing in the 2021 OTT Spectacular (Image by Sue Real).
The TNSJC committee are already planning this year's OTT Spectacular, which will again be held in conjunction with the Tropical North Showjumping Championships on the October long week. "So other than the OTT events, the program will include the Equestrian Australia recognised Frosty Mango North Queensland Leader Board Series, which has been a huge success," Laura says. "There's a lot happening in the north this year, so no better time to come and join us here at TNSJC. We'll be hosting the North Queensland games, and we have a full year of entertainment and competitions planned, including jumping clinics with the ever popular Clem Smith and David Finch."
If you're keen to know more, message TNSJC through www.facebook.com/tnsjc, visit www.tropicalnorthsj.com.au, or call Laura on 0402 390 034.
Feature Image: Ruby Collins and Red took home the 2020 OTT Spectacular trophy (Image by Angie Jade Photography).