Keeping Score
From an almost Melbourne Cup contender to training for dressage – the leap is not as far as you might think, writes AMANDA MAC.
In 2021, Future Score, a Matt Cumani trained stayer, was scratched from the Melbourne Cup field after failing to pass his race morning vet check. The last minute scratching was a disappointment for owners and trainer alike, but the welfare of the horse, a nine-year-old imported Irish Thoroughbred gelding by Cape Cross out of Theola, had to come first.
Meanwhile, Emma Turnbull, who is a partner in a specialist criminal defence law firm with offices in Melbourne and Ballarat, was keeping a very interested eye on the horse. "A barrister friend invited me to join his racing syndicate and it just so happened that Future was the first horse to be purchased in the syndicate w
hen I became involved. From the very first moment I saw him, I knew he would make a magnificent show horse and hopefully a dressage horse. He's so well put together and he's a really lovely person. Everyone loves him!"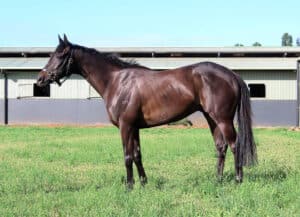 From the first time Emma saw Future, she knew he would make a magnificent show horse and hopefully a dressage horse (Image courtesy Cumani Racing).
Not one to let a potential opportunity slip by, Emma told Matt that if Future was ever to retire sound, she'd gladly give him a home.
With plenty of experience in the saddle, Emma had begun riding when she was eight years old and didn't stop until her first year practising law when career priorities took over.
But some eight years ago, Emma returned to the sport she loves with Zephyr, a kindly Friesian Warmblood schoolmaster, and competed at Horse Riding Clubs Association of Victoria (HRCAV) events. "I did a little bit of everything with him. I've ultimately settled on dressage, so now I just do that as well as some showing. I am hopeful that Future will be the show horse I've been waiting for."
Another of Emma's four-footed favourites is LP Lucky (Bubbles) a Welsh Cob pony. It was in partnership with Bubbles that Emma was awarded the 2022 Amateur Owner Rider (AOR) of the Year, having won the AOR Preliminary, Novice, and Open Novice Championships at the 2021 and 2022 Dressage Festivals. Bubbles also won the 6-Year-Old Dressage Pony Championships at the 2022 Victoria Dressage Festival and went on to win the national championship at 2023's Dressage & Jumping With The Stars, with Emma's coach Karen Blythe in the saddle.
And then of course, there's Future Score. Over his impressive Australian track career, he earned $742,706 with 31 starts for six wins, one of which was the 2020 Cranbourne Cup. His race form includes a 3rd placing in the 2022 Adelaide Cup and 4th in the Sydney Cup that same year. Based at the Cumani Racing stables in Ballarat, Future was a consistent stayer who always ran his heart out.
But with a hairline foreleg fracture that had been surgically reinforced, there was concern that the problem may become acute if he continued to race, so the decision was made to retire him from the track. But for Emma, that wasn't a problem. "When I said I'd take him on if he retired sound, I'm not talking about racing sound, I'm talking about riding sound, and they're two entirely different propositions."
So, in February this year she drove to the Cumani yard to collect Future. "I've got some photos from that day and it was pretty funny. Future had been on box rest since retiring and Matt led him out in this hideous plastic halter," Emma laughs. "The racing world is more practical than the equestrian world where we're all a bit matchy matchy. I was like, oh, no, we'll take that off and put this sheepskin halter on, and I think it was then that Future decided this was a life he could take!"
Future Score getting acquainted with some of life's little luxuries.
Next on the agenda were several months off so Future could let down. "It's the fair thing to do," Emma says. "They've got to get all that grain out of their system and just learn to be a horse. Then he went to Cath Sfregola's, one of Racing Victoria's accredited retrainers. I knew Cath from the HRCAV scene, and had great respect for the way she deals with horses. She has a kind, soft, holistic approach, which is evident in all her training methods."
And it was fortunate that Emma had become good friends with Elisha Hassan, a Cumani trackwork rider and strapper who was fond of Future and knew him well. Although otherwise beautifully behaved on the ground, one of the big issues Emma had with Future was that she could not get him near a mounting block. "I have Elisha on speed dial and anytime anything happened, I immediately contacted her. I explained the problem, and she was like, 'Yeah, that's right. You just do a flying leap like a jockey and off you go'. Well, this body doesn't flying leap! But Cath did the most beautiful job with him and now he'll stand at the mounting block with the loosest rein while you hop on. It's so nice to see him learn those simple things."
And it's these training steps that Emma believes are vital. "Some people think you can just get an off the tracker and it's an easy transition to turn them into a hack. But there's a lot of horsemanship required to change the way they think. Future's job as a racehorse was to run fast. Now he has to learn to think slow, and to learn that slow and steady is a good thing."
And Future's career is looking bright. "He's the loveliest horse, he's learning and he tries so hard, which was his attitude as a racehorse and he's still like that now. Cath's feedback was that he really wants to do the right thing. And he's really clever. Although we're still in kindergarten, we're doing little things in training that perhaps in some ways are a little bit more advanced because he is so willing."
Emma has some ambitious goals in mind for Future, but she's in no hurry and wisely doesn't want to rush his education. "If he's ready next year, or in two years, it doesn't matter. I'm not in the business of producing horses to move on. I'm an owner rider, so it's a different focus. Whether he's nine or twelve, he'll do it when he's ready to do it and not before."
Included in her long-term plan is to compete with him in Racing Victoria and the HRCAV's Off The Track events, with both dressage and the show ring in mind. "Racing Victoria have a great sponsorship program where they provide very generous prize money, saddle blankets, rugs, all sorts of bits and pieces, designed to help in training and encourage and support riders to get off the trackers going out and competing. I'm hoping we'll be ready for the 2023 series, but we'll have to see because our left canter is still pretty dodgy," she laughs.
Also on her radar is the prestigious, and hotly contested, Garryowen showing class. "I think he's the perfect Garryowen horse. He's the size and he's the type so yes, I'd love to do a Garryowen on him, but we're not putting any pressure on him at all."
Meanwhile, Future is living the life out in the paddock. He's got his friends all around him, knows which pockets he'll find a treat in, and is surrounded by humans he loves: "He really is such a lover," Emma chuckles, "he just wants to be your friend."
Ready for new beginnings, Future with Emma (left), Elisha Hassan and Matt Cumani.