Susan Leyland (born 1952) is a British artist living in Italy since 1973. Her home is the village of Impruneta, where fired clay ceramics have been produced since Etruscan times.
Leylands creations, known collectively as horse block sculptures, merge geometric shape, line, balance, harmony, and design with the equine form. She has spent her life studying and working with horses, and like a magician, is able to conjure up grandiose horses of extraordinary beauty and style from either clay or bronze mediums.
Noted as one of the most collectable equine artists in the world, Leylands sculptures have been met with international acclaim by art lovers and collectors for their uniqueness in both form and concept.
In 2008 she received the Directors Award from the American Academy of Equine Art, and her work has been shown in exhibitions and art fairs in the UK, France, Germany, Sweden and Turkey. One of her most famous commissions is the stunning Warhorse Memorial at Ascot Racecourse, UK, which is a remembrance of the horses that gave their lives during the war effort.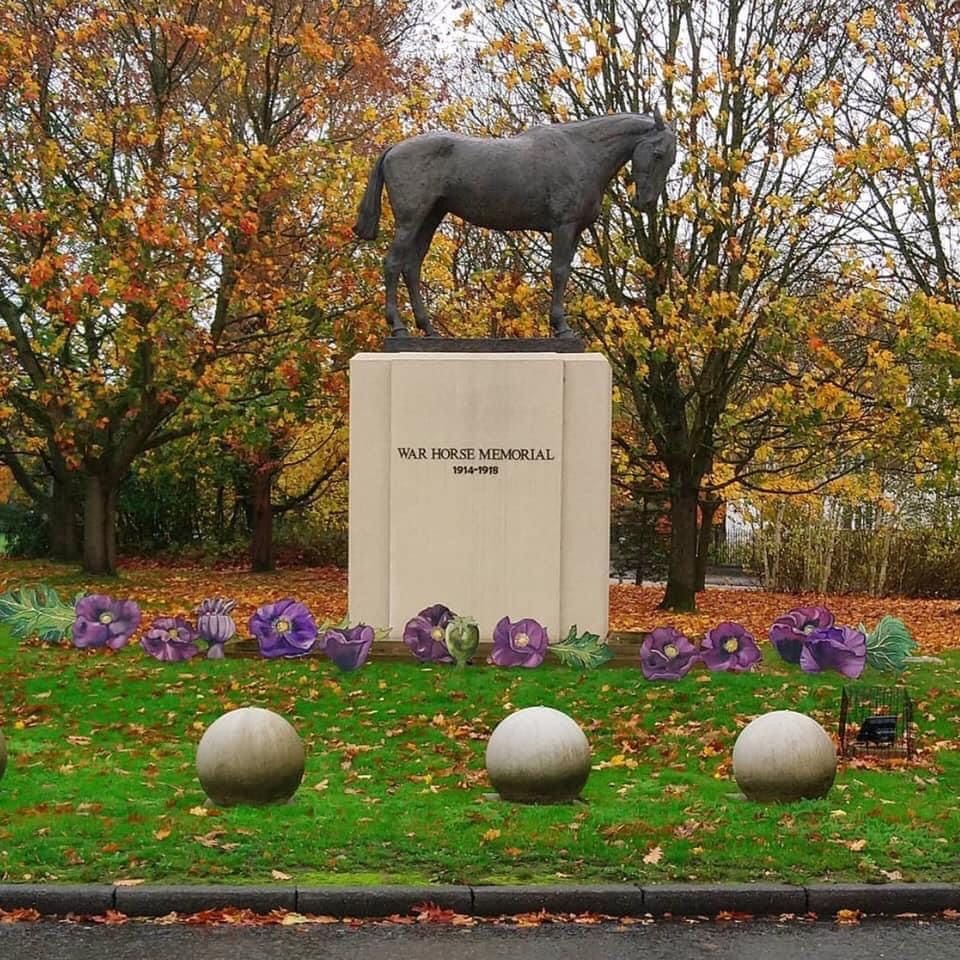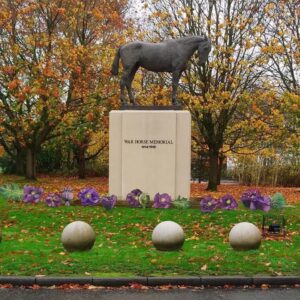 At what age did you become interested in art?
Art and art history have always interested me, but I did not choose to dedicate my career to the art world until 2000. The catalyst occurred when I moved to the village of Impruneta, an Italian town noted for its terracotta urns and ceramic art, where I could observe artisans creating art out of clay and learn from them.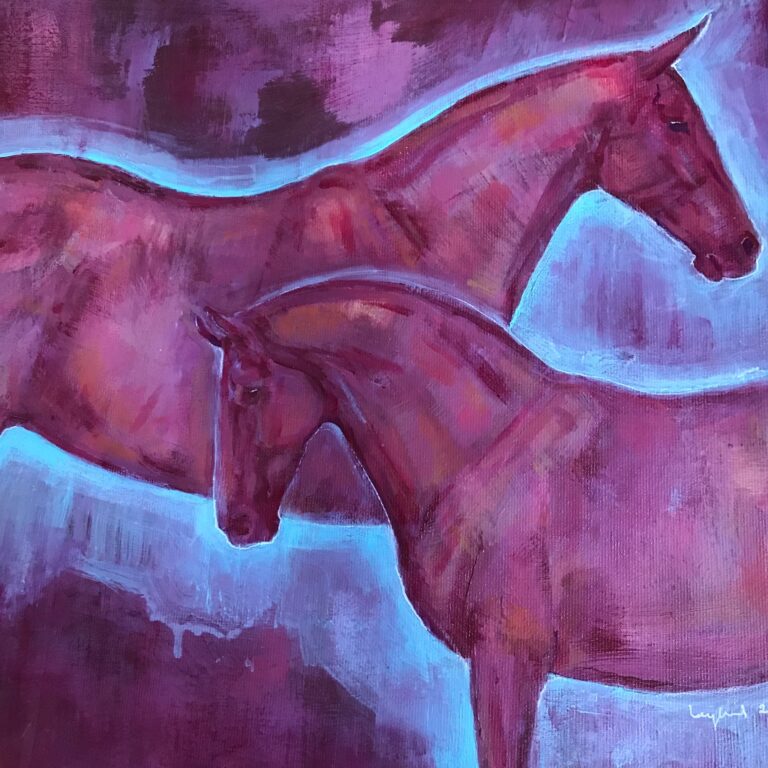 What was your main influence in becoming a sculptor?
Circumstance really. I watched and learned from the Tuscan artisans who inspired me by what they created. They gave me a hunk of clay, and I molded it.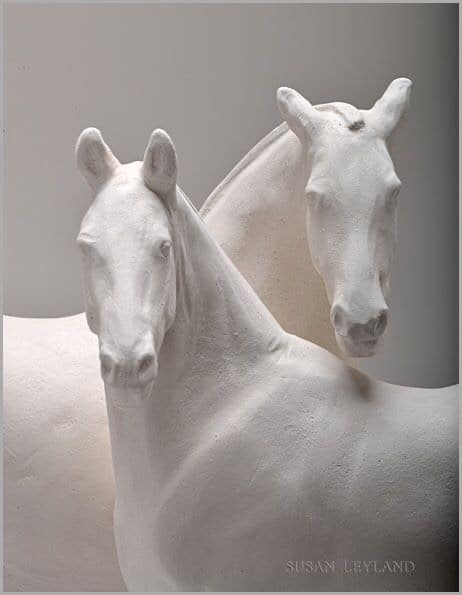 What makes the horse such an inspirational subject to you?
They are such wonderful creatures; I have had a connection with them since before I could even walk.
What is your favourite memory involving horses?
I get to relive my favourite moments every time I take my horse out in the Tuscan countryside. It's that feeling of unrestrained freedom you get riding a great horse in a beautiful open space. It is very special.
Can you walk us through your artistic process, psychologically and physically?
Most of my sculptures begin with a sketched-out idea. These drawings help me envisage the design of the finished sculpture and work out any technical difficulties I may have to confront.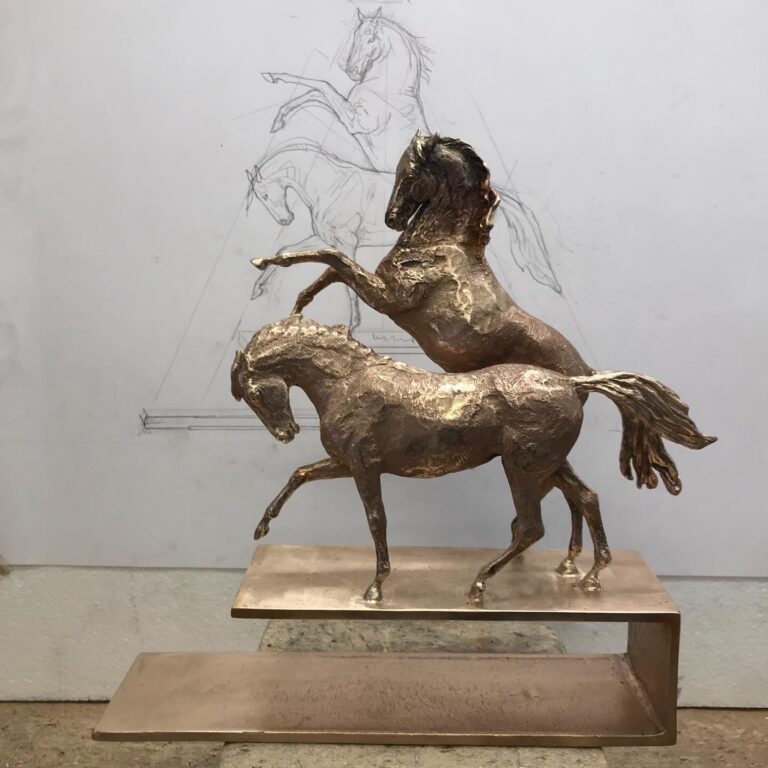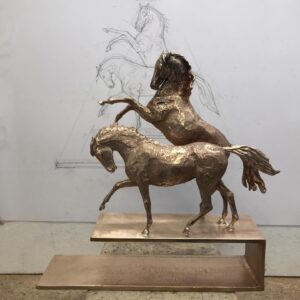 The base is always the starting point. I only add the horses when the clay has slightly hardened. Before I begin, I see the horses as shapes that are complimentary and perfectly balanced. When shape and form is added to a base, it becomes a sculpture.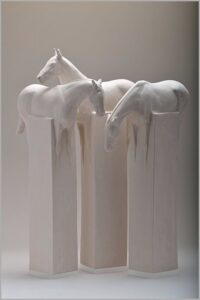 Each sculpture takes around three weeks to produce and is continuously worked during the different drying stages of the clay. When the sculptures are dry, they are fired for a week in a kiln, reaching a temperature of over 1000 degrees.
You are now based in Italy but are originally from the UK. What was that transition like and did it affect your art at all?
I am English, but I left the UK in 1973. Originally I came to Florence to visit a friend and study the language, but the city captured my heart, and I decided to stay. I have lived here ever since. Initially, I worked in the fashion industry (for international fashion house Ferragamo), then as a riding teacher and English tutor, before becoming a full-time artist.
What is the art community in Italy like?
The local art community here has granted me a reciprocal exchange of respect and stimulus, and I am now also connected with many artists around the world, especially sculptors.
 Where do you work? What is your studio like?
My studio was actually once my horse's stable. It is a magical place to create art amongst the olive trees underneath my home.
How would you describe your style of work?
It took some time for me to develop my distinctive 'Horse Block sculptures' definition. These sculptures begin with a geometrical block base and develop as I manipulate the clay above. The base and the sculpture evolve and materialize separately, but then merge and become one.
I am not confined to working with just the horse block genre, and I have accepted other commissions, including the War Horse Memorial sculpture in Ascot, and The Sun Waterfall Fountain Horses in the Ba Na Hills Da Nang, Vietnam.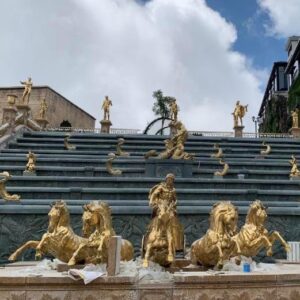 What do you aspire to as a sculptor?
To wish to leave behind a trace of my life expressed in my art. And for my work to always be remembered as being of the highest quality.
Tell us about your favourite pieces?
Well, some pieces turn out better than others, and others still have served as inspiration for new creations. I have had complicated commissions, but they were all part of my artistic journey. And through them, I gained more experience in clay and bronze sculpture.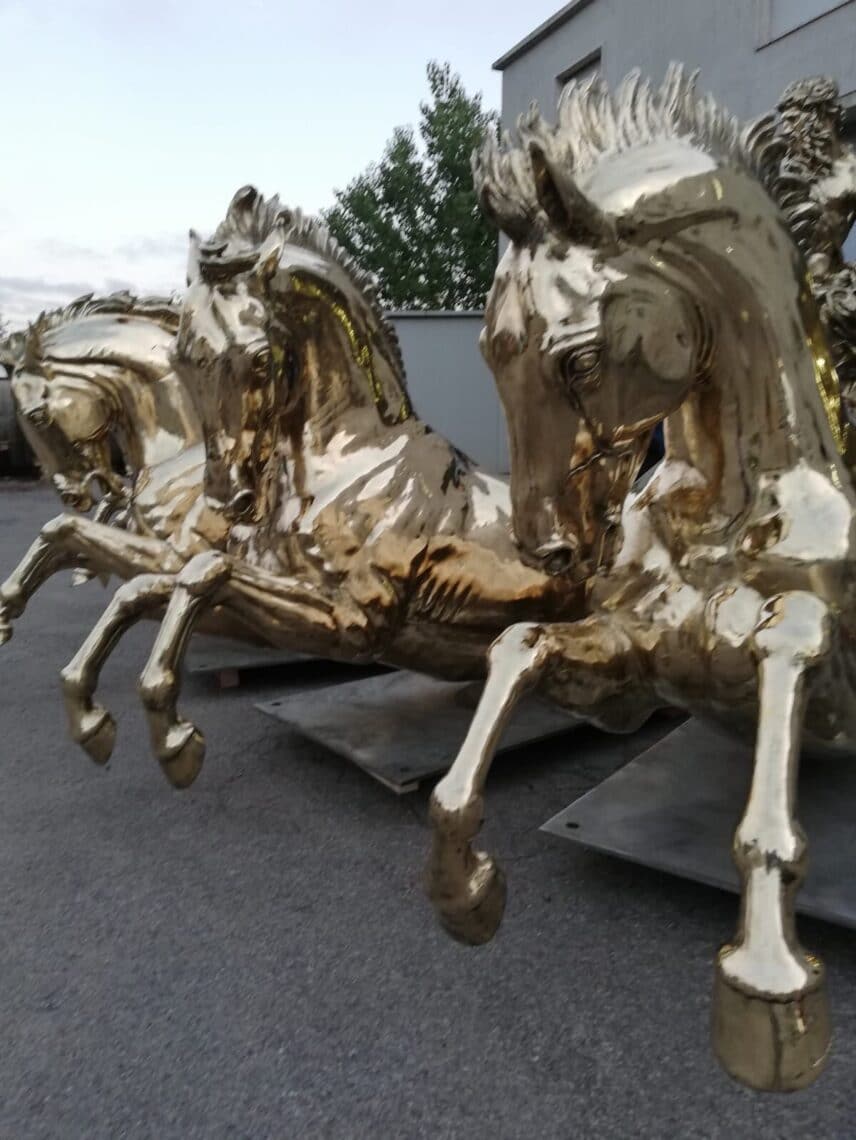 What are some challenges about being an artist and how have you overcome them?
Being an artist is not just about creating. It is a complex chain of smaller, but no less important, processes, plans, and problems. To work as a professional artist has considerable rewards, but make no mistake, I work long hours, and often go months without a day off. It is worth it, though. I enjoy living a life that leaves me free to think, create, and concentrate on doing what I love most.
Do you have any advice for aspiring artists?
Always do your best, endeavor to accomplish your goals, and consistently ensure high levels of quality.
Stay authentic and original, but keep updated on new techniques and ideas.
Push boundaries and keep your creative ideas alive.
Be professional in everything you do and never stop trying to set higher personal standards in your work.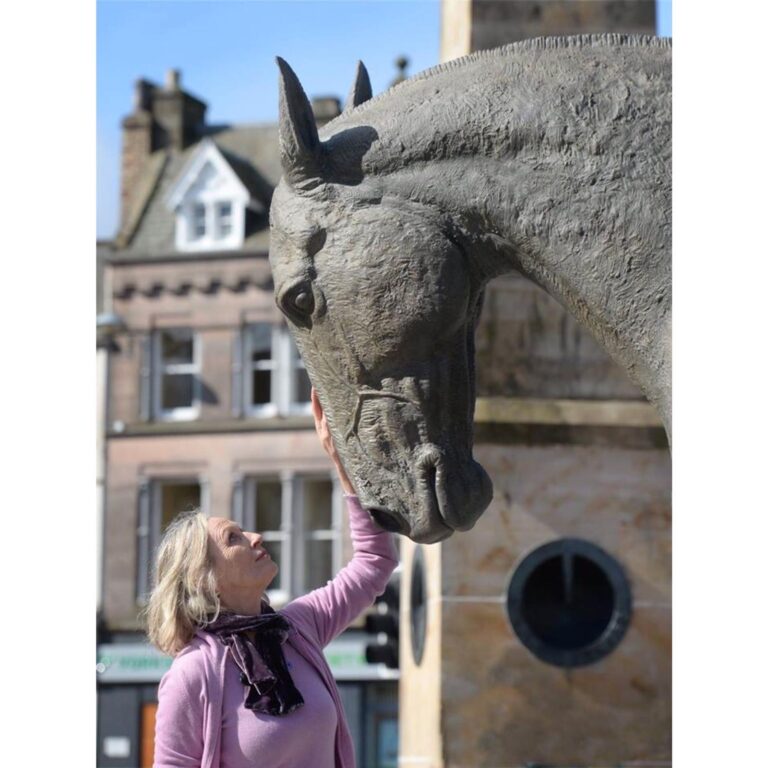 What is your latest project?
I am currently working on a commission for a passionate Australian racehorse owner, which we are developing together. The goal is to sculpt ten (or perhaps more) of the most famous racehorses, which will become edition pieces sized at cm 28×45.   My idea at the moment is to create them as close as possible to my drawings (see photos below) but in a textured and slightly impressionist manner.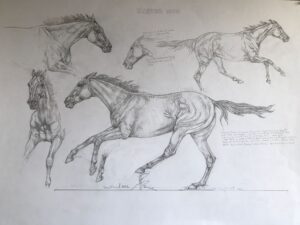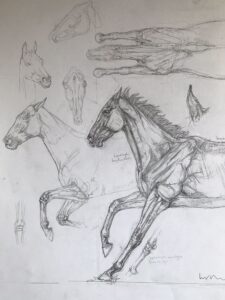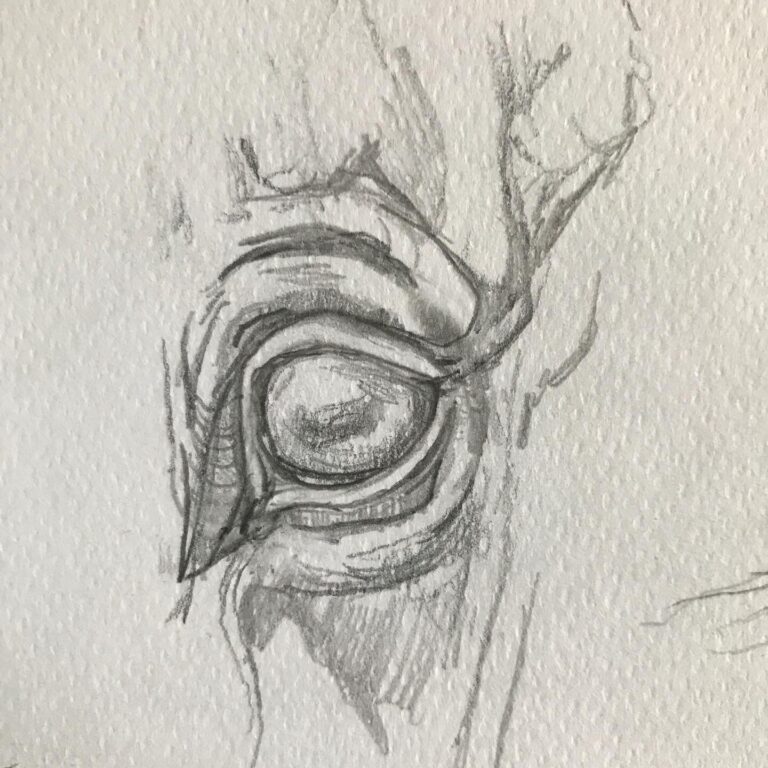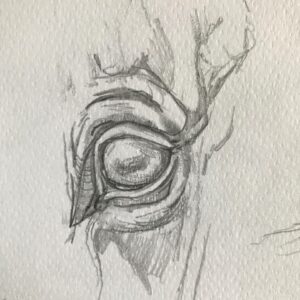 Interview by Jessica Morton.
About Jessica

Jessica Morton is a freelance journalist living in Florence, Italy specializing in digital storytelling and equestrian news.