It's not often you get the chance to talk to equestrian royalty – but CHRISTINE ARMISHAW did exactly that when she interviewed the incomparable Ingrid Klimke.
When we're watching from the side lines, it's easy to get swept away in awe at the world's greats, and three-time Olympic medallist, four-time World Equestrian Games medallist, and multi-European Championship medallist Ingrid Klimke is one of the greatest of them all.
Her successes are all the more impressive because they're not confined to one discipline. Ingrid is one of just a handful of riders to be selected by their country to ride at the very top of their sport in eventing and in dressage, and she's excelled in both. There's no doubt about it, Ingrid is a superb equestrian athlete, but what, I wonder, makes her so?
A day in the life
Ingrid's day starts at around 6:00am. She's family-orientated and enjoys breakfast with her daughters, Greta (20) and Philippa (12), before leaving to do the school run with her youngest. "From there, I hop in the car with my dog, Lucky, drive to the horses and ride as many as I can," she says. The first part of the day is spent schooling and in focused training. "Mornings are for work and education, with the ultimate concentration on having the horse and rider work together," she explains. Then it's back home again for lunch with the family. "I try to make sure my daughter does her homework as quickly as she can, because I love to get back to the horses," she laughs.
Ingrid is one hundred per cent dedicated to her sport and spends as much time as possible with her horses: "In the afternoons we do canter training, go out for hacks, or I might ride one or two horses that I haven't ridden in the morning." This latter part of the day is also the time for scheduling appointments with the vet, or arranging for owners to pop in for a visit, or catching up with sponsors, or doing some work for charity.
And in that busy schedule, Ingrid makes sure to fit in a couple of training sessions for herself. "I go to a very good physio and make sure I exercise a couple of times a week so I stay fit and healthy," she adds. Ingrid is 54, but seems much younger. She sounds so upbeat and full of zest as she describes her jam-packed routine that it makes me question my own daily habits!
In summer, her routine gets a bit of a shake-up. She is at home on Mondays and Tuesdays, but by Wednesday, she's in the lorry and off to a show. There she stays until Sunday when she heads home for the start of another week, swapping horses and preparing to go out to compete again the following weekend.
But Ingrid also believes in living a balanced life. "Once a year we go on vacation. I love to go on horseback safari, enjoy lots of different countries, and spend time with animals and nature," she tells me. And even though horses take up much of her time, balance still comes into play. During the week she spends time with her daughters, as well as her mother, brother and sister-in-law, who all live nearby. "I love to spend time with my family and as much time as I can with friends," she remarks.
Cavaletti for the win
I fire off a question: if Ingrid could only ever use one exercise, what would she choose? She doesn't miss a beat: "Cavaletti work. My horses are so supple, and so loose, and so motivated because I do cavaletti work all the time," she explains. "There are many exercises possible and cavaletti help so much because they give the horse a reason to lift their feet higher than they normally would." Ingrid swears by cavaletti work, no matter whether it's a dressage or jumping horse, or if they're four or fourteen. "Every day I have another idea for an exercise which can help me and help my horse," she adds.
It's in the outlook
After hearing about Ingrid's focussed way of life, I'm eager to find out what goes on for her mentally. I ask if she does much in the way of mindset training, and initially her answer surprises me: "Not that much," she shrugs. But then she continues: "I pretty much take my energy from my love for the horses. I love to ride, I'm happy to have a wonderful team behind me, and my family and my friends. I feel pretty down to earth and pretty settled."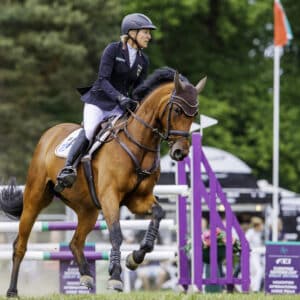 Ingrid tells me that being a mother, running a business and being with horses keeps her grounded. "I wish my day had an hour more, like many other people also wish," she chuckles, "but I do all the things I want to do in a day, I'm full of energy and I just love my life." The smile in Ingrid's voice is tangible.
What about nerves? At this point in her competitive career, does she still feel nervous before an event? "No," she smiles. "I love to ride but I also love the competition, I love the game. I also really like to know that if I've trained my horses properly and done my homework, then they are ready." In addition, Ingrid pays attention to other horses and riders, noticing where they rank and how good they really are rather than as she might imagine them to be. "I would say for me it's quite a routine after all these years," she says.
Competing as a member of the German dressage team at the 2022 FEI World Championships in Herning was something that had Ingrid quite excited. She was "wishing, hoping and dreaming" that it would go well, which it did. The team took home bronze.
But what about when something doesn't go to plan, how does she cope? Ingrid recalls a good horse that she was eventing at Aachen. The mare was travelling well on the cross country, then had an unexpected run-out, then another. "For sure you have to ask yourself what can I do better? But sometimes that's the thing with horses, the rider could have everything perfect but the horse isn't having a great day, or the other way around," she says. It's evident that while Ingrid is results-focused, she's also very aware of the fact that horses are individuals, who have ups and downs of their own.
Horse selection
Given that Ingrid has partnered with so many wonderful horses over the years, she obviously knows a thing or two about picking a good one. For an eventer, she looks for a very good jumper. "It must be calm, it must be careful and it must be light on its feet; very quick, very sharp and very clever," she says. The horse also needs stamina and strength, which often comes from the Thoroughbred.
Ingrid doesn't focus too much on the walk or trot, believing they can be improved with every horse. She tells me that what's more important is the horse's character: "I really love to try the horse first and I'll never buy a horse from a video, or pictures, or because someone else thinks it's a good horse. I have to feel it, because for me, the connection is most important." She likes a horse that's up for a challenge, likes to work hard, and is prepared to give everything they have.
If she's looking for a dressage horse, Ingrid's adjusts her criteria accordingly. Her requirements for character are the same, but she says that for Grand Prix the horse has to be special: "You need a horse who wants to please the rider and give their very best." Conformation-wise, it must be a horse with a very active hind end, with hind legs under their centre of gravity, and energy that lifts up from behind over the back and through big shoulders. "You want to feel the horse has balance, power and talent, you must feel the talent," she emphasises. "It needs three good gaits, not one super gait, because out there we need good walk, trot and canter, not just trot."
Thoughts on eventing
When it comes to the sport she loves, Ingrid would like to see some changes. In eventing, the courses are getting more and more technical to make them harder, but Ingrid feels it's to the detriment of the horses. "We have to find a good solution to give the horse a chance to read the fences and to know what's coming," she explains.
Clearly delighted, Ingrid and Franziskus after their test at the 2022 Blue Hors FEI Dressage World Championship in Herning (Image © FEI/Liz Gregg).
Riders take time to walk the course, learn the way, and know their minute markers, but the horse bursts out of the start box with no idea of the upcoming track. "Nowadays, there is more of a danger element and you have to slow down so much to make sure you get the jump right, and then you have to speed up so much to get the time. For sure you can do this, but instead, how might we keep the cross country phase more encouraging, especially for the younger horses coming through?" Ingrid ponders.
Words to live by
I ask Ingrid why she thinks she has done so well and made it so far, and what she would recommend for others on this journey. She barely pauses before answering: "I really love what I do. I have such a strong passion. You need to have a true love for it or you will always feel like you're missing out on something." She points out that being involved with horses is a full-immersion lifestyle, and likely to take an unbreakable hold on you. "Competitions will clash with occasions like friends' birthdays and you can't do everything. You have to really commit your life to the love of your horses and the sport." And I realise right then and there that the secret to Ingrid Klimke's success is intense passion coupled with relentless commitment.
Ingrid touches on the need to also be resilient. "Plans change and evolve with the seasons, you go from plan A, to plan B, C and D; you need flexibility in your nature." She adds that where there are high highs, there can also be low lows: horses becoming sick or injured, or losing a horse that you love – but that's all part of the lifestyle. "Those times are tough, but you have to put your feet back on the ground and say, I know it's sad, it's a really difficult day, but I have to survive and cope with it and face it, you have to live now," Ingrid says.
She holds a fairly similar view of life in general, and chooses not to dwell on possible future events: "Yes, I would love to go to Paris [for the 2024 Olympics]. I have a wonderful horse, but who knows what might happen a year out? You live now, so enjoy your life now, and always look for the positive things. Work hard, be as good as you can, but you can only give your very, very best. Sometimes it's enough and sometimes it's not, but you can't give more. The most important thing is you listen to your heart."
There are no two ways about it, Ingrid Klimke is a force of nature. She operates with a level of drive that would leave most people confounded. She's living proof that with enough passion, dedication and a serious work ethic, mixed with a skill set that's being continuously honed, this level of success is attainable – with just one hundred per cent full-immersion as the minimum requirement.
Featured Image: Ingrid with SAP Hale Bob OLD competing at the 2019 LONGINES FEI Eventing European Championships in Luhmühlen (Image © FEI/Christophe Taniere).