Well-known for his success in dressage and eventing, it's hard to imagine there's an Australian rider who hasn't heard the name Heath Ryan, writes REBECCA ASHTON.
The Ryan brothers started their riding life at Maitland Pony Club. Dad Rod was a vet who along with mum Sue, believed riding would be good for the boys. Although not a natural in the hack ring, Heath began his competitive career at Sydney Royal when he was 12 in his Pony Club's team of four. "They were short a rider. I was on a little grey pony and I was put in the middle of the team so no one could see me," Heath explains. The wild child turned up with bot eggs on his pony to the dismay of the other parents.
Heath's most memorable pony was a little mare called Widgiewa, bought sight unseen. "She had quite a big head and would travel on the forehand with her head down because that's just the way she moved, so I would win dressage tests," he recalls. "She was so genuine. She would jump a round and not stop. That was a godsend to me." The mare took him to his first National Pony Club Eventing Championships.
Heath and Regardez Moi competing in the 2013 Grand Prix at Equitana.
At the age of 18, Heath headed off to the UK for a six month stint to gain his BHS Assistant Instructor qualification. "I didn't even know what an AI was but I thought it was a good idea and it would be fun." Although there were pubs at night and cricket on the weekends, the daily riding was regimented and precise. Heath laughs: "Back then, the English didn't believe in washing horses, thinking they'd catch a cold even in the middle of summer! So you had to curry comb the horses and the instructor would count the number of curry comb dust prints on the wall. I think you had to have 15. I realised if you put dust in a bucket you could dip the curry comb in that. At 19 you just know too much!"
But the young Aussie wised up and wanted to get more out of the situation, so he buckled down and worked hard. There was a moment of realisation that Heath took forward into the rest of his life: concentrate on the work and just that one skill can help you achieve unexpected and wonderful things – a skill he never applied during his school years!
His time in England stood Heath in good stead for his next adventure at the school of German riding master Herr Egon Von Neindorff in Karlsruhe. Heath remembers him as a real character: "He smoked big cigars, had a pot belly, skinny legs and a big glass eye, and didn't speak any English. He basically ruled by terror. It was the worst three years of my life, but I was able to get a job there because no one else lasted." Heath cared for 12 Lipizzaner stallions, some of who would attack because of excessive whip use. "The horses that did the airs above the ground were stark raving mad. It was pretty dangerous in some ways. I still have a scar above my eye from the buckle on a bridle when a horse threw its head up at me."
But Heath had a plan to improve his riding and help his horses at the same time. In the morning, he would report one of the stallions as sick so Von Neindorff wouldn't use the horse that day. Another rider, Bart, had a scheme similar to Heath's and late at night when they were allowed to ride the pair would bring out the stallions they'd put aside. On three occasions Egon came in drunk, walked into the middle of the arena, gave Bart and Heath a lesson then staggered out and the next morning never ever said a word.
Those days were pretty lean for Heath. Meals were porridge made out of the horses' oats and stale bread from the baker. "I worked hard and I was trying. I wouldn't say it was brilliant riding but it certainly started me thinking and I came out looking like a statue on the horse. That was the German way, although it didn't necessarily address feeling and confidence in the horse."
Portugal and Nuno Olivera were next on Heath's list. He found it a completely different style of riding, light and quiet with the horses on a cotton thread contact and always on two tracks. The horses, mainly Andalusians and Alter Reals, were born for collection and would at four years of age piaffe for 50 steps just on the weight of the reins. There was no whip cracking and no extensions. Heath found himself riding to the strains of Verdi within white washed arena walls covered in art.
Heath and Wimborne Constable, the only stallion in Australia to qualify for the Tokyo Olympics, in the trot up at the 2016 Sydney Three Day Event.
Olivera would begin riding at 2:00am and Heath would be there in the corner watching until midday, when it was time for lunch accompanied by strong sherry. It occurred to Heath that Australians might like this lighter type of riding. "When I eventually came home I promoted it, but when competing I would come last. I initially thought well, the judges will learn but I was wrong. It was me who had to learn and change. Competition is all about expansion and that's what judges want." However, he still likes to use the Portuguese master's ideas.
Back in Australia Heath initially focused on eventing, believing that dressage training would help Australian eventing reach the top. He had a point and was involved in the coaching when Australia enjoyed its gold rush in the Barcelona, Atlanta and Sydney Olympics.
In the '80s, Heath and wife Rozzie imported some influential stallions. The first, Ludendorf, was from Gestüt Vorwerk. "I wanted a tall, quiet stallion with a good jumping technique, who could also move, that I could put over Thoroughbred mares – and he was the first stallion we saw who had those values." Ludendorf reached Advanced eventing (today's 4*) and Grand Prix dressage, and was long listed on both the dressage and eventing teams simultaneously. Salute, imported in 1989, produced some top horses including Australian WEG representatives Stirling Stilton and Victory Salute. Many of today's Australian sport horses still carry his bloodlines.
Rozzie was leading the Ryan offensive in dressage and the couple commandeered the help of German dressage legend Harry Boldt. They also had a little German breeding program underway. Heath explains: "We had mares in Germany liveried at Grönwohldhof. We had Australian owners who would buy one of the mares and when the foal was born if it was a colt it would be sold, and we'd get a new Australian owner to buy the fillies. What happened is that we started to capture the Donnerhall and Pik Bube bloodlines, and we bred horses like the licensed stallion Duntroon." Amongst the champions sired by this stallion was another of Heath's top dressage horses Greenoaks Dundee. The pair were members of the Australian dressage team at the 2008 Olympics.
The Ryans and their breeding group had also started using the stallion Rubinstein. Bred with Clothilda, one of the Australian owned mares in Germany, the result was a little black colt by the name of Regardez Moi, who was sent to Australia where Heath began his training. The pair were three times Australian National Grand Prix Champions and in 2009, ventured off to the World Cup finals in Las Vegas where they came 10th.
It was on the way home that Heath's life changed when he developed a DVT, resulting in a stroke. "That buggered everything. The side of my face dropped, I couldn't talk or walk. Everything just stopped and poor old Regardez Moi's scores dropped." Heath was also forced to sell a top eventer, Mystery Whisper, who went on to compete in the London Olympics under Phillip Dutton. Although Heath kept riding dressage, which was great rehabilitation, it still brings a tear to his eye knowing that his stroke probably robbed him and Regarded Moi of the best competition years of their lives.
Heath winning the 2010 Sydney Three Day Event on Mystery Whisper.
The next successful dressage partner was the black stallion's son Utopian Cardinal, who also became Australian National Grand Prix Champion. Now 19, the gelding is still competing at the top level under young rider Mary Nitschke. The pair recently won the Under 25 Grand Prix freestyle at the 2022 Sydney CD-Lite.
Heath is focused on eventing at present but also has a couple of Grand Prix hopefuls in the wings. His passion and interest in the sport hasn't waned. Although viewed as a little controversial by some, he still tries to stimulate thought and discussion to keep equestrian moving into the future at full throttle with well-prepared athletes. "I think as Australians we can still win gold medals in all the Olympic disciplines. We have the horses, but first we have to get them to Grand Prix dressage, 4* eventing level, and competing at 1.60m Grand Prix show jumping. No one has ever made a contribution to their country without first achieving at those levels."
Heath believes that many riders today are told they're not talented enough, they have the wrong horse, or they're too old. But in his view those are just excuses and people perhaps need to question how they are being taught.
Heath also believes we should already be making preparations for our Brisbane 2032 team and that in so doing, we may need a change of mindset: "I think in this day and age the desire for a comfortable life is making things difficult. I think to be really good you have to do it yourself and set your own goals and standards. Every time you miss an opportunity it's always related to your own comfort."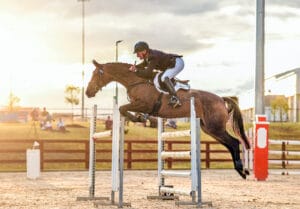 In Heath's book, high performance equates to discomfort. "I've been involved with winning gold medals at the Olympics and I know where those thresholds are and I know where they are at the moment. The Australians who won the silver at Tokyo: Andrew Hoy was a result of the high performance training of Mark Phillips and Princess Anne in the 1970s, and Shane Rose and Kevin McNab were a product of the '90s when we were winning gold medals," he explains. "But where are our Olympic superstars who should have been produced over the last two decades? This lack is something that needs to be urgently addressed."
However, the Olympian also offers examples of dressage riders to look up to. "Isabell Werth has ordinary horses and they become freak horses. She has the knack of finding potential within unexpected individuals. She goes down corridors of thought that no one else goes down and very gently opens doors and nurses out qualities no one else thought those horses had. All horses and all people are really talented but hardly any horses or any people truly address their potential."
But Heath will for sure; continuing to transform and develop his system, bringing out the best in himself and his students for some time yet.
Feature Image: Heath has a soft spot for Bronze Boy R, out of a Regardez Moi mare and competing here in the 4* at Tamworth (Image by Brittanny Grovenor Photography).