Written by our European based contributor, Jessica Morton. Note: This is not a sponsored or promoted article. All the products in the article were independently selected.
As we gallop into an exciting new season, it is time to embrace everything the pandemic has taught us in the last year.
With warm weather finally gracing the northern hemisphere, people are heading outside full of hope after a seemingly endless winter. Collections designed during the pandemic have focused on one notable theme: comfort.
Today's equestrians are less and less concerned with formality and tradition; instead, they're looking for wearable fashion that looks good and feels good too. There's no compromise on function in the name of fashion in 2021.
Modern equestrian wear is a hybrid of ready-to-wear and performance sportswear, a sartorial coping mechanism from months of lockdowns and remote work.
Here, find a mix of equestrian styles you can wear any place, anytime.
Breeches: May Elastic Waistbands Live On.
Now more than ever, our pandemic lives demand comfortable and practical clothes designed for everyday living. We want to look great and feel good at the same time.
Riding tights or performance breeches have been popular for a few years now; and whether you want to train or head out for lunch with friends, these fashionable leggings can do it all. With no need to carry around a change of clothes or feel out of place when you stop at the supermarket on the way home, it is no wonder this trend is showing zero sign of slowing down.
Swedish designer Maya Delorez is fast becoming one of the biggest growing names for performance riding wear in Europe. Her sporty and chic base layers blur the line between the clothes you'd wear to the stable and those you'd wear to the gym. The Luna functional breeches feature an extra wide elastic waistband and three different grip options.
Ariat Europe have just released a new performance tight with motorcycle-style details. The EOS Moto performance tight offers flattering support, full seat grip and conveniently placed pockets for your cellphone. With a comfortable waistband to hold you in, stretch fabric expands and contracts with your body as you ride.
Prints: Very Vintage Motifs
Evoking monied glamour and old-world snoberiety, equestrian sporting motifs never lose their sophisticated aesthetic. Not only do equestrian inspired motifs look great on, but they also infuse any outfit with a touch of vintage charm.
European designers Hermès and Gucci both started out as saddlers outfitting members of the English and French aristocracy – the explains the distinctly equestrian references present in many of their collections- such as the snaffle bit on Gucci bags, and the saddler motifs on Hermès scarves.
This month Gucci's horsey history repeated itself in a most fashionable way. The brand celebrated its centurion anniversary with the release of a collection bursting with references to the founder's equestrian heritage. Models strutted the catwalk in jodhpurs and long boots with velvet riding helmets and fringed leather crops.  Just confirming what we already know – that Equestrian elegance still reigns supreme.
Vestrum's new line of equestrian sport motif prints have just been released and you can see them here.
Bodysuits: A One-Piece Wonder
This season you only need one horse-hair-gathering staple in your wardrobe: the bodysuit.
Equestrian style this year is more wearable than ever before. Given 2021's chaotic approach to dressing, the bodysuit is the ultimate base layer. A simple and feminine piece that can be dressed up or down as required and always looks feminine and tidy.
The 80's popularized bodysuits as a fashion piece, and now there is a version for equestrians too. They aren't just for the stable either – they make a great year-round item that can be teamed with everything from a cute jumper to a full-length riding coat.
The Aztec Diamond performance bodysuits are an instant statement piece with no outfit planning required. The label, which has been created with sporty equestrians in mind, offers an extensive variety of performance gear at affordable prices.
Show your competitors that you mean business with a luxury Moonlight bodysuit. This sleek alternative to breeches and a shirt by Miasuku is a sophisticated piece to add to your 2021 wardrobe. Constructed from 26 different panels, the bodysuit is designed to enhance the female body and accentuate the silhouette.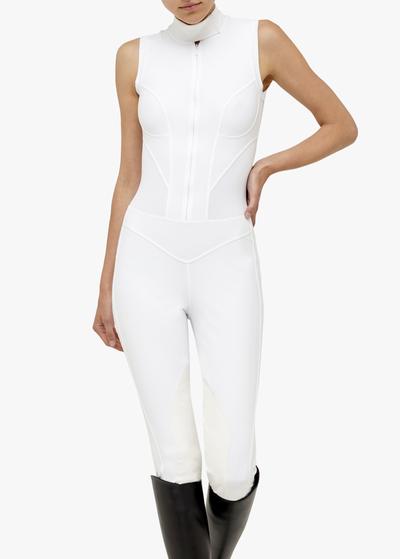 Feminine Details: Unleash your inner barbie.
There is an undeniable touch of feminine sophistication in this season's collections. Perfectly polished yet simultaneously comfortable and relaxed, this look is all about feminine tailoring combined with delicate details. The trick to make these pieces wearable is to avoid busy patterns or designs and keep it simple and straightforward. Try mixing muted base layers with more daring details to keep the look balanced and breezy.
Featuring ultra-chic details such as dainty lace collars and frilled sleeves, Hungarian brand Cavalleria offers a range that triumphs both sophistication and functionality. One of the most versatile pieces in their 2021/22 collection is the one-sided raglan-style technical shirt with contrasted color piping. This high performing and original addition to your riding wardrobe, is suitable for training and competition.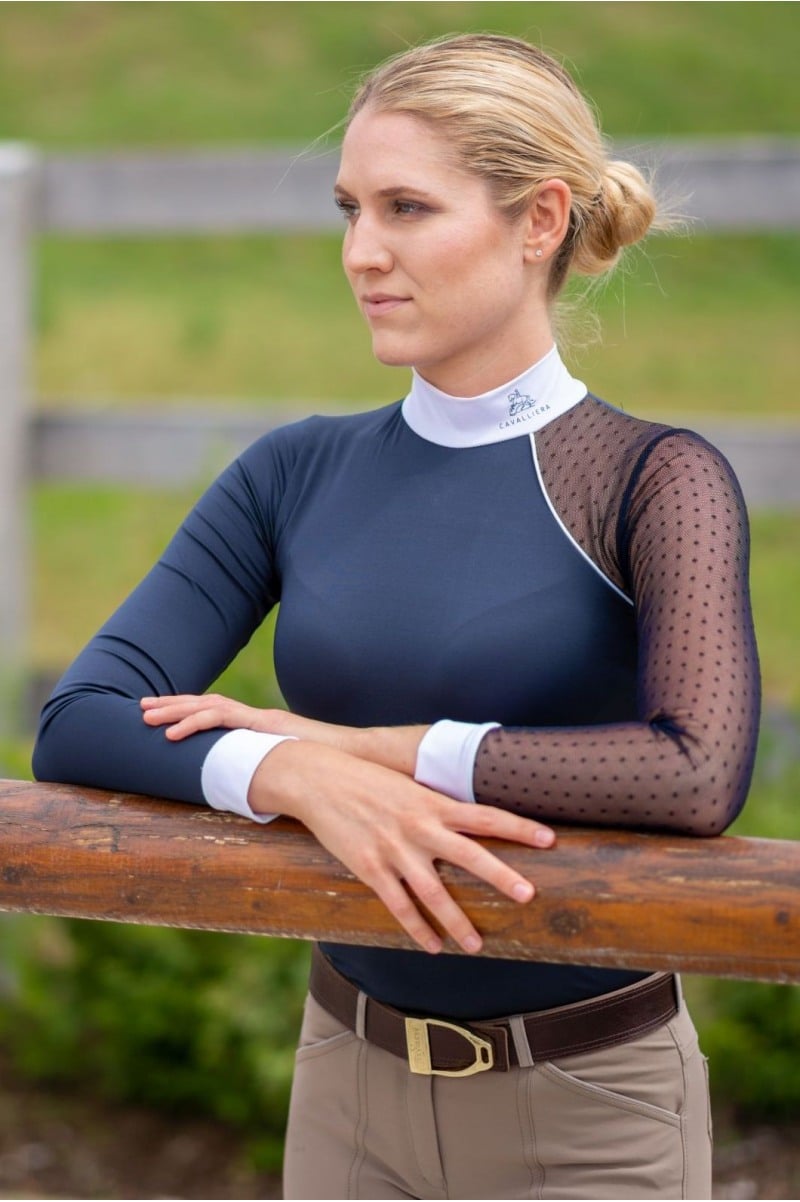 Nordic fashion house PS of Sweden call their recently released range of Nathalie breeches 'the most beautiful ever made'. The pocket imitations on the back are strategically placed to not scratch the saddle and are decorated with delicate satin ruffles.
Spring/Summer Palette
We're not in the mood for melancholic prints this year. Bright notes complement our need to embrace joy and live our best lives after more than a year of pandemic messiness.
Color blocking, just like the name suggests, is when you wear contrasting blocks of solid colors together. Bright shades often pair together best — think burnt orange and navy blue, as seen in the latest Vestrum collection or crisp white shirts with seaport-green in Equilines collection. For a more sophisticated combination, choose elegant hues like taupe and aubergine, or silver grey as seen in the Pikeur catalogue.
Bold hues put a smile on everyone's face and experimenting with colors is a wonderful way to create a statement equestrian look.
You cannot deny the sophisticated allure of this Pikeur taupe jacket, which would pair perfectly with aubergine or plum breeches.
Equilines' green, blue and plum palettes are perfect for taking you everywhere and anywhere. If you are not brave enough to color block, you can match bright accessories to your look instead.
Footwear:  Equestrian Sneakerheads Take Note
After a year of track pants and slippers, many lockdown-weary equestrians are looking to invest in footwear that has been purposefully designed for comfort and sustainability.
Our wardrobes these days need to be more versatile than ever before. Modern equestrian brands are meeting the challenge by producing hardworking staples for use in multiple ways in multiple situations. An item that equestrians have been missing on the market is stylish sneakers that were designed for riding AND comfort.
Equestrian brands have tried in the past to release lines of casual footwear – from clogs all the way to high-tech loafers- but nothing that has combined the comfort and styling of athletic shoes with the functionality of boots.
Alas, you can now increase your horse-girl (or boy) cred. Italian shoe designer Alberto Fasciani has released a range of animal-friendly equestrian sneakers that look as good as they wear. The 'Freetime' sneaker is part of his eco-friendly 'Green Soul Collection'. Produced especially for the horse-inclined, they have a waterproof athletic-inspired upper with a chunky shock-absorbing sole. Reinforced toe and heel areas protect the shoe from mud and rain- and the heel makes as them suitable for riding, as they are cleaning stalls or shopping. 100% Italian made; these shoes combine style with functionality. Pair them casually with your favorite jeans or breeches (and when they need a clean you can conveniently chuck them in the washing machine).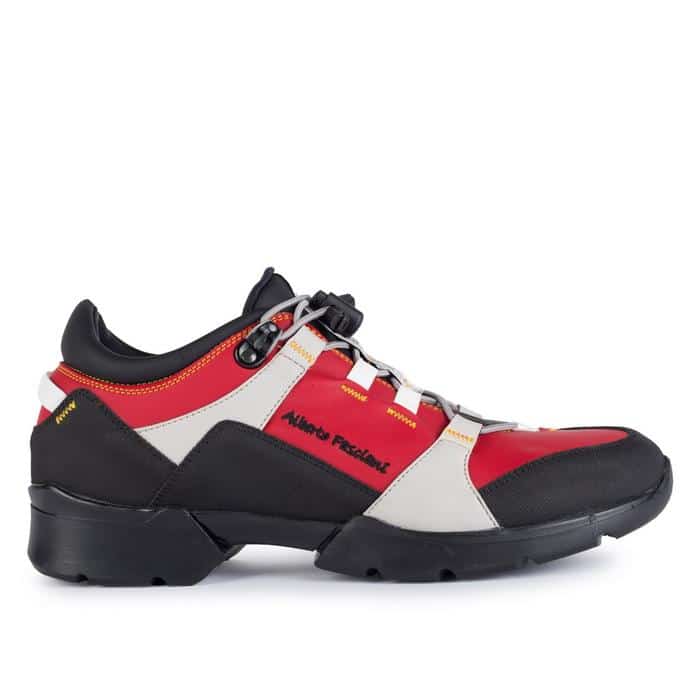 Headwear: Take a safe AND stylish ride.
While your helmet could just be another piece of safety gear, why not invest in a model that reflects your style too?
Sleek and lightweight, the newest KEP Italia helmet, the Cromo 2.0 is set to be released in May 2021. This state-of-the-art helmet has an NFC chip implanted under the front panel that can store information such as your name, blood type, allergies, emergency contacts and even insurance details. First responders and medics can retrieve your critical information in the event you're knocked unconscious.
Combining fresh design and technology, KEP Italia helmets are 100% Italian made. Lelia Polini, the CEO designed the KEP helmet for safety first and style second. All helmets are tested by 5 different safety authorities around the world to ensure maximum compliance and protection for riders. The Cromo 2.0 can be converted quickly and easily due to customized visors that can be removed and installed as needed.  The helmet offers exceptional comfort to the rider via removable winter and summer liners, which provide ventilation or heat when required.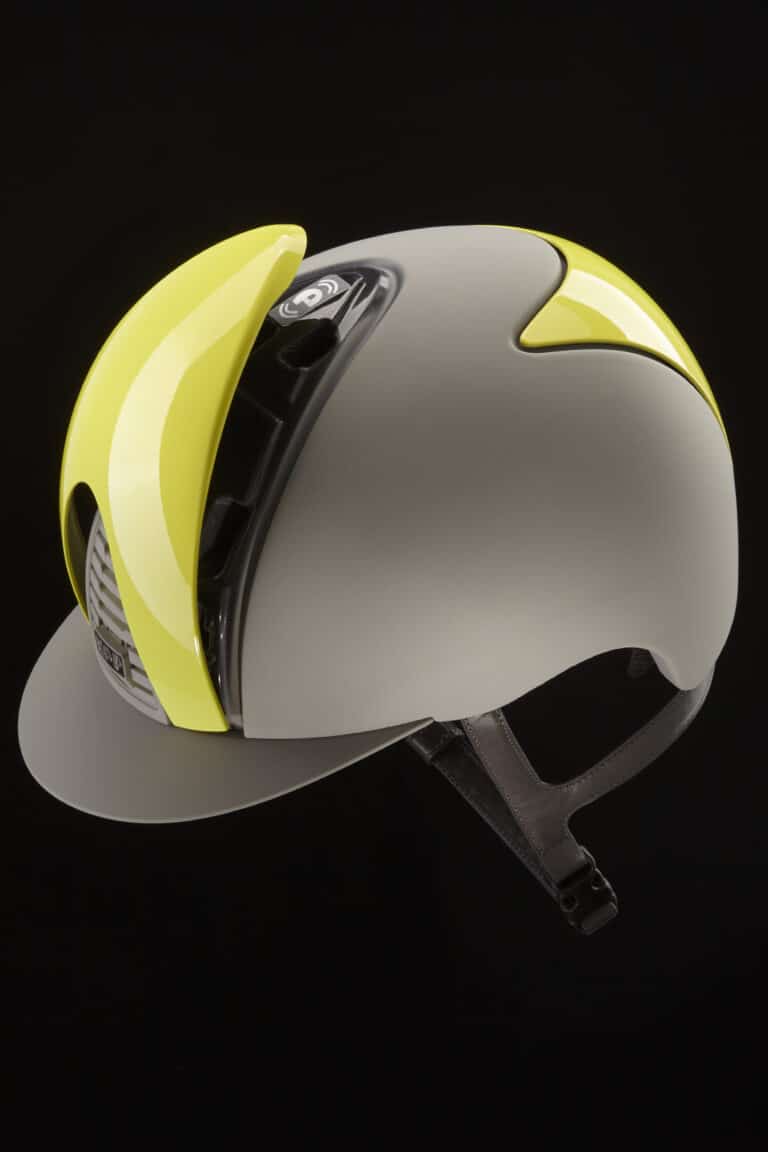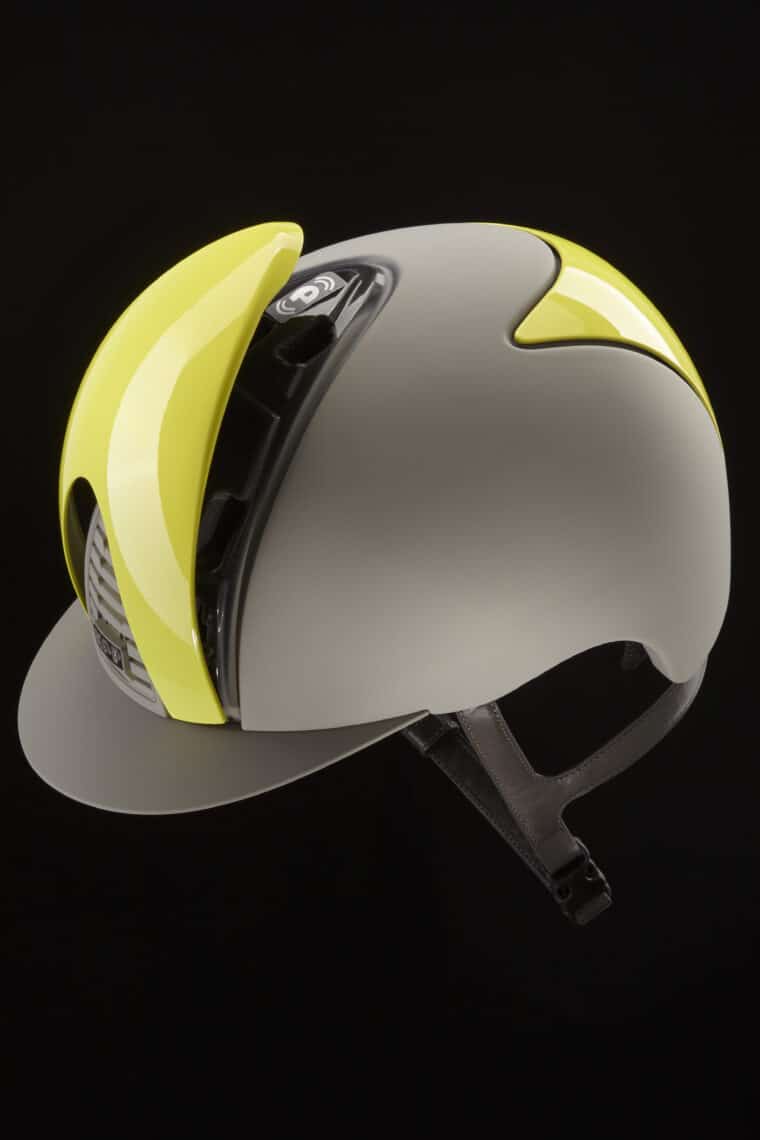 Front-to-back ventilation allows sweat and heat to be drawn out of the shell, ensuring maximum comfort on long rides. KEP helmets come in a wide variety of different designs and finishes, plus there are configuring options for the frame, strap color and liners so you can choose the best design to match your personal style.
| | |
| --- | --- |
| Inner pad Cromo | Winter Cromo liner with ear cover |
Configure your own dream helmet using the KEP customization tool.
About Jessica
Jessica Morton is a freelance journalist living in Florence, Italy specializing in digital storytelling and equestrian news.