The Delivering Dreams Sponsorship is something of which we are extremely proud. The Sponsorship is to help talented and passionate equestrians of all abilities move closer to their dreams. The Sponsorship is designed to provide motivation to recipients to help them remove any barriers that may be holding them back from achieving their goals. Here we introduce to you ten of our finalists.
India Allen
With a mum who was formerly a show jumping state champion, it's hardly surprising to learn that India Allen grew up around horses. She started riding when she was three, went to Pony Club and was helping her mother train and break horses by the time she was nine – which is when the show jumping bug bit.
As her jumping career progressed, India started training OTT Standardbreds and Thoroughbreds and loved helping the horses into a new phase of their lives. But just after her 16th birthday, a bad riding accident resulted in compound fractures to her leg, followed by 16 surgeries and a month-long hospital stay.
Fear of horses and another accident became very real. "I was terrified, but I needed to kick the fear. So I approached a local Thoroughbred trainer and got a job as a track worker," she says.
It took some time, but India's shattered leg and her confidence eventually healed.  She began training OTT horses again, enrolled in TAFE, and completed a Certificate III in Performance Horse studies along with Year 12. It was after moving to Sydney that India purchased Connie, her dream horse. Now four years old, Connie was started and schooled by India, and has turned into an impressive horse with a bright future. "She has changed my life as a human and as a horsewoman. I would like to expose her to multiple disciplines in her young horse phase before pursuing a professional jumping career," India says.
Although she's only ever had four paid lessons, India dreams of being able to afford the expert instruction that will help her to lift her game to the next level.
Nicole Creighton-Jones
Although she had a passion for horses throughout her childhood, Nicole Creighton-Jones didn't come from a horsey family and couldn't afford to ride, so she read equestrian magazines, watched numerous horse events, and dreamt that one day, it would be her in the saddle.
After leaving school, she volunteered at her local riding club, learning as much as she could before buying Rustic Fire in early 2019. "I'd only had a couple of dozen riding lessons and at first I had to hold the monkey strap while cantering," Nicole recalls.
Then she had her first jumping lesson and was hooked! Her first 40cm competition came a few weeks later, six months after that she was competing and regularly placing in 115cm events, and by the end of the year was jumping 130cm courses she'd built herself using course designs she found online.
By this time Nicole felt that her dreams of riding at a high level might really be possible. "I travelled to competitions with the aim of building up to the Young Rider series in late 2020. But bushfires and COVID meant I was only able to get to three competitions that year," she says.
But that hasn't stopped her. Although she faces time constraints and financial challenges, she's now focusing on mastering 130cm fences before stepping up to 140cm. Her long term goals are to ride at the top level and to one day represent Australia. "Nobody believed I would get as far as I already have, and I'd like to prove that you don't have to be born into an equestrian family to become a good rider," she says.
Hannah Giblin
Hannah Giblin began riding as a young child and has never looked back. After a solid grounding at Pony Club she moved into the world of showing, and some of her proudest moments have been winning Champion Girl Rider 12 Years and Under at Brisbane Royal, some significant successes at State level competitions, and coming home from the Queensland State Challenge Show with five garlands. More recently she won Supreme Hack and Supreme Rider of the Show at the 2021 Kilcoy Ag Show, and Supreme Rider at the 2021 Maleny Ag Show.
But while she still enjoys showing – she's currently preparing for the Lady Rider class at this year's Brisbane Royal – she felt the need for a challenge and moved into dressage training, a transition that she says has been "extremely challenging but very rewarding."
And there's yet another challenge: she's started her own horse training and tuition business, and now has several clients. "It was always my dream to be a horse trainer and whilst my business is extremely small, it's certainly a step in the right direction," says Hannah, who would ultimately like to be a top dressage trainer.
As with many in the equestrian community, her biggest obstacles are time and money. "Although I'm up at 6:00am everyday feeding, un-rugging and cleaning stables, along with working in my day job there are never enough hours in the day."
High on Hannah's wish list is to improve her riding and training techniques, and to find a way to reduce her working hours so she can spend more time focussing on building her training centre and schooling her clients' horses.
Emma Hulse
Emma Hulse is a passionate equestrian who loves dressage and eventing. She has been busy competing with her new horse Eagle Elms Fiderstar, producing results that include a 1st in both the Novice 2B at Camden Equitation Dressage and the Prelim 1B at Hawkesbury Dressage, and a 2nd in the EVA80 class at Harden Eventing.
Several years ago a series of bad falls rocked her confidence. But with the help of her coaches she's working on overcoming her fears and is determined to achieve her goal of competing at Medium Dressage and 105 Eventing by the end of 2022.
A great believer in giving back, Emma regularly volunteers at dressage and eventing competitions and is a dedicated Sydney Eventing committee member. She says one of her greatest achievements was her involvement in Sydney Eventing's public acknowledgement of the Traditional Custodians of the land on which their event was held, which was very well received and later replicated at the Canberra International Horse Trials.
Emma says she faces three main obstacles to achieving her goals: time, money, and mental barriers. "Throughout my riding career I've balanced full time university study and employment, and now full time employment in the Sydney CBD where I also live. The commute to my horses is often over 90 minutes, involving exorbitant fuel costs and toll fees. But I love riding so much I'd do it every day if I could afford it!"
She manages to fit everything into her schedule by getting up before the crack of dawn to ride, or if that isn't possible, to commute to her horses after work, which she says, is never a chore.
Jasna Marsanic
Thanks to owning the "epitome of the naughty grey pony", Jasna Marsanic realised early that riding was largely a mind game. After university she learned horsemanship from "a fabulous old couple" who leased her a B grade show jumper, gave her lessons on their A grade jumping mare, and let her have the odd ride on a horse later sold overseas as a Grand Prix show jumper.
Forever grateful for these experiences, Jasna also broke in her first horse under their tutelage, and began show jumping at C Grade when she was told that she was too old and her 17.3hh horse too big to compete at a lower level! Jasna also strapped for Sue Hearn, who helped get her 12-year-old gelding training medium-advanced level movements, also hoisting her up on some of her horses so Jasna could get a "feel" for dressage. Since then Jasna says she has been blessed with some beautiful horses, and although she hasn't been competing is loving training: "It's my zen time where you can't focus on the past or the future. You have to live the 'now' when you are riding."
Jasna's current horse, a beautiful nine-year-old stallion, was broken in late due to injury. Jasna's dream is to give him a good education before lightly campaigning him, and if possible, to document the journey. As she says, few riders make it to the top so it's important to be realistic and celebrate the everyday: "Personal goals and happiness are just as important as competitive goals. And I think it's healthy to inspire others – it's never too late to learn and to try."
Nicole Mutimer
Nicole Mutimer grew up in Larrimah, a remote Northern Territory (NT) township, and spent most of her childhood on the back of a horse. The family moved to Darwin when she was a teenager and for the first time she was able to go to Pony Club, where her 'cowboy' riding style was tidied up!
For several years Nicole was employed by the NT Police to develop and deliver Juvenile Diversion Programs for young people who were either juvenile offenders, or had been abused – a role that was both difficult and rewarding. "It's amazing how horses are a great equalizer and can help heal the most broken of souls," she says.
A full-time coach and trainer since 2013 (she was selected as the National Interschool Championships NT Show Jumping Coach on four occasions), Nicole is a very successful competitor in jumping, dressage and showing events and has won numerous titles.
She is passionate about improving horse welfare through ethical horsemanship practices and education, and holds a Diploma in Equitation Science through Dr Andrew McLean's Equitation Science International. Her other passion is reaching out to riders who are struggling and are at the point of giving up, frequently mums and other women who think that having the confidence to ride is a thing of the past.
Despite the costs associated with travelling, she delivers clinics for adult riders throughout the Territory. "Their journey is amazing, emotional and very inspiring," she says, "and my goal is to help all of those women who want to improve their horsemanship, safety, and feel like they are growing. I want to make the love and joy of riding achievable for everyone."
Georgina Mutton
Georgina Mutton's passion for horses runs in the family, and thanks to helping parental hands she was riding her first pony before she could sit up. While she had several wonderful horses while growing up, Georgina first discovered her love of eventing with the often naughty Oki. With years of hard work they made Interschool and Pony Club state teams and competed up to 1*.
Then followed a move interstate to attend university – plus a seven year break from riding, with Georgina "missing it a lot." Fortunately fate intervened when she was offered Life in Manhattan, an OTT grey mare whose stable name happened to be Georgie – and with a birthday just two days after Georgina's own, it was clearly meant to be!
Although she had to rearrange her life in order to return to riding, Georgina couldn't be happier. "We've competed in three Ev65 events, always finishing in the top 10. Our best result to date was winning our event at Fig Tree Pocket in March 2021."
With Georgie showing so much promise, Georgina's goal is to compete at EV80 level before the end of the year, stepping up to Ev95 in 2022. After seven years away, she recognises she needs to develop her own riding, and wants to grow as an OTT retrainer and coach: "I'd love to be able to work with more talented Thoroughbreds and young riders in the future," she says. While realising such dreams can be financially costly – Georgina equates it to "setting your pay on fire before you even get it" – she's more determined than ever to access the coaching and OTT retraining education she needs.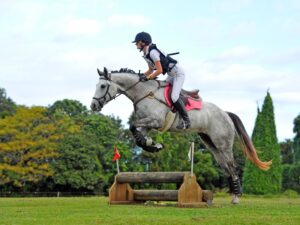 Laura Northover
Laura Northover began riding as a five-year-old. Growing up her focus was on showing, dressage, and a bit of jumping and working hunter for variety. While family funds were limited, Laura was fortunate to always have nice horses, although usually very green or freshly broken. Through high school she worked at a dressage stable, where she learned a lot – including the importance of a good work ethic.
With school now behind her she competes on most weekends in either the show ring or dressage arena. Although travelling long distances to shows is not in her budget, she is delighted to say that she has been placed at the Sydney Royal in the open, breed, and working hunter classes every year since first attending in 2014. "I am really proud that each year I've have taken a horse fully produced by myself. I currently have two horses, a Warmblood and a wonderful Clydesdale cross," she adds.
With her Warmblood now competing at elementary level, she hopes to progress all the way to Grand Prix one day. But for the next 12 months her sights are set on getting Jay, her "beautiful big spooky" Warmblood competing at advanced level dressage. The most challenging horse she's ever owned, Laura would love to access training to help Jay reach his full potential. "I've dreamt of riding in tails since my childhood, and I think I finally have the horse to get there if I can do him justice. Showing wise, my ultimate goal is to win a class at either an EA or SHC show, or sometimes I'd even be happy with a top 10!" she laughs.
Gabrielle Penna
It wasn't until she'd completed her studies in Agricultural Science at the University of Queensland that Gabrielle Penna was able to realise her lifelong dream of owning a horse – and Sid, a well-educated 13-year-old, 17.2hh Thoroughbred fitted the bill perfectly.
Knowing only the basics, Gabrielle says that initially she was "an unbalanced blobbing sack of potatoes with no understanding of contact or correct aids." But she's a quick learner, and now the pair are eventing in South East Queensland. In August last year they rode in their first ODE and have since competed in seven events, placing in the top 10 in four of them, followed by a 2nd place out of 42 riders in the 65cm class at the Warwick Horse Trials ODE. They have since moved up to the 80cm classes.
Gabrielle is passionate about community wants to support her wonderful friends in their riding journeys in the same way they have supported hers: "I believe in building a community around riding where we all believe our goals can be met if we remain tenacious and put our minds to it."
For Gabrielle, her biggest achievement has been her improvement over the last two years. While 60cm cross country jumps were at first daunting, she now looks at star classes and thinks 'one day'. "As an adult learner I always felt a little behind in my riding ability and education. Now I believe if I dedicate myself to this sport I'll be just as competitive as those who have been riding their whole lives," she says. And if there was expert coaching to help her on her way? Well, that would be a  dream come true.
Phillipa Ross
Phillipa Ross has overcome more than a few serious health issues and is definitely not a stranger to adversity. She rode as a child and her dream was always to own a horse and join Pony Club. However, her family was impacted by the global financial crisis and her dream never came to fruition. In her early 20s and financially independent, she returned to riding and had just begun cross country training when she had a couple of significant falls. "They left me injured and traumatised, and out of fear and a belief I was not good enough, I gave up riding all together," she explains.
Fifteen years later and Phillipa has put the past behind her. "In 2020 I reinvigorated my love of horses and horsemanship. I've overcome a great deal of adversity in my time and am no longer just surviving, I'm thriving," she says. When COVID-19 hit, Phillipa began working from home and (when lockdowns allowed) replaced her morning commute with a riding lesson. But her fear didn't leave entirely until she worked with a sports psychologist and purchased Toby, a gentle Clydesdale cross. The pair competed in their first HRCAV Combined Training event in May. Phillipa says she loved every second and "cannot wait to get out and compete more."
Unfortunately, Phillipa's job became redundant not long after buying Toby, and finances are now stretched. However, she's determined to follow her equestrian dream: "I'm aware you can't become a great rider overnight, and I want to dedicate time to increasing my knowledge. And as a fan of evidence-based learning, I'm keen to undertake a Diploma of Equitation Science," she says.
We cannot wait to see what the future holds for each of the riders we've come across in our Delivering Dreams applications. We look forward to the Sponsorship growing and seeing more of you follow your dreams! It is open to equestrians 12+ years old of any skill level, who meet eligibility requirements, outlined on our website with the closing date for this round set on 31st December 2021.