Longing for a career with horses? Then perhaps 2023 will be the year you start chasing your dreams. If so, SUZY JARRATT has some advice.
Horses have been with us in work and play for thousands of years. People are fascinated by them. They are the subject of art, literature, film and gambling; centre stage in sport and recreation, and for many, are beloved companions.
Not surprisingly there are many keen to 'work with horses'. In Australia there are scores of courses offered by a variety of providers, catering for the novice to the more advanced. Some are solely online, others require students to attend on-campus sessions, and some are a combination of both.
The following is designed as a broad overview, taking a look at courses which might interest or inspire you if you're keen to either pursue or continue an equestrian career. However, as a general rule of thumb, finding a course offered by a registered training organisation (RTO) is a good place to start. In Australia, an RTO is an organisation providing vocational education and training (VET) courses that result in qualifications or statements of attainment recognised and accepted by industry and other educational institutions throughout Australia. To become an RTO, these organisations have been approved by the Australian Skills Authority, the national regulator for vocational and educational training. All of which is to say that if you study with an RTO and then decide you want to broaden your scope, other educational pathways may be open to you that otherwise might not have been.
Many courses are delivered online, so study can be completed around other commitments
Long story short, VET accredited courses and qualifications will help you to get qualified for a new career; return to or enter the workforce; upskill your current qualifications; or, depending on your existing qualifications, to enter university.
TAFE
Susanne Turnbull, Head Teacher of Animal Care and Equine Management at TAFE NSW, says that students are not required to have their own horses. "And the costs involved vary as NSW students attract Smart and Skilled funding depending on their individual circumstances." She adds that there are some entry requirements for different courses. "Students need to be signed out of school if under 17 and haven't completed Year 10." Lessons range from virtual online classes to face-to-face on campus.
In NSW, TAFE offers a number of equine industry related courses:
· Certificate III in Horse Breeding: You must have a reasonable level of fitness to undertake manual tasks, as evidenced by a fitness screening; and have access to a horse breeding facility, confirmed with a letter from your employer or the facility's owner.
· Certificate III in Horse Care (duration 15 months): This qualification covers the skills and knowledge required to work safely in a range of skilled roles in industries involving horses, including stable hand, stud hand, groom, farm hand and rider. These workers may participate in ridden and/or non-ridden horse exercise, and prepare horses for events.
Susanne also mentions short courses that cover more specialised skills sets:
· Foaling Night Watch: Gain specialist skills in foaling down mares; learn in an actual horse breeding facility and get the chance to work in the Australian industry or in stud farms overseas.
· EquiStart Work Ready Program: An introduction into the Thoroughbred industry. This course is offered by the TAFE campus at Scone NSW (home to dozens of studs and world-class Thoroughbred breeders).
· Horse Safe Recognition: Whether you're a casual horse lover or starting a career in the equine industry, this helps build a solid foundation of practical skills to handle horses safely.
· Thoroughly Schooled: This program was developed through the Regional Industry Education Partnerships program in collaboration with the Hunter Thoroughbred Breeders Association and TAFE NSW. It aims to build practical skills for Year 10 students and expose them to the multilayered facets of the Thoroughbred industry.
Information on these and other courses can be found at the Hunter Thoroughbred Breeders Association. Some TAFEs in other states have similar programs available – so it's worth hopping online to research their course offerings.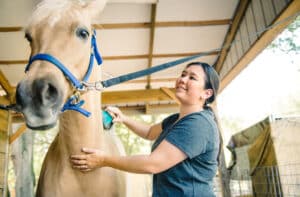 Whether you're a horse owner wanting to increase your knowledge, or you hope to work with horses professionally, there's a course that's right for you.
Private providers
For those interested in pursuing a career in racing, Team Thoroughbred NSW Training Academy provides high quality training. The academy has access to modern, up-to-date facilities, with a team of qualified trainers. Executive Officer Stuart Rich tells us that their certificate courses include Stablehand, Trackwork
Rider, Trainer, Jockey, and Racing Administration. They also offer a short course on Stable Skills, and for more information can be contacted on 1800 200 724.
ACS Distance Education is a leading online provider based in Queensland (call on 07 5562 1088). They offer equine courses for students hoping to work with horses professionally, or for enthusiastic horse owners who simply want to increase their knowledge. Their course offerings include:
· Advanced Certificate in Applied Management
· Advanced Certificate in Equine Studies
· Breeding Horses
· Certificate in Equine Husbandry
· Equine Behaviour
· Horse Care I
· Horse Care II
· Horse Care III
Other private providers offering horse care courses include Perth based Applied Vocational Training (AVT); The Australian Equine Institute in NSW; Careers Collectiv, and Learning on Line.
Centrelink assistance is often available for Equestrian Australia students who are in training for horse qualifications or in the equine industry. While EA is not able to provide this assistance to trainees directly, EA Coach Educator Glenys Cox offers Centrelink approved courses through the Online Horse College, so you can achieve a horse-related educational qualification at the same time as your EA qualifications.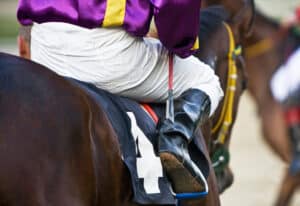 Team Thoroughbred NSW Training Academy offers high quality training for a variety of racing industry related careers.
With prices of around $5 a day, these courses are ideal for those on a budget. They are delivered online, so study can be completed around other commitments. For more information contact Glenys on 07 3102 5498, or email Glenys@OnlineHorse College.com
What do employers want?
Gaining qualifications is obviously a great first step to your new career – but knowing what employers actually want is a bonus!
Bridie Sparkes, manager at Strawberry Hill, a boutique Thoroughbred Stud in NSW is primarily concerned about attitude. "I don't mind teaching people as long as they have the right work ethic. There is much to do each day – feeding, general care, treatment, stable cleaning and the handling of young horses. They have to be fit."
Darron Peel, farm manager at Saba Arabians is a stickler for being thorough and mentions feeding as an example: "There's much more to feeding than chucking it in a bin in the morning and walking away," he says. "Check the horse over. Has their character changed? Are they behaving normally?" Then the automatic waterers must be checked. They could have stopped, or been clogged by manure overnight, and as Darron points out, a horse won't eat if it can't drink and vice versa. "When someone applies for a job I hand them a lead rope and halter and tell them to catch one of our quiet horses," he says. "In thirty seconds I can tell if a person is worth employing. Confidence and common sense are vital."
And many of you will have heard of Willinga Park, Terry Snow's magnificent equestrian property. Terry is a great supporter of training and education, but also a believer in hard work and initiative, from placing feed into feeders rather than throwing it over the fence from the back of a ute, to making sure that all the little details around the property are checked. "Ensure the fences are safe, that there are no tail biters with other horses, and make sure none are being bullied in the paddock," he says. "If you're going to be successful with horses you must think like an owner."
Feature Image: The Hunter Thoroughbred Breeders Association offers a variety of equine related courses (Image courtesy Faras in Focus Photography & Hunter Thoroughbred Breeders Association).