Mia Helm, a member of Arrowfield's 2023 yearling sales team, answers our questions about her background, her work, her career goals, and what she loves about Thoroughbreds.
What was your experience with horses before you worked at Arrowfield?
I began with riding lessons, then I leased horses and competed on them in different disciplines while attending Pony Club. In 2020 I studied Stock Horse Breeding and Training at Tocal College. After completing the course I worked at DPR Breaking in Sydney, riding young Thoroughbreds and doing a bit of track work with the breakers and pre-trainers. That gave me a lot of experience which led me to a job as a stud hand at Arrowfield.
What do you love most about working with Thoroughbreds?
Working with Thoroughbreds is so rewarding. You see horses being born and watch them grow into these amazing yearlings, and put so much work into preparing them for the sale and getting them ready for the next step in their journey. Then you watch them develop into racehorses and win – there is no job like it! It has to be one of the most rewarding careers out there.
When did you join the Arrowfield team and what's your current role?
I joined Arrowfield in September 2021, so I have been here for a bit over a year now. I currently work in the yearling barn helping to prepare the 2023 sale horses.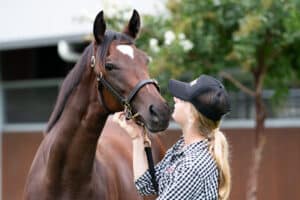 What does your usual workday look like?
The yearlings are turned out every day, alternating between the yards and the walker. One day the fillies go into the yards and the colts onto the walker, and the following day it's the other way around. We clean out their boxes before they're brought back in.
After breakfast we give the horses a good groom, making sure their coats are improving nicely. Sometimes we wash a few horses if they're dirty or if we have parades that day. Before lunch we bring the horses in from the yards and groom them as well. At the moment, most afternoons we do a full parade for clients, showing all the horses in our Magic Millions draft. After that, we rug the yearlings, feed them, and then we're done for the day.
Who has been especially helpful to you and why?
All the managers I've had have encouraged me to chase my dreams and pushed me to be better. Arrowfield's Nigel Bentley is an amazing role model to look up to and learn from. He has such great horsemanship and you can learn so much just by watching him with horses. Daniel Robinson from DPR Breaking also taught me a lot about young Thoroughbreds.
What's your favourite place at Arrowfield?
It's the Yearling Barn! We have outstanding facilities to work in which makes life so much easier, and the team we have makes a great working environment for everyone. It makes work so much more enjoyable.
Who are your favourite Arrowfield and non-Arrowfield horses?
My favourite Arrowfield horse is Dundeel. After riding his progeny and seeing how amazing he is, I think he is an outstanding sire. His offspring are so cool to ride – they can get excited, but they are so clever and know exactly what their job is and how to get it done. His yearlings are so smart and they're always the best looking in the sale drafts. My favourite non-Arrowfield horse is Hell I Am. I fell in love with him at DPR and to know he had a rocky start and then watch him go out there and do what he's doing today is pretty incredible.
What are you most looking forward to over the next 12 months?
I am definitely looking forward to doing the 2023 sales season – watching all the horses go through the ring has to be the best part. I can't wait to see the next crop of horses come through the barn and develop into something incredible.
What's your major long-term career goal?
I want to work my way up through management, become a really good yearling manger, and then move to an operations role, being able to oversee the running of a stud.
What two pieces of advice would you give a young person keen to work with Thoroughbred horses?
Just do it. Nothing compares to working with Thoroughbreds if you love horses and have the passion to work hard. You will love it and once you're in the industry you won't look back.
And don't give up – some days are tough, but never let those bad days get you down because the good times always outweigh the bad in this career.