In February 2021, the equestrian community observed one of the most serious equine disease outbreaks in decades. The last Equine Herpes Virus (EHV-1) outbreak, which originated at an international showjumping event Valencia, sadly resulted in numerous equine fatalities. What followed was a series of logistical nightmares for hundreds of participants and their horses who were unable to return home for many weeks. In response to the outbreak, the International Equestrian Federation (FEI) took necessary measures to cancel several international events across mainland Europe, shedding light on our individual understanding of how equine diseases spread, as well as the importance of prevention and outbreak mitigation at horse events.  
Luckily, one of the best ways to keep your horse from acquiring and spreading diseases remains prevention. For event managers as well as individual horse owners, the FEI and Equestrian Australia have listed guidelines around biosecurity at horse shows. To keep you and your horse safe during this show season, we have compiled a few tips below to limit the spread of diseases before planning travels to your next show destination: 
Before the event:
 
1.Prior to traveling to a new event or gearing up for the new show season, ensure that your horse gets a thorough vet check and is up to date on all their vaccines. In Australia, depending on your horse's age and classification, certain equine vaccines are strongly recommended. For competitive horses, the Hendra Virus, Tetanus, Strangles, and Equine Herpes Virus vaccines are a must before attending any events. For international travel, or for specific event venues, other vaccine regiments may be mandatory- make sure to verify requirements in advance depending on your destination. Keep in mind that having an early vet check is also a good opportunity to get familiar with your horse's body temperature, weight, and other baseline factors to be able to monitor any changes in the future.                                                     
2. Before booking your horse's spot on communal transport (whether by plane, boat, or in a shared trailer), make sure to inquire about their cleaning and disinfection practices. Remember: each trailer and communal area must be thoroughly cleaned after each new group of horses. 
3. Contact the event organizer and inquire about their biosecurity plan. According to Equestrian Queensland: "All event organisers should have a biosecurity plan available at events, and should nominate a 'Biosecurity Manager' who is responsible for implementing this plan should a biosecurity incident occur." This person will ensure compliance and good hygiene practices at the event, minimizing the risk of equine disease spread.  
During the event: 
Keep your horse in a separate, clean, disinfected stall, and limit contact with other horses. 

Bring your own equipment and supplies. The best practice is to keep brushes, lead ropes, halters, and grooming kits for individual use.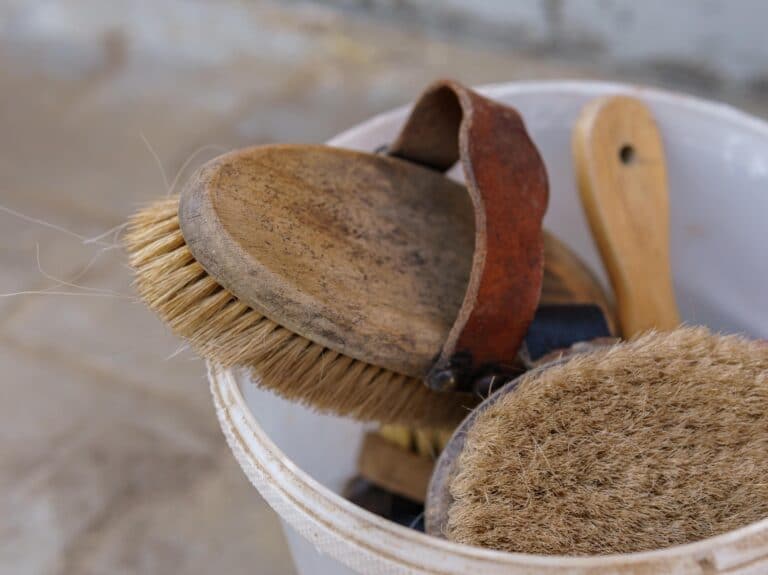 3. Make sure to bring your own bucket for water and feed. When re-filling your water bucket, do not dip the tip of the hose in the water to limit the spread of germs. 
4.If you MUST share equipment or buckets, ensure that they are thoroughly cleaned and disinfected between horses. 
5. Restrict visitors' access to your horse's stall. Diseases do not only transmit from one horse to another; humans can also spread germs between horses if they omit to wash their hands properly. Put up a sign and ask visitors to refrain from touching your horse, and if possible, try to set up a physical barrier between your horse's stall and visitors (i.e. using a Dutch stall door system, or putting up a chair in front of your horse's stall).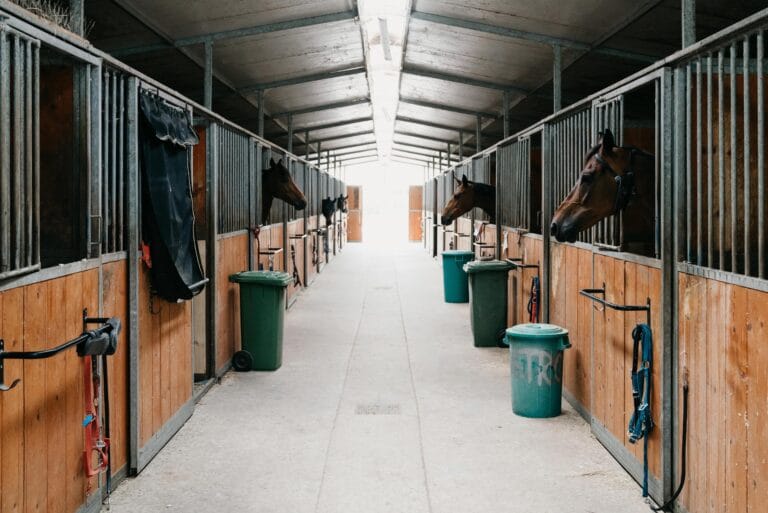 After the event: 
1.Monitor your horse for any signs of illness by checking for temperature daily or at specific intervals in the weeks following the event. Look out for other signs of illness, including runny nose, coughing, difficulty standing or if you notice your horse laying down more often than usual. Also pay attention to any changes in eating habits. 
2. In case of any doubt, call your vet and isolate your horse, and avoid contact with other horses until a checkup and diagnosis can be confirmed. 
While it is difficult to eliminate risk, individual horse owners can take steps to prevent and limit potential diseases spreading by working together with event managers and following simple guidelines before attending events. Understanding disease prevention and taking responsibility as horse owners can make a big difference in disease outcome on individual horses as well as equine populations at scale.  
Links:  
FEI Biosecurity Guidelines: https://inside.fei.org/fei/your-role/veterinarians/biosecurity-movements/biosecurity-how-to  
Health 4 Horses Australia: https://www.health4horses.com.au/health-care/preventative-care/eidab-chart-v2.pdf  
Equestrian Queensland: https://www.qld.equestrian.org.au/member-resources/biosecurity  
https://www.dpi.nsw.gov.au/__data/assets/pdf_file/0020/401924/Horse-events-biosecurity-uidelines-for-organisers-and-competitors.pdf