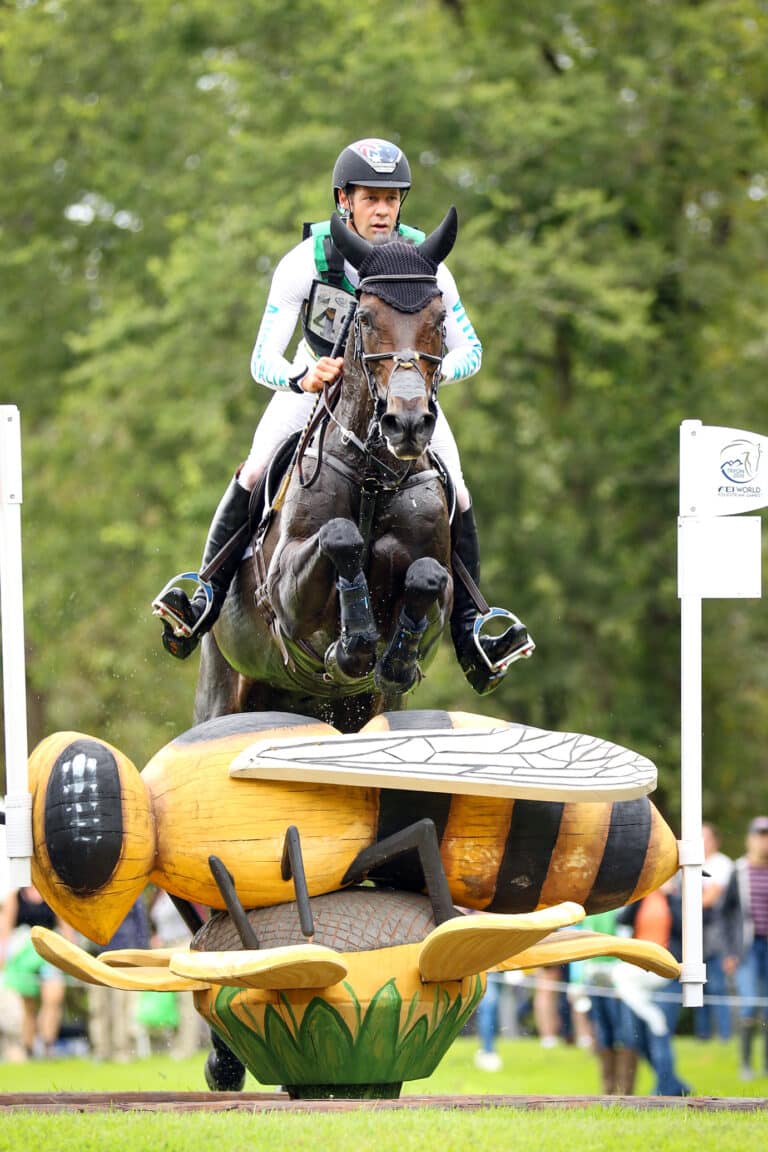 One of Australia's top equestrian photographers, MICHELLE TERLATO travels the world capturing equestrian athletes in action. Each month she shares one of her favourite shots. 
Behind the shot
Rider: Chris Burton
Horse: Cooley Lands
Event: 2018 FEI World Equestrian Games
Location: Tryon Equestrian Centre, North Carolina, USA
Camera & Settings: Canon EOS 7D Mark II, 70-200mm, ISO 250 f 2.8 1/1000 sec
Challenges: Apart from fast approaching Hurricane Flo, which threatened to stop the event in its tracks, and high humidity fogging up the camera lens, the biggest challenge was that the Trakehner was on top of a gentle slope, so it was hard to see riders approaching. It was also the only jump in that area so I had one opportunity to get it right.
Expectations were high that the Aussies would win a medal, and they were in a very good 5th place after the dressage – so my brief was to get a cover shot of one of them. I thought this fabulous Bumblebee Trakehner would be the perfect fit and I was putting a lot of pressure on myself to nail the shot. Chris and Colley Lands did not let me down. They jumped the obstacle to perfection. I had the shot. Now they just had to finish on the podium!
Sadly, Chris and Cooley ended their round with an uncharacteristic 20 penalties, eventually dropping the team to 6th place. It wasn't the hoped for fairy tale ending, but I still love the image. As for the hurricane, the cross country finished before it hit that night. The competition was paused for 24 hours (the venue flooded) then it was back for the final day of show jumping with blue skies and hot, very humid weather.
Why this shot is special: I was very excited to shoot Chris Burton. Based in the UK, he never events in Australia and I had yet to capture a great shot of him. I really had to concentrate but was thrilled with the result. I think the Bumble Bee is a fabulous jump; it's beautifully painted and on top of a huge ditch which you can't see in the photograph. The photo also holds fond memories of Tryon, where the venue, although not completely finished, was great and the people were wonderful and very hospitable. I also love the way Chris is so focused on the job ahead and is wearing the Team Australia helmet and uniform. I was a very proud Aussie and as Andrew Hoy on Vassily de Lassos placed 4th individually, we almost made the podium. So close!