When it comes to the health and wellbeing of your horse, a good diet, comprehensive training regime and proper supplementation are all vital, and likely things you already do. However, and as more wet weather is predicted for the remainder of January and February, spare a thought for your horse's footing, and how you can prevent soil erosion underfoot.
With rain, comes mud. Especially over long periods of consistent rain, in areas with poor existing drainage and in high traffic areas, such as around feed or water troughs. With mud, then comes the increased risk of conditions such as hoof rot, mud fever, thrush and abscesses, as well as the risk of slipping which can lead to injury and lameness. But how do you know which horse yard or stable flooring will help prevent these conditions?
Ensuring that your horse has a clean and dry stable, as well as solid ground underfoot is key to preventing a number of injuries and infections that can severely impact your horse's health both in the short and long term.
When it comes to the safety of her horses, prevention is better than a cure, which is why Olympic Eventer and SA Native Megan Jones recently chose to install Geohex in 11 of her yards.
"Geohex has been amazing," Megan says. "The water just runs straight off it, and we had no puddles all winter."
"If we hadn't installed Geohex, those yards would still be a mess," she believes. "It would've been disastrous."
But what is Geohex?
Geohex is an Aussie innovation and the solution to ground stabilisation, soil erosion control and surface drainage that so many property owners have been looking for. It's strong, durable and 99.7% permeable, meaning that no matter how much rain is forecast, you'll have dry paths, paddocks and stables all year round.
Made from 100% recycled plastic, Geohex reuses waste material that otherwise would've ended up in landfill, while being non-reactive and safe for use around people, animals, plants and the planet.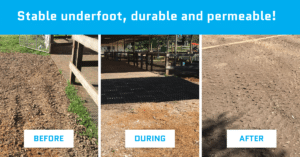 Geohex is easy to use and install in any weather, making it the perfect DIY project for your property. Plus it's cost-effective, long-lasting and easily customized with your choice of aggregate material. Geohex has been tried and tested time after time with great results, all across Australia and Internationally. Now having used it and loved the results, Megan is an advocate for the product and, six months since it was installed, Geohex hasn't missed a beat, and there's still no mud in sight in her yards (you can read more about her experience in the latest issue, out now).
No matter where you live or how you ride, Geohex is the soil erosion control system that's designed to keep your property free from bogging. In 2022, ensure your horses have the best footing with Geohex.
Proudly Australian made and owned, you can find out more about Geohex – and find your closest stockist – at www.geohex.com.au