Many people are surprised to learn that the world-famous Lipizzaner horse comes from Slovenia, instead of Austria, near the village of Lipica (Lipizza in Italian). 
Lipica is near the northeast Italian border, an area that once belonged to Italy, and Austria – which is why both countries often claim the geographical origin and lineage of the breed. 
The first Lipizzaner herd was established by Archduke Charles Il in 1580, after his experts determined the Karst plateau provided all the necessary conditions to successfully raise horses. His horse breeding experiment was closely associated with the Slovenian landscape, not only for its natural conditions such as the quality of soil, vegetation, and climatic conditions. Only the toughest horses adapted to the barren, rocky karst terrain – horses that would go on to make formidable mounts in battle. 
A herd of 33 stallions and mares of Spanish and Italian descent were crossed with Arabian, Neapolitan, Kladruber and local breeds to produce a lighter, more athletic cavalry horse. The Habsburg experiment resulted in creating the lively, high-stepping horse we know today, a rustic breed that is complemented with a beautiful sense of balance and rhythm and an even temperament.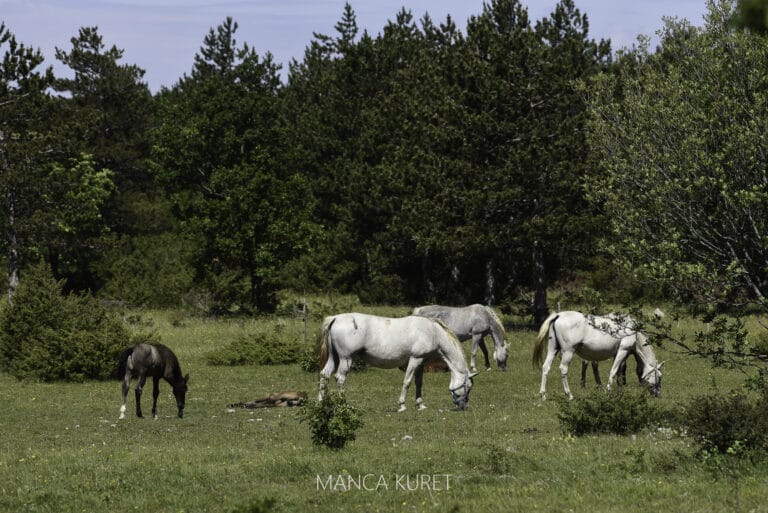 Jana Jasovic Memon: Horser Breeder
I sat down with Lipizzaner breeder Jana Jasovic Memon, of JJ Lipizzans, to find out what it is like to breed one of the oldest and most prestigious horses in Slovenia today. 
Tell us about where your farm actually is?
I live in a small village called Prešnica, that was built over four hundred years ago.The horses live on the Karst plateau, an area that is also famous for its subterranean landscape and caves. 
The plateau is the original breeding ground for Lipizzaners. Horses have been bred here since the 1500s, and they cope very well in this area. The Istrian peninsula is separated from continental Europe by a barrier of hills–and the largest of them is Slavnik. It is one of the most popular tourist destinations in Slovenia, and its slope provides the horses with natural protection from the elements all year round. 
Lipizzaners have always lived on rocky limestone, and that is one reason the breed has such strong hooves and bones.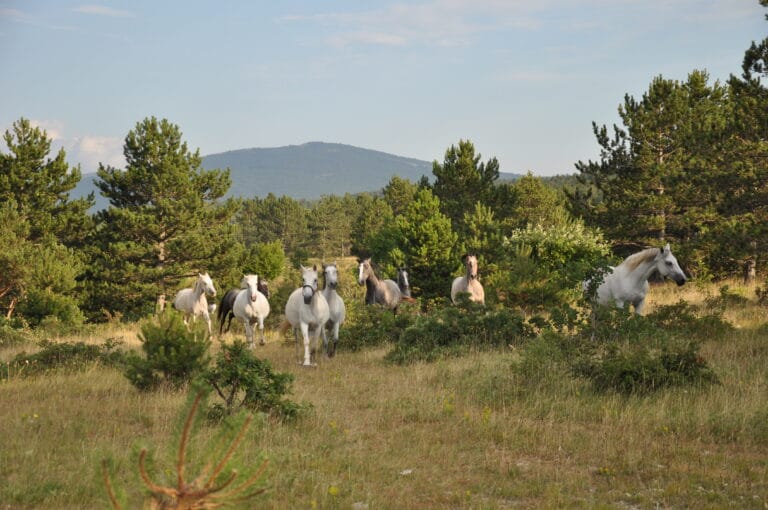 What is your history with the Lipizzaner breed?
I bought my first horse (a black Lipizzaner stallion) back in 2003. When he was sold to the Netherlands, I bought a mare that was already in foal. In 2006, my first colt was born, and since then my breeding operation has grown step by step. 
When I moved to Presnica, my husband (who is also professionally involved with Lipizzaner horses) encouraged me to expand the breeding business. We leaseed some breeding mares off the Lipica state stud through a program organized by the Slovenian government and produced some high-quality fillies of our own. Then we took on more pastures and farmland for grazing. Three years ago, we were able to secure a long-term lease from the Slovenian government that provided us mountain pastures too.   
Today, our breeding operation stretches over approx.100 hectares of farmland. This means we can ensure our herd has organic grazing and optimal natural nutrition all year around. Living on a hilly and fertile pastures in herds has a positive impact on their mental development. Foals grow up robust, resistant and strong, with nice, relaxed characters. These traits are important when they begin their training as riding or carriage horses. 
We only bring in the mares when are about to give birth, since there are wild predators in the vicinity. Otherwise, our horses live out all year round.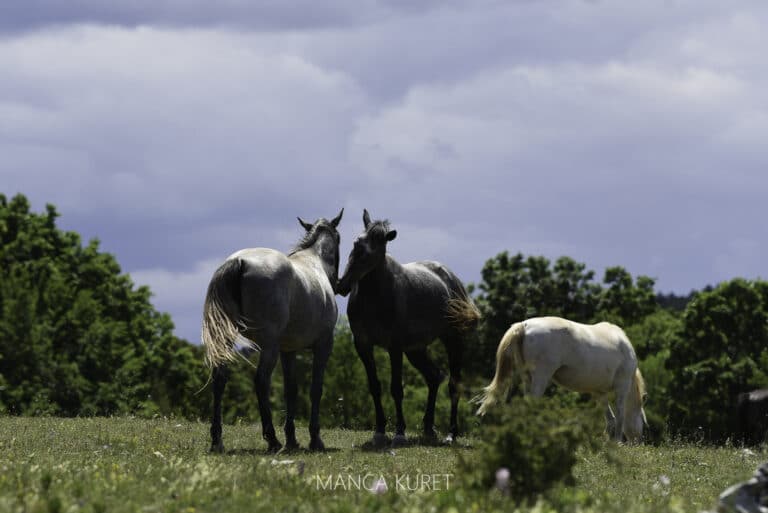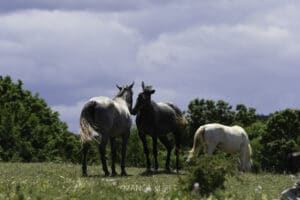 How long have you run JJ Lipizzans and what got you into this business?
JJ Lipizzans was a dream that was sparked when I bought my first Lipizzaner horse. My friends and family helped me make this dream come true. 
Today, looking back, I am so proud of everything that was achieved, especially since I started from zero. My family was never involved with horses. For them, my idea to breed Lipizzaner's was downright bizarre. They would prefer me to have taken on an easier job. But I tried that. I worked in a bank for a while, and it was just not where my heart was. 
I quit that job to do what I love – which is raising horses and farming. I still think that was one of the best decisions I made for myself.   
How do you see the future of the Lipizzaner breed?
Lipizzaners are a classical, baroque horse that was created and developed for classical equitation and the airs above ground. They are the original purpose-bred dressage horse. But they are very different from the modern European sport horses we see competing internationally. Warmbloods have big gaits, and a very different movement when compared to Lipizzaner horses. Some warmblood horses have been modified over the past fifty years to make them more competitive, whereas Lipizzaner breeding has changed very little. Perhaps that is why they are not as popular as more modern sport horses? 
Today we see a notable lack of Lipizzaners competing in high-level dressage competitions, whereas they are highly competitive in carriage driving. In these events, they are faster, more durable, and more maneuverable than other breeds. 
I believe more must be done in next years to help promote Lipizzaner horses as performance horses in order to restore their past glory, and to see them once again competing in dressage and sporting events around the world.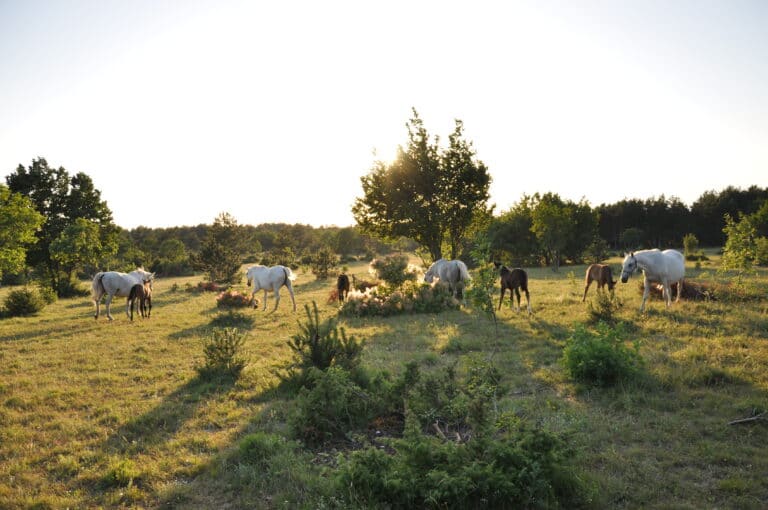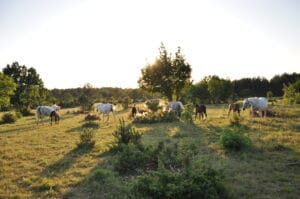 How many horses do you currently have?
At the moment, we have 41 horses. We still have a few of last year's foals, some fillies and geldings aged between 2-5 years, our herd of breeding mares, and our two approved breeding stallions. 
Are your stallions available for stud or just for your use?
At the moment we have two approved stallions: 23 Maestoso Gaetana, our bay Lipizzaner, who we only breed with our own mares and 426 Maestoso Gratiosa II, who is owned by the national stud of Lipica. We lease him through a program created by the Slovenian private breeding association. He is also for use with outside mares.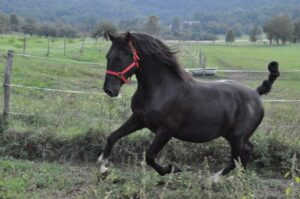 Do you offer live cover or AI? Or both.
In Slovenia, we offer live cover to local horses, but we have frozen semen for overseas owners. We have two approved breeding stallions available in our genetic reserve. These are 22 Maestoso Romida-8 (Piber) and 064 Maestoso Bonadea XXXVI (ZRLS), the latter we bred and raised ourselves before selling him to France. 
What are the top attributes you look for in a mare?
I like good square conformation, with correct legs, and a correct stance. She also needs to have a nice, easy character and elastic, expressive gaits. I prefer the classic baroque style Lipizzaner. Taller mares are ok though, as long as they have the other characteristics. 
I don't enjoy breeding with anxious or difficult mares. A kind and generous character is important to me. 
How do you pick the stallions for your mares?
I look at what if there is missing in the mare and choose a stallion that throws foals with the traits I need. In particular, I always aim for the best limbs and stance possible, because without good legs (and hooves) there is no horse. 
How many foals are you expecting this season?
We are expecting 5 foals this season, since we sold two of our breeding mares this last year. Those that are for sale will be listed on our website.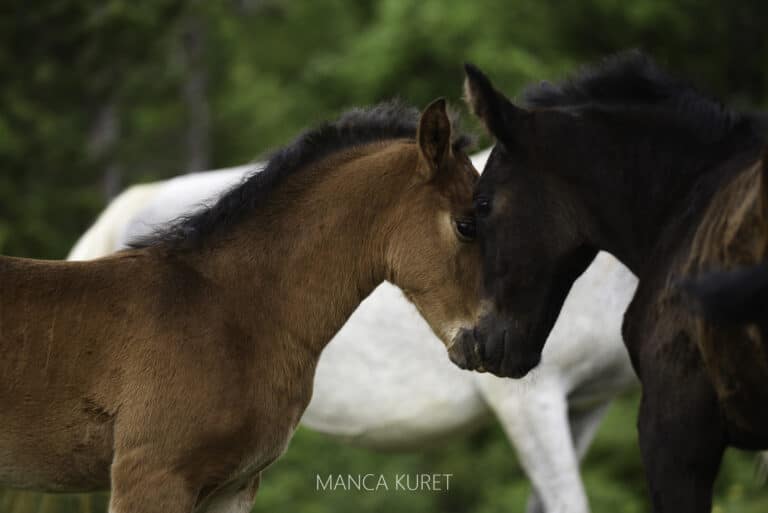 Which horses do you currently have for sale?
We have some really nice colts from last year. One of these is going to be very tall and I feel he has the potential to be a really top horse with the right rider.   
As far as adult horses go, we are selling a lovely mare from 2009 who is also a very nice saddle and carriage horse, and a classical baroque-type gelding from 2018 with a very kind character. 
What attributes are you breeding for?
Lipizzaners are a very intelligent breed naturally–but they are also versatile too. They really can excel in any sport. You can see Lipizzaner's successfully competing in dressage, carriage driving, rounding up cattle in western events, and doing long distance trail riding. My goal is to see more of our horses out there doing things–I don't mind which one, I just like to see them doing well.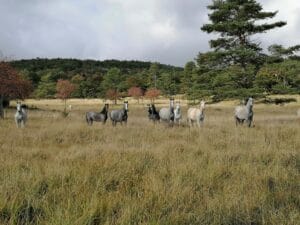 How about Australian Lipizzaner breeding?
I am a member of the Australian Lipizzaner Registry (ALR) for the second year now. It has been a bit of a struggle in Australia to keep the breed flourishing, but things are going better now, and it is exciting to see more foals being born. 
We recently exported frozen semen by 064 Maestoso Bonadea XXXVI, a dark Lipizzaner stallion born and raised by us here in Slovenia, especially for Australian Lipizzaner breeders to use. We kept some of the semen for our own genetic reserve too, and that has been stored in Moruzzo, Italy, in the EU breeding bank. This was a big achievement for us, and the fruit of an international project devised by three dedicated women! 
In the future, we will try to collect and freeze semen from another stallion for Australian breeders to continue refreshing the local genetic pool. Along with the Australian government, we are looking into embryo transfers. Watch this space–we have lots of plans to help Lipizzaners thrive in Australia in the future.    
Check out JJ Lipizzans online https://www.jjlipizzans.com/en/horses/sales-list/ or follow them on Facebook https://www.facebook.com/jjlipizzans.slovenia/?fref=ts