Mary Hanna – Pursuing her Passion The indefatigable Australian dressage legend has just competed at her sixth Olympic Games.
Look back in time with us as we revisit the journey of the amazing Mary Hanna.
In 2019, with a move to new stables, a new trainer and new horses, Mary had Tokyo in her sights.
Mary Hanna has just finished schooling her three horses for the day. It's lunch time in Germany, and a good time to chat at the end of a hectic week, with not just a move in to new stables but also preparation for one of her horse's competition come back the following weekend, but Mary is happy. Her horses have settled in nicely and she and husband Rob already feel at home at Eulenhof, the base for Sweden's top dressage rider, Patrick Kittel."When people ask me where I live, I have to say that I actually live in Germany now. I don't think my family quite get that,"Mary confesses.
Between them Mary and Rob have been guiding lights in the Australian dressage scene for many years. Rob has competed successfully as an eventing rider and was the Chef d'Equipe of the Australian Eventing team for the 2008 and 2012 Olympic Games. He was also the Chef d'Equipe for Dressage from 2000 to 2005 before taking up the same role for the Eventing team. Mary has been the Australian National Grand Prix Champion on six occasions and works full time as an Equestrian coach and trainer. She gives much of her time to the sport as an NCAS Level III Dressage instructor andan'A' level Judge. Together, they share a passion for horses and a vision to see Australian riders compete successfully nationally and internationally. Mary Hanna, née Sutherland, was born in 1954, in Melbourne, growing up in the Western District of Victoria. She attended McArthur State School in Victoria before going to high school at Presbyterian Ladies College and she has a Bachelor of Arts degree from the University of Melbourne.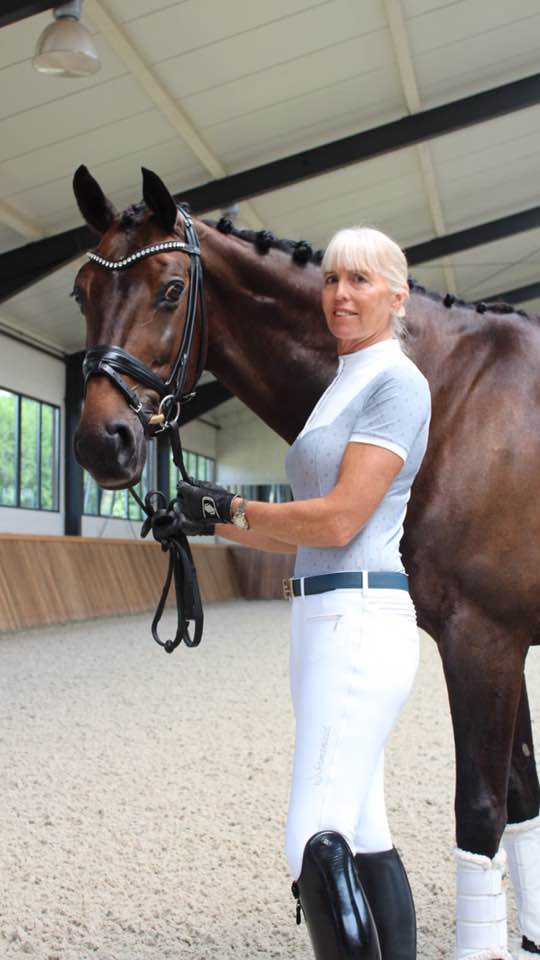 For Mary horses were part of her day-to-day life-her mother was keen on jumping and hunting and also trained racehorses. Not many people know that Mary came to dressage via a successful career as an event rider. She competed up to Advanced level and was even short listed for the World Championships in Kentucky with a horse called Suave, but it wasn't until her mid-twenties that Mary started to get serious about dressage. Fortunately for dressage fans, In the end it became too hard to continue both disciplines at the top level and dressage won out.
Does she miss her days of jumping?
She smiles,"Occasionally I set up a small jump, like a pole or a cross rail, and have a little pop over it. But my eventing days are well and truly over. At the time I was obsessed with eventing, as much as I am now obsessed with dressage. And if you want to be good at anything, you have to be like that—totally absorbed and passionate."That passion, followed with absolute dedication, last year saw her receive one of the Federation an Equestre Internationale's (FEI) most prestigious accolades, the Gold Badge of Honour, which recognises athletes who have been among the 15 best finishers in the Grand Prix in at least 14 CDIO competitions. She has also represented Australia at the World Equestrian Games on five occasions-1994, 1998, 2002, 2014 and 2018 to be precise.
Then there's the Olympics.
Late last year Australia's most decorated dressage rider made headlines when she sold Boogie Woogie, her mount from the 2016 Rio Games and 2018 FEI World Equestrian Games, and also her 2017 World Young Horse Championship finalist, Gerion. But they were changes Mary felt were necessary in order to focus on qualifying for what could be her sixth Olympic Games in 2020. When she competed at Rio she made history, reaching the five Games milestone as the third Australian woman in Olympic history. She also became Australia's oldest Olympic equestrian, eclipsing the record set by the late Bill Roycroft. Her highest individual dressage result came in Atlantain 1996, when she finished 24th, riding Mosaic. She partnered Limbo in the 2000 Sydney and 2004 Athens Games. In London 2012, Mary and Sancette finished 9th in the team event and 44th in the individual event.
Mary Hanna & Umbro
When we talk about her achievements Mary admits she still has to occasionally pinch herself, crediting the sport for the opportunities it offers."Dressage is an amazing sport, because it allows men and women to compete equally well,"she says."It is also a sport that you can do from a very young age to a very old age. And it is wonderful to develop a partnership with a horse, with so much is depending on that partnership. It really is a sport that is worth pursuing."
At Patrick Kittel's stables Mary has found that's he's working harder than ever.
Sweden's top dressage rider is a firm task master."I find dressage very mentally stimulating and I love the challenge of it, both mentally and physically,"she says."Riding three horses at Grand Prix level everyday, to the standard Patrik asks for, is incredibly testing. You have to push yourself really hard. I've had the privilege to training with some extremely good people and I've learned great things from all of them. However, I guess the thing that stands out with Patrik is his positive attitude, he really makes you believe in yourself and that you can do it."Mary also consults Patrik before purchasing a new horse,"We have to work to get her as a team, the trainer, the rider and the horse, and we all have to be happy about it. Patrik knows me well, he knows my riding and what kind of horse suits me."Which brings her to her new horses – Ferrero, a nine – year – old KWPN gelding by Tuschinski with Jazz as his dam sire, and her most recent acquisition, the 13-year old West falian mare, Syriana by Sir Donnerhall I.
When Mary found Ferrero she'd been looking for a new horse for quite sometime, traveling through Holland and Germany and even to Switzerland.
Finally it was through fellow Australian Bennet Conn that Mary discovered an inexperienced, but very talented gelding."Ferrero had only had a couple of starts at Prix St George level before I purchased him, but he has so much potential for everything,"she says. "He's been brought up through the levels by an amateur rider, who did a lovely job with him."As for Syriana, Mary admits that it was not love at first sight! Swedish rider Malin Wahlkamp Nilsson had campaigned the mare, who is particularly strong in the piaffe and passage tour, in five national events at Inter II and Grand Prix level and also at the CDI Flyinge in September 2018, where they finished third in the Grand Prix Kür."I tried her out sometime ago and was not that impressed, "she says."When she has a new rider on for the first time she can stiffen her back, making it difficult to sit. Apparently this is something she always does, she can be a little wary of new riders. Then I watched her again and talked to her regular rider Malin, who recommended I have another try. So I did and by the end of the second ride I was pretty sure I was going to take her. As soon as I found the way with her, she was really lovely to sit on. The more I am getting to know her, the easier she becomes. I am really enjoying her now. She reminds me of Sancette, a horse that you could really rely on at a competition.
I always looked forward to competing him because I knew that once I got in to the arena he would really try his heart out. You want a horse that will fight for you."Among the many beloved horses that shaped her career, Sancette holds a special place in her heart. The Hanoverian by Sandro Hit was imported by Mary in 2010 and purchased from US rider Steffen Peters. Mary also trained with Steffen for seven months before bringing the horse back to Australia. Sancette competed successfully both nationally and internationally, representing Australia at the 2012 London Olympics, the 2014 WEG in Caen and the 2014 FEI World Cup Final in Lyon. It's a tribute to the high esteem the family holds him in that Sancette is now being ridden by Mary's daughter, Gitte Donvig.
A turn around in her horse team is that now she has two mares on her team, where as in the past her top horses have been mostly geldings, including Mosaic, Limbo, Tango, Umbro, Port Said, Rambo, Sancette and Boogie Woogie. Was it a conscious decision, I wonder, or did it just fall that way? "I'm leaning more and more towards mares. Given a choice I'd always have a good mare now,"she says."They will fight for you until the end, they have that fire to keep going. Mares are a bit more sensitive, but they can also be quite brave. You can't kick and squeeze them, you have to get them on your side first. But then they have that little bit of extra oomph!"
Mary Hanna, Sancette
Through out her long career Mary has enjoyed the support and knowledge of many experienced riders and trainers, among them her first husband Gert Donvig, the legendary Franz Mairinger and the famous Siegfried 'Bimbo' Peilicke, but also along the road Clemens Dierks, Kyra Kyrklund, Anky van Grunsven, the Bartels family and Ulla Salzgeber."I've been lucky to have worked with so many great riders and trainers,"she says. Life away from Australia can be a bit of a balancing act. Paying enough attention to family, friends, students, horses and other animals has its challenges, but Mary and Rob are doing their best to make it work, and thanks to the perks of modern technology Mary can now also continue coaching her students from a far. A Pixio camera set up and a fast internet connection make lessons possible whenever time allows.' "I really enjoy teaching and it is one of the things I was missing the most,"she says." But this video system is so good, it's almost like I am there in the arena. It's going to make a big difference to staying connected with every one and being able to help everybody." Her students naturally benefit from the high standard of dressage Mary is experiencing in Europe. "The standard of riding here is amazing," she says."I think that's what keeps me going, just watching all these other very good riders is inspirational. We just don't see any bad riding here. The standard of dressage just keeps improving so rapidly, you can't close your eyes for a moment or you miss out."
Mary also mixes up her horses' training program to keep them motivated and happy.
Sunday is a regular day off and the horses also enjoy at least one more easy day during the week, perhaps a stretching session or a light canter around the sand track. Serious work is only scheduled for four days of the week. Mary keeps herself fit as well with regular visits to the pool. She and Rob also like to play golf, which she finds a great way to switch off and put her mind on something else. Dressage can be a tough sport, no one knows this better than an athlete that has been in the game for so long. But she is happy to share a piece of advice with young aspiring riders back home. "There's no doubt that if you are going to be a dressage rider, you're going to have ups and downs and times where you are wondering why you are even doing it,"she says. "But I think the message should be that you should always persevere, if it is what you want to do. Believe in yourself and follow your dreams. Dressage is a lifetime passion, and to have a passion about a sport like that, is something very lucky."
There is no doubt that Mary's passion will continue for a long time.
There is already a future prospect waiting in the wings for her back at home at Statene Park, on the Bellarine Peninsular, a two-year-old gelding out of her Grand Prix mare Calanta by the dressage super sire DeNiro. He is a lovely type with three nice paces and Mary is looking forward to getting him going next year.
Mary Hanna Calanta, CDI Zealand
On a side note
Mary and Calanta's come back at the CDI Zealand Outdoor International was very successful. In her first start after a year-long break Calanta was rewarded with some great scores, including a 72% from a well respected 5* judge in the Grand Prix that saw her qualify for the Special, where she placed 4th — a great start to the Tokyo 2020 campaign.