A lifelong equestrian in a variety of disciplines, Warwick is an Equestrian Hub mentor and an expert in natural horsemanship. His mindful, relationship-based approach has proven successful with even the most anxious horses.
Q: Where are you from?
A: A wheat and sheep farm in Young NSW.
Q: Why were you drawn to reining?
A: In the mid-80s we started seeing the manoeuvres U.S. trainers were getting their reining horses to do on a loose rein and with a pleasant expression. I wanted to do that. Looking back from a completely different perspective, I think it was more ego, thinking 'people will think I'm cool if I could do that'.
Q: First job after school?
A: For six years I worked in the local Commonwealth Bank.
Q: Why did you go to U.S.?
A: My goal was to be on the Youth World Cup team, and compete in America. I won nearly every event at the NSW qualifiers but wasn't selected. I'd always had a fascination with western lifestyle and horsemanship. The bank allowed you to take a year's leave without pay, and guaranteed you a job when you returned so I took the opportunity and went to the U.S.
Q: Did you find a difference between U.S. and Australian horsemanship?
A: In Australia I felt I rode horses but didn't train them. I had no process, it was just get them to do it. In the U.S. I learned there's a foundation that's the basis for everything you might add later. I'm not saying Australia didn't have that, but I certainly didn't.
Q: When was your first job in the U.S.?
A: In 1990 with trainer Don Murphy, a National Reined Cowhorse Hall of Fame member. When I was leaving after a year he said: 'If you want to come back I'll give you a job – you could do this for a living'. After six months I returned to Don's.
Q: Describe your Californian property.
A: Everything we need on six acres – nice arena, round pen, panel walker (my wife Robyn puts the horses on that while I'm away to keep them legged up). Our horses live in paddocks – even our stallion lives out with two geldings.
Q: What's your favourite 'go to' training exercise?
A: My favourite isn't even training, it's connection – but it's what makes the training easy. When you get a horse relaxed around you through connection, biomechanical correctness is easy, in fact they offer it. There are many ways I work on this connection, but it comes down to having no expectation, being present and communicating your awareness.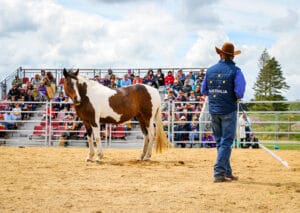 In New Zealand at a horse expo
Q: Is there anything horse related you haven't tried but wanted to?
A: Not really.
Q: Your greatest equestrian achievement?
A: A personal best at WEG in the team competition, then besting it by three points in the semi-final. For me it was the result of a huge mental shift bought on partly by all the inner work I'd done that year, and by Jane Pike's mental coaching.
Q: Who do you admire in the equestrian world?
A: Anyone who keeps evolving, sees beyond the horse training aspect, and has connected the dots between personal growth and how they choose to interact with their horses: people like Tristan Tucker, Jane Pike, Jonathan Field, Elsa Sinclair.
Q: You give clinics internationally, what was the most exotic location?
A: In Morocco we stayed at the British Ambassador's residence complete with three security teams outside the house, and a Range Rover with a personal driver and diplomatic plates. We got to meet the Prince and were taken to the races in Casablanca.
Q: The most interesting horse you've worked with?
A: In 2016 Robyn bought Sherlock, a reining horse, who'd never really put it together in the ring because of some underlying tension. I couldn't train the tension out of him; he needed connection, not correction. That led me to understand I'd spent nearly all of my life in a similar state, which took me down a personal development rabbit hole that I'm still burrowing down.
Q: The best advice you've received?
A: When working with a horse: wait. Then wait a little longer. There's a quote from A Course In Miracles: 'those who are certain of the outcome can afford to wait, and wait without anxiety'.
Q: Your greatest lesson?
A: It's what you learn after you know it all that's important. By 2016 I assumed I knew what I was talking about, then Sherlock changed not only my horse training, but my whole life.
Q: Have you ever given up on a horse?
A: Two with bucking issues because I couldn't find the beginning of the problem. The bucking isn't the issue, just a symptom, and at the time I didn't understand the mammalian nervous system enough to fully resolve the trauma that caused the bucking.
Warwick, Chance, and Sherlock enjoy a siesta (Image by Tyler Schiller)
Q: You've recently been competing.
A: We wanted something we and the horses enjoyed, where we don't have to sacrifice our morals and values to be successful. We've been in the Ranch Riding and Ranch Trail at Quarter Horse shows. This satisfies the enjoyment, values, and morals part, but we're still not sure if it ticks all the boxes.
Q: A piece of equipment you couldn't live without?
A: My collapsible flag. I used to use a flag to drive a horse, but these days I use it to draw a horse's thoughts.
Q: Time for a social life? A: It's just been us, our dogs, horses and chooks in the past two years. During COVID I don't think anyone had a social life, and it's helped both Robyn and I understand that we really are introverts and value our alone time.
Q: What would you do if you didn't work with horses?
A: Welding, carpentry or leatherwork, which would satisfy the instant gratification part of me. With horses you see a change over months and years, not hours.
5 extra Q&As
Q: Have you ever had a problem horse and what did you help it overcome?
A: Over the years I've had many 'problem' horses – bolting, rearing, bucking, you name it, but I've never tried to address those problems, I've always just started back at the beginning and, for the most part, those problems disappear. They're caused by anxiety and confusion. If you go back to the beginning and help a horse to have a well-regulated nervous system, instead of being stuck in the sympathetic nervous system, that's half the issue solved there. The other part of the equation is going back through the training from the start and ensuring the horse fully understands all the aids individually. Like the French classical dressage saying: 'leg without hand; hand without leg' but more so – left leg without right leg, left hand without right hand. Horses want to get along with whatever we ask, if we can just break things down into small enough pieces and teach them things in a step-by-step fashion at a pace that they can easily digest, then anything's possible.
Q: Did you come from a horsey family?
A: Dad and a couple of his brothers (he's one of 16) were very successful in the rodeo arena. He competed at the National Finals twice in the bull riding, winning in 1968. I've been told he was an even better bronc rider than a bull rider. In the late 1960s Quarter Horses were being imported into Australia and they became popular for the rodeo timed events and Dad had some. I started riding when I was seven and initially our first outings were Pony Club, then we (Dad, me and my two brothers) started competing at local western shows and later we travelled further to bigger ones.
Q: What's the essence of the clinics you give?
A: The main focus is relaxation through connection as a foundation, with everything else laying on top of that. Many people have to change how they view their horse's behaviour, and also be a lot more aware of their own thoughts, energy, intentions and physicality. It's a lot about being present, and in this electronics-filled world we live in we're rarely present.
Q: Is there one horse handling/training problem which is universal?
A: Human perception. You really do create your own reality, and if you think a scared horse is an obstinate horse and treat it as such, you will create an obstinate horse. If you ride in such a way that you think a horse needs his head pulled down with draw reins, then you will need to pull his head down with draw reins.
I'm sure every professional horse trainer will tell you that as the years pass and as they master their craft, they learn or figure out new techniques which work better, and let their original ones fall by the wayside. I think the one limiting factor to new techniques is they have to create the desired result in the timeframe that the general public is willing to pay for. Trainers then use those techniques to train horses and share with the general knowledge-hungry horse-owning population through lessons, articles like this one, and possibly videos on either social media or video-hosting platforms.
This is where I think a disconnect occurs. The average horse owners aren't paying themselves to train their horses, and so the time constraints that trainers are under don't apply. I've found that taking the time to create a connection with a horse, which puts its nervous system in a regulated (relaxed) state before trying to train them to behave in certain ways, makes the process so much easier. It ensures they're completely relaxed around us, and develop a great deal of trust in us. Most professionals develop trust during the training process, but I think starting without that trust first makes the process more difficult than it needs to be.
Q: Tell us about your podcasts.
A: We started in July 2020. The first episode was called Changes, where I talked about the things that had happened along the way to change my outlook on horses and life, and how that change in outlook changed the course of my life.
One of the common things that people share, that's not a common subject for horse people, is some sort of spiritual (not religious) practice, something that connects them, as Linda Tellington-Jones so eloquently put it, "with the knowledge in the quantum field." It may sound a bit woo woo, but there are a lot of conversations about the science that backs it up, and there are lots of conversations about energy and intention – and when you really get down to it, those are the first languages of horses.
I've had feedback from all around the world with people telling me how much the conversations on the podcast have helped them shift their perceptions, not only about themselves but about their horses too. I've had mental health workers tell me they make their non-horse colleagues listen to it as well.
Connect with Warwick at Warwick Schiller Performance Horsemanship.
Feature Image: Meeting a Barb stallion in Morocco (Image by Robyn Schiller).