The author Kathryn Sullivan-Butt is The Saddlefitter a Society of Master Saddlers Qualified fitter, ASFA fitter and an EA accredited coach. With formal saddle and saddlefit training in Australia, UK, US and Europe she is fortunate to have had the opportunity to train under (and quite frankly ask endless questions of) some of the industry's most respected leaders. She fits full time in South-East Queensland.
Craftsmanship, Environmental and Social factors affecting cost
A qualified saddler is a master craftsman, who invariably takes great pride in the saddles and strapping they produce. For many their names are literally on the line with each saddle they make stamped with that name.  In England for example to become a master saddler involves years as an apprentice and exams before you are accredited.  These master craftsmen oversee or create a saddle from the initial selecting of hides to the finished product.  For the trained (and even untrained) eye there is no comparison between this workm
anship to that of a production line worker stitching leather piece work that will be jig-sawed into a saddle later.
A master saddler has an expectation that the saddle they make will be suited to the task it is made for, will work with the biomechanics of horse and rider and above all will last and give years of service. As in many industries the quality control measures will be higher in more developed countries and the saddler will be required to meet or exceed those quality control requirements.  At the other end of the spectrum, there are saddles made in developing nations where quality control measures are not in place, corners are cut to keep costs low and factory workers stitching leather for long hours are unfamiliar with horses and do not have the knowledge to recognise potential problems.  Without doubt I know in which situation I would prefer the saddle that I ride in is made ¦ when hurtling over jumps, swinging around barrels or trying to achieve perfect balance in dressage that last thing a rider wants to be considering is if the saddle will fail at a crucial point.
Of course there are many variable between these two ends of the spectrum. Production line saddles made in Europe, trained saddlers constructing saddles in Argentina and brand name saddles producing saddles in low cost countries under their own quality controls.  Most purchasers are aware of increased value of a saddle made in a highly regarded saddle nation.  But look carefully on your purchase, a saddle stamped designed in Germany may indeed be designed there but made in Argentina, China or India.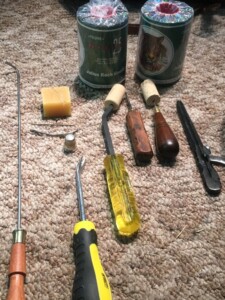 Saddle manufacturing mirrors the dilemma faced in almost all manufacturing sectors. A saddle made in Australia for example will be made under our wage, environmental and quality regulations.  These factors will all increase the value of that saddle and the cost to manufacture.  A saddle made by a member of the Society of Master Saddlers (SMS) in England will be expected to comply with strict protocols and manufacturing requirements.  Quality and ethical production comes at a price, it is for you, the purchaser to decide what value you will place on these.  If you value your safety enough, your child's or your horse's comfort to pay that price.