Adrienne Bowden has been breeding, training and competing stock horses most of her life. She also Scary Obstacles ™ clinics, for those who want their horses to learn a little bravery, writes Jane Camens.
Some people know Adrianne who's usually known as Ade – Bowden through MegaHorse, the all-natural balanced horse supplement she created, that, as her promotions say, doesn't cost the earth ™.
Ade also has a reputation as a successful stockhorse breeder and trainer. On her walls at home are photos of her horses bedecked in winning rugs and ribbons. She loves the challenge of beating guys at the same game. Or, as she puts it succinctly: Kicking the guys arses. ™
After I'd bought my Quarter Horse, Harley, one of the first things I did was to take him to Ade's Scary Obstacles ™ clinic. To paraphrase Ade, some instructors forget how many steps they've taken to get to where they are, and not everyone can just do it ™ like they do.
For me great horsemen and women are energetically attuned to horse energies, she says. What such a person can achieve with a horse in a short time might take others " me, for instance " much longer to understand. Ade, who was a natural sportsperson as a child, tries to keep in mind that when she's working with the different energy and skill levels of people and their horses in her clinics.
The Scary Obstacles clinic was a gentle two-day affair at Ade's family property, at the back of Crabbes Creek, in northern New South Wales. Ade has lived there for 40 years, since her parents moved up from Melbourne when she was eight-years-old and now runs the property herself.
Driving in, I pass a series of paddocks where she keeps horses she's bred and those she's currently working with. In other paddocks, or in the paddocks and stables on the hill, are horses she's training for other people. Nowadays, Ade rides five horses a day, five days a week, which is her idea of slowing down. She used to ride two or three more each day.
Also on the hill, behind a working area set up with scary ™ obstacles, is a shed from which she sells her supplement MegaHorse. I developed the mix 20 years ago, after I'd studied nutrition as part of a Horse Husbandry diploma at Gatton, she says. I realised how lacking in nutrition the grasses are in southern Queensland and northern New South Wales.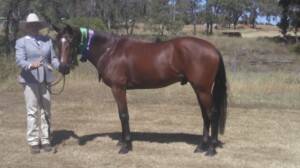 But despite the ongoing popularity of her supplement these days she spends more energy training horses and riders than on marketing and distributing MegaHorse. I'm a bit over ™ hauling bags, she laughs.
As for me and partner in crim – Harley ended the weekend balancing on a tire, walking up and over an unstable plank, negotiating a forest of swinging noodles ™, and overcoming the terror of several other potentially scary obstacles. The clinic was at least as beneficial for me as it for Harley, as I found out in a safe environment that this new horse was pretty unflappable, and that he ™ll do what I ask, if ask clearly and make it easy for him. As long as we take things step-by-step, we're good.
Ade has another passion these days as well. She started working with horses and volunteers at Riding for the Disabled (RDA) a few years ago. The old horses weren't engaged and they needed to find new horses to bring in, she said. I did about three months training with every horse there until they were at a level where they engaged with everyone. Once I got the horses sorted, I need to turn to the volunteers. I started with basic horsemanship with the staff.
At a recent show, five of the disabled riders rode in the dressage and three of the volunteers rode in the open dressage and won fourth and fifth.
If they can do it, I think Harley and I can too.
In July and August, Ade is off to the United States with an open heart and mind, looking for new ideas and opportunities. She ™ll be back in the spring to train more horses.
[aigpl-gallery id="16863″ grid="1″ link_target="self" gallery_height="auto" show_title="true" show_description="false" show_caption="false" image_size="full" popup="false" object_fit="contain"]