Riding for the Disabled Australia (RDA) is a voluntary, non-profit organisation which provides opportunities for anyone with a disability to enjoy safe, healthy stimulating, therapeutic, horse-related activities in Australia.
Established in the 1970's, the organisation has been running for more than forty years and encourages active participation by its members, at all levels, regardless of their disability, at recreational and competitive equestrian events.
The RDA Centres are spread across Australia and provide suitable horses, trained volunteer helpers, accredited RDA coaches, riding and safety equipment to run a range of equestrian activities including:
* structured riding classes * recreational horse riding * hippotherapy * mounted games/competitive riding * vaulting * carriage driving * dressage * equestrian camps
Recently the RDA held their National Volunteer Recognition and Awards Night to honour those volunteers that the organisation simply could not function without. Hosted in Morphettville Junction, South Australia and guest speaker, Katherine Walmsley from Jurox Australia, the night was a fantastic celebration of volunteers and the work they do for Riding for the Disabled all around the country.
The Award Presentations were the highlight of the night!  The Young Volunteer Award was again sponsored by HorseWyse Magazine, Arthur J Gallagher Insurance Brokers, continued their sponsorship of the Volunteer Encouragement Award and Arch Insurance came on board to sponsor the Volunteer Service Excellence Award.
Winners are grinners!
The 2016 winners are:
Young Volunteer of the Year: Cassandra Evans (South Australia)
Volunteer Encouragement Award: Bobbi Dingle (Queensland)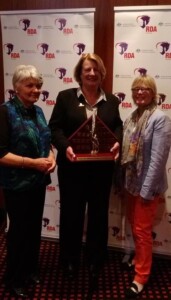 Volunteer Service Excellence: Pamela Clarke (South Australia)
Michael Field Memorial Award: Mary Longden (Victoria)
We send our sincere congratulations to these wonderful volunteer winners and nominees for the awards.
Volunteers are the life blood of any non-profit organisation and RDA volunteers are no exception; if it wasn't for them the RDA could not continue to deliver their wonderful service to the disabled.
If you'd like to help either by volunteering or offering a donation, please contact an association in your state: http://www.rda.org.au/rda-national.aspx.