A practising equine herbalist for 25 years, VICTORIA FERGUSON has been instrumental in the healing of many injured and sick horses but few needed her help quite as badly as Aussie Bob.
Victoria Ferguson nearly didn't answer her phone when it rang one afternoon in June. It was, after all, a Sunday, and the call was from an unknown number.
Fortunately however, she did pick up. The call was from South Australian Bryan Littlely of the Rise Relief Centre near Victor Harbor, where off-the-track racehorses are rehabilitated before being rehomed. Given the urgency of the situation, one of Victoria's clients, who also happened to be a friend of Bryan's, suggested that he should get in touch with her.
Victoria, who holds a Diploma in Herbal Medicine, has been an advocate and practitioner of herbal medicine for horses for over 20 years. Based in Tenterfield, NSW, she studied with the renowned Australian herbalist Dorothy Hall during the late 1990s, and is the author of two bestselling books – The Practical Horse Herbal and The Complete Horse Herbal.
But back to Bryan, who was in a terrible predicament with his Thoroughbred horse Aussie Bob. Bryan had been advised by his vet to put Aussie Bob down the next day, but Bryan didn't want to do that. The horse was a tough battler and he hadn't given up. He was also the Rise Relief Centre's founding horse and had a special place in the Littlely family's hearts, Victoria explains.
After sustaining multiple leg injuries, the ex-racehorse was suffering from chronically infected wounds on three legs and had been on antibiotics and bute since April.  Of greatest concern was the wound on his near hind leg. The infection had travelled up his leg and blown out above the hock leaving bone and ligament exposed.  To my mind this was clearly a resistant staph infection and I decided to treat it as such, says Victoria, so I recommended herbs which have been proven to defeat infections caused by the bacterium Staphylococcus aureus in humans. I've used these herbs successfully in horses previously, as well as raw honey, which is also very useful for this type of infection.
During their conversation, Victoria gave Bryan detailed instructions for the herbal protocol she believed Bob needed so urgently. This involved cleansing the wounds with a wash made from Calendula flowers before packing them with raw honey. The flowers could be fresh or dried. Bryan enthusiastically embraced the routine and spent a lot of time raiding gardens in the area to gather the flowers! laughs Victoria.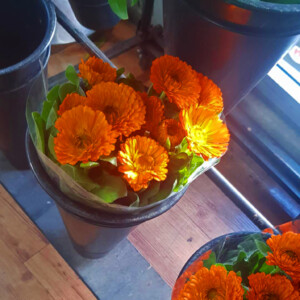 Fortunately, Bryan found his first batch of Calendula flowers at a florists, which, says Victoria, really blew her away. I've never seen fresh Calendula in a flower shop. We agreed this was serendipitous, a very encouraging sign!
But Aussie Bob also desperately needed a herbal mixture specially formulated for him by Victoria.  Luckily, one of Victoria's Adelaide-based colleagues kindly agreed to dispense the prescription. There was no time to waste and Bryan happily made the long drive to Adelaide and back to pick up the remedy.
And that's when the magic began. Within a few days, Bryan called Victoria to let her know that the wound on Aussie Bob's near hind leg, the one that was the cause for most concern, was looking cleaner and had begun to improve – and that very gradually, healing was beginning to occur. Additionally, the wounds on the horse's other two legs were now being successfully treated with Artisan Skin Balm, a healing remedy formulated by Victoria, which, she says is the perfect follow on from raw honey.
Bryan, meanwhile, couldn't be happier with the results. The diet protocol and herbal remedies Victoria advised us to use were the game changer for Bob. They gave us the ability, as well as the confidence to steadily bring Bob off bute and antibiotics and we could see our super-tough horse was now well armed for his journey back to health.
Victoria, who is recognised as a pioneer in her field, says that all Aussie Bob's prescriptions were made up from human grade medicinal quality herbal extracts. The liquid was syringed over Bob's tongue twice daily for three months. The prescription was the same as the first one I had prescribed, which was designed to defeat the bacterial infection through the blood, help his liver detoxify, calm and strengthen his nervous system, and bolster his immune system, she explains.
She also formulated a natural diet for him to provide all the essential nutrients needed to enhance healing, as well as to calm his nervous system and ensure he didn't have excess energy.
Victoria is impressed by the way Bryan dedicated himself to healing Aussie Bob. It has been extraordinary and it has paid off. It's also a miracle that having been on bute and antibiotics for so long, the horse doesn't appear to have gut ulcers. Now that we're confident there's no infection present, Bob is on a new prescription to accelerate tissue healing in his legs and, just to be sure, to help his gut.
Bryan has been looking forward to the day when Bob can go back out into the retirement paddock with his old mates and that day is now not too far off. Not a bad result for a horse who was so frighteningly close to being put down!
Just recently, Bryan gave Victoria a progress report that couldn't be more encouraging: Bobby boy is well. His wounds are still healing up and hair is growing back over them. He's always going to have scars, but this week is the first time since March that I can say with confidence that he's well, not just improving, or fighting, but actually well. It's mind blowing to think just how tough this horse is, but it's easy to see how appreciative he is of our efforts – he shows us every day.
An outstanding result to be sure. But when you consider Victoria's background, which includes heading up a successful PR company as well as competing in dressage at the highest level, you have to wonder what it was that drew her to herbal healing in the first place.
It turns out that she'd been attracted to natural therapies for many years when a series of events showed her very clearly just how powerful herbs were for healing both humans and horses. It was a light bulb moment, she says, when one of my horses was sick with lymphangitis, which is life threatening if not controlled. My vet wasn't having any success, so I decided to give herbs a try and managed to heal my horse, which is what launched me on my path as an equine herbal healer.
While recognising that drugs, whether prescribed for horse or human, have their place in healing, Victoria has absolutely no doubt regarding the efficacy of plants. Herbs promote, accelerate, and strengthen the healing power of the body, and their ability to do so should never, ever be overlooked, she says.
Along with her love of herbs, Victoria's dedication to dressage is similarly longstanding. Always the entrepreneur, in the late 1980s Victoria set up her own dressage training stables and became a Level 2 EFA dressage instructor. Then with Gamekeeper, her 17.1hh chestnut Thoroughbred Grand Prix horse, she was placed on the long list for the 1990 World Equestrian Games. I picked Gamekeeper out, bought him when he was just five and he became a superb dressage horse. That was a partnership I always look back on with amazement, she says.
As the years rolled round, Victoria found herself looking for a horse that was safe but not boring, and it was Vince Corvi, the famous trainer and a dear friend, who found just the right horse in Orlando, an unraced Thoroughbred.
Now nearly 24-years-old, Orlando is still in work at Grand Prix dressage level. It's my passion, says Victoria, and it keeps us both fit and well. We still attend dressage clinics with Terry Cowan together, and although I don't compete anymore, I can't tell you the joy I get from going through all the movements with Orlando at home.
For more on Victoria, visit www.victoriaferguson.com.au , email enquiries@victoriaferguson.com.au, or call her on 0439 800 343.