From mustering in his father's old stock saddle to becoming one of the few Level 3 accredited jumping specialist coaches in Australia, David Finch sets the bar high when it comes to training tips, writes Dannii Cunnane.
 David, or 'Finchy' as he's affectionately known, has earned a reputation over the years as someone who can get even the most difficult horses to perform.  Developing a passion for jumping that has seen him compete in Japan, Germany and the USA, here at home in Australia at his Toowoomba stud, Finch Farm, he has produced a string of top-level horses including world cup mounts, Campmaster, Boera, Finch Farm Chill and Charlemagne Ego Z.
David is currently a national coach educator, former Equestrian Australia coach of the year, five-times Equestrian Queensland coach of the year, and Chair of Equestrian Queensland.
David was only too happy to share his knowledge, but rather than jump (sorry, that pun was too hard to resist) straight into his tips for the higher levels, he wanted to focus on the basics, which he says are "being centred, safe and effective" when starting a jumping career.
It all starts with flat work
I'm sure there are many show jumpers who would like to resist David's first essential tip!
"Show jumping is a tough sport, but it's more than just pointing your horse at the jumps and hoping they will clear them," he explains.
"For show jumping, you need a good understanding of how your horse moves at the walk, trot and canter. Flat work is the fundamental element of how you develop the understanding of riding your inside leg to outside rein. It's also important that the rider establishes some rhythm as this gets the horse stepping under itself. A horse with tension and short stepping will be difficult to ride over jumps, so it's important to get your horse to relax and stretch its neck, which will then give correct paces."
His conclusions? "Once all this is under control, you can then commence some basic jumping training."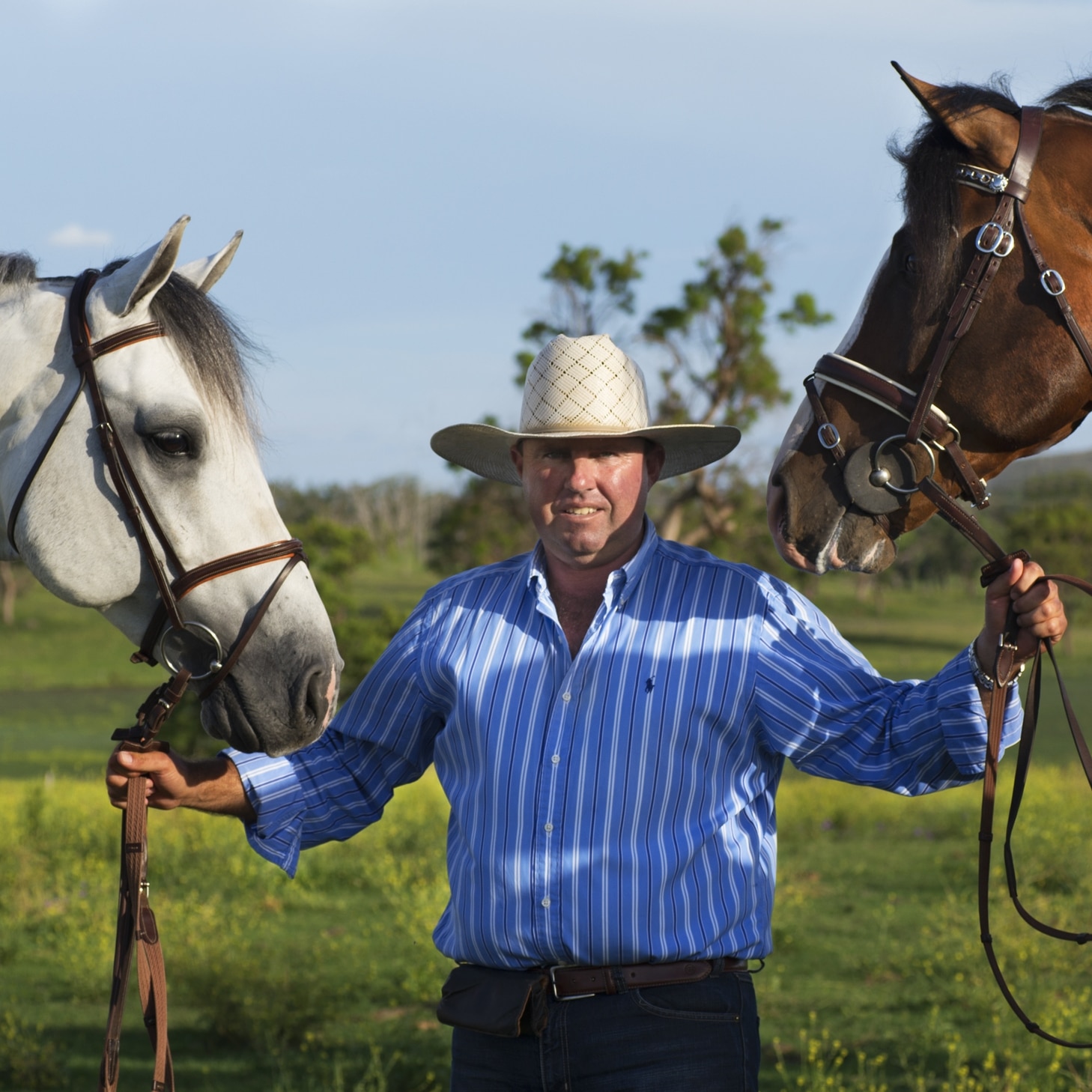 What position is right for you?  
The rider doesn't just stand in the stirrups and let the horse do the work, the position the rider takes will either be beneficial or detrimental to their horse. David explains that there are several positions that riders will use at varying stages of their round and they all serve a purpose.
"There are three positions when jumping and our job as the rider is to learn to be competent and effective with all of them," says David.
"The two-point seat is when your seat is just out of the saddle and your legs are the two points of contact around the horse. This is the position your body should be in when your horse is at the peak of its jump. The two-point seat is a very good position for developing a good base of support with your lower leg and the flexibility of your ankle. It is also good for developing the contact which should never be vice-like or locked in, as doing this will block the weight of your body and won't allow that weight to flow to your heels."
Then, he says, there is the three-point: "The light three-point is a crotch seat along with your two points of contact with your legs. Here, the weight of your seat, along with your leg aids will help to control and balance your horse."
There is a distinction, he explains, between the lighter and heavier three-point. "The heavier three point is when your seat is fully in the saddle and you have the maximum seat aid, along with your leg aids," he says. "This is a very strong position that can be useful in a difficult situation. For example, you could use the heavier three-point seat when facing a spooky jump or scary environment. It gives a bit more power and security when facing a difficult situation. The problem an inexperienced jumping rider may have with the three-point seat is that they can actually get behind the movement. Getting behind the movement will result in the hollowing of the horses back and the rider locking their hands and body weight against the horse's neck. Blocking the neck will restrict the horse's freedom of movement."
Getting behind the movement can cause anything from a loss of good position, to a major disruption.
"When the rider gets behind the movement in front of the jump, they will either stay behind the movement over the fence or throw themselves to catch up with the momentum, causing a major re-group situation on landing and departure," he says. "It can also encourage the rider's leg to ride forward, or the heel to come up, which results in the rider losing control of their upper body. When a rider loses control of their body, their stability in the saddle is compromised."
Balance and harmony between horse and rider are key, according to David: "When jumping, it is important that the rider remains balanced and in harmony with the horses natural body movement. It is important that the rider doesn't block or disrupt the way the horse moves when taking off, going over the jump and landing."
Focus, focus, focus
If location, location, location is the mantra of real estate, then for jumping it's definitely focus, focus, focus. David explains that training your eyes to focus on where you and your horse are going is essential.
"The biggest point with any of these riding positions is whatever one you're choosing to ride in, you will need to train your eyes to look where you want to go," explains David. "You need to be focused on where you are going and from there you will already be analysing the next jump.
Focus is also feeling what is happening underneath you and paying attention to your horse. You don't just go onto auto-pilot and hope for the best."
The importance of hands
Riders will need to concentrate on how they carry their hands without setting them on the horse's neck with closed fingers, David explains.
"It's not about being rigid, the rider will also need to have flexible wrists and elbows, so they can help the horse rather than hinder it. Keeping your hands slightly elevated will help with the balance of both you and your horse. Elevated hands assist in maintaining the centre of balance when in the saddle as well as helping the rider naturally focus on where they are going and how to tackle the course."
Practice makes perfect
Practicing at home makes all the difference and establishing the basics at the lowest level will set the scene for success.
"Set yourself simple exercises at home," says David. "Whether it be trot poles on the ground or a small cross rail to jump, setting up a small circuit will help the rider develop. What we are looking to develop in this simple scenario is some rhythm for the horse, as well as establishing the lower leg, and having effective contact with the horse's mouth. Developing these basics will allow the longevity that the rider can thankfully expect in this sport. By practicing small things at home and gaining confidence with them, you will expose you and your horse to an effective and safe system. This is something that both the rider and horse will gain confidence from."
He is also a great believer in taking it slowly: "Remember show jumping doesn't have to be an extreme sport. Take your time and do things correctly to ensure you and your horse are safe."
To learn more about David Finch and his wonderful horses, visit his website – http://www.finchfarm.com.au.