The Accidental Trainer – Carlos Tabernaberri
Carlos Tabernaberri is renowned the world over for his gentle teaching methods, writes Candida Baker, of the trainer who once made a promise to himself to become a voice for the horses ™.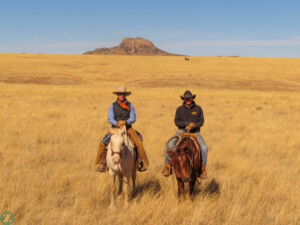 When Carlos Tabernaberri was a young boy, he lived in the Argentinian countryside next to a large property owned by the Argentinian Gaucho Association.
I would watch how they would break ™ the horses, he says, and the constant mistreatment of their horses, and I promised myself that if I grew up to work with horses, I would be a voice for the horses. Watching the regular weekend
festivals from their family property, in which the breaking of horses played a prominent part, Carlos was shocked by some of the brutality.
It made me question the idea of tradition ™, he says. A lot of people will tell you, oh, this is how it's always been done, ™ or this is the traditional way ™, and I am not against tradition, but tradition is not always good that's all I'm saying. We all have to beprepared to change and move on.
Moving on three decades and Carlos is in such high demand around the world for his clinics, that his clients range from the Queen of England, to dressage schools in Switzerland, ranches in the US and Canada, to numerous visits a year to New Zealand and to every major city in Australia.
I give 46 clinics a year, he tells me in a throwaway fashion, as if it's nothing. But it's not hard to spot that over a year that's almost one a week. It's a lot of travelling away from his beloved farm in Victoria, Whispering Acres, and from his wife Sue, a year 12 teacher at a local school.
I do get tired sometimes, he says, but at the same time I have a passion and an urgency about my teaching work which means that I know this is what I am called to do. For me the basis of everything I teach is explaining to people WHY it's important to work in a certain way with their horse, not HOW. It's always about why for me.
Part of his knowledge of the why ™, is that as a child Carlos was lucky to have a well-rounded and versatile experience as a rider. I learnt classical French and Spanish dressage, he says, but I also learned working horse techniques. Because of the size of the ranch near us, I would watch the 600 or so horses in the pasture there all the time, and without realising it I was taking on board their bio-mechanics, their behaviour, and I was learning how horses think.
Mind you, his very first experience with horses might have been enough to put off someone without the passion in their blood. My first encounter with a horse was when I was very little walking to school, he says, there were two runaway horses that were being chased by some Gauchos and when I saw them bolting towards me I started running back towards them! As romantic as that may sound, I was lucky that the horses caught up to me and instead of running on top of me, they slowed down in order not to run me over. Later what I thought about was that it seemed they were looking after me even though they themselves were being chased. It might be fanciful but it
seemed to me that perhaps it was to allow me to see how gentle horses could be even when scared, and so I could do my work in the future.
When the family migrated to Australia when Carlos was 14, horses dropped out of his life for a few years, until someone asked him to work a couple of troublesome horses nearby. Basically I was just playing with them, but people liked what they saw and told other people, who told other people, he says. And now I'm talking to you from Arizona! I like to think of myself almost as the Accidental Trainer. Although from perspective it's actually about training the people not the horses.
The training people ™ is an integral part of the Carlos Tabanaberri philosophy. People ask me if I train horses, and I always tell them I don't train ™ horses to do anything, I tell ™ them what I want, and I try to find a way to communicate what I want to the horse.
As the kindness of his training, or telling ™ spread, Carlos became in high demand, collecting on his way to becoming a world-renowned expert in horsemanship, his beautiful property in Victoria http://www.whisperingacres.com.au/ and the five horses that make up his own special herd ™.
My horses are a Brumby mare, one of five orphans I trained after their herd was culled in the Northern Territory of Australia, he says. Then until very recently there was the amazing Lani, a 20-year-old QH mare, whom I got as four year old horse when she'd been deemed Crazy and Dangerous ™. She had to be put to sleep because of cancer, but she was definitely my greatest teacher even though she almost killed me many times, she taught me all about dealing
with so called difficult horses. She's taught me how to dig deep and how to be infinitely patient which is a necessity with horses. Then there's my Appaloosa-cross gelding Sai – I've raised him from a foal; another Paint mare who was also called dangerous and aggressive who has become an outstanding horse and a Welsh pony called Phoenix, and there's the one-dollar horse I bought, featured on the cover of my book, Through the Eyes of a Horse. He's been another master teacher for me, he says. He was going to be shot until I intervened and saved him from a bullet and we've travelled a massive journey together.
One of the highlights of his career was receiving a letter from the Queen congratulating him on his gentle training methods. One thing led to another and when I was in the UK doing some clinics, the Royal Family flew me to Wales to work with their Lusitano stallions, he says. Of course it was very helpful in terms of my exposure in the UK and Europe, but to be honest it's hard to see how I could fit in much more than I already do sometimes I look at my schedule and it seems impossible but for me it's always about spreading the word about how gentle techniques can always work. Help Ever, ™ as we say, Hurt Never ™.
In the US he's been dubbed the gentlest horseman to ever touch a horse ™, and the next Tom Dorrance, ™ amongst many other accolades and in many ways the next obvious career move would be to the U.S, but when I put it to him, he's adamant that his heart belongs to Australia.
Of course, in many ways, my soul belongs to the country I was born in, to Argentina, he says, it was the country that formed me, but it's
in Australia that I grew up and connected with my passion, and it's Australia where my career grew, our children grew up in Australia and I can't imagine not being based there. He and Sue have two children, a 20-year-old daughter, currently on a gap year, and a 24-year-old son, studying to be a doctor. They both grew up around horses of course, he says, and both of them love horses, but I've always been clear that they need to follow their own passions not mine.
Like many other modern horsemen and women, Carlos has discovered that starting horses without the pressure of the saddle and bridle is actually the kindest way for them to begin the their careers.
I always start them bareback and in a halter, he says, no matter what their discipline is going to be. And make no mistake, he may not dress like a dressage rider, but many of his clinics are booked up by some of the world's elite horsemen and women.
I work with dressage riders, Western riders, working horses, showjumpers it doesn't matter to me, he says. I'm personally trained in all disciplines, including La Garrocha (the Spanish riding discipline using a long pole to move cattle around), so when I'm with showjumpers in Europe what I'm teaching them is gymnastics with their horse in order that it can be more flexible and willing, when I'm in the US I am happy to teach a horse a half-pass, or a roll-back and what I've found is that horses all love to learn different techniques. It may be that of course some horses are better suited to different work or play but in essence the same moves are there in them all.
That said, he does have favourites. I love Quarter Horses for their versatility, he says, and Thoroughbreds for their stamina and heart.
And heart, in the end, is what this gentle teller ™ is all about. Even though I think there is these days more compassion for the horse, it's six thousand years since we domesticated ™ the horse for our own use, he says, and yet we are still in the dark ages of how we break in ™ horses and in our treatment of them.