Whip cracking extraordinaire Aleshia Seivers doesn't have a YouTube channel, she claims if she did, her friends would lock her up. But she's so good at this stockman's skill that it took her all the way to the Olympics, writes CHRISTINE ARMISHAW.
The Opening Ceremony of the Sydney 2000 Olympic Games saw Aleshia, and her sister Tahnee, join a select handful of masterful whip artists who were so talented in the realm of whip cracking, they got to share their skills in front of over 100,000 people at the Sydney Olympic stadium. Billions more from across the globe watched in awe from home.
Whip cracking started out as a bit of family fun for these sisters, who grew up near Mount Hotham in Omeo, rural Victoria. And if you're wondering where that is in relation to Melbourne, It's a long way away, thank goodness! exclaims country-girl Aleshia, who now lives in Benambra.
For the girls, whip cracking was a novelty that started from a place of necessity when they were young. On the family farm, whips were used all the time for moving the cattle out of the bush on horseback. Whips were also used for fun, at least it was fun if you weren't on the receiving end. We'd chase each other around and hit each other. Sometimes, if we got carried away, Dad would chase us with the whips! Aleshia fondly recalls.
During that time, the girls became interested in learning tricks and competing at the local rural shows. We really got into whip cracking at the Bush Races and Cattlemen's, which are like horse events and get togethers where they do horse races, whip cracking and dog high jump. Mum and Dad started taking us when I was about ten. Other people were doing it, so we started learning it from them and it was quite good, Aleisha says.
With an event on usually once a month, Aleshia and her family would follow the circuit. There would be different categories to compete in; Ladies, Men's, Open and Juniors, further divided into classes. In the accuracy classes you'd have to hit a target, like paper cups, or a cross on the ground. The better your accuracy, the more points gained. Then came the fancy work, whip cracking tricks. The higher degree of difficulty in the level of tricks you performed, the further up the rankings you'd go. Indeed, the extravagant tricks took time and practise to perfect. Each featuring a unique name to be ticked off as it was conquered, like the Train, the Sydney Butterfly, the Tasmanian Cutback and the Queensland Crossover, the latter being no mean feat.
So what is whip cracking judged on exactly and how do you win? Clean, loud, sharp cracks. The difficulty of the tricks you're doing. Most people would develop a routine as they got better. You'd tend to start off with one whip, then progress to two. You can use two whips to play the rhythm of Mary Had a Little Lamb ™ and Jingle Bells ™ all that fun stuff, explains Aleshia. It's definitely a good work out, it's not easy! It's a pretty innocent sport, you can't get into too much trouble ¦unless you hit yourself or someone else, she adds with a smile.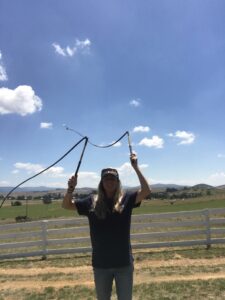 The Cattlemen's and Bush Races could prove to be quite lucrative for a kid back in the day. Much like a horse event, winning would see you go home with a ribbon or trophy and even cold, hard cash fifty bucks in prize money was a great day out.
From the high country to the Olympic stage
Long-time members of a their local whip-cracking club, the Seivers family were sent a letter to see if the girls would be interested in trying out for the Sydney 2000 Olympics Opening Ceremony, So my sister and I did, says Aleshia.
Aleshia and Tahnee had to travel from rural Victoria to NSW. The arduous rounds of trials saw the girls head interstate multiple times. We had to go to Sydney nearly ten times, it cost Mum and Dad a fortune! laughs Aleshia. All up, the process caused the girls to miss six months of school, if not more, but 16 year old Aleshia was fine with that. I was happy to miss school, she chuckles, it was worth it! Their time spent in Sydney was all-consuming. The finalists were truly the best of the best. There were 100 people to start with, and you had to get into the top 40 whip crackers, which we did, says Aleshia. They had to whip crack to music, stay on key, walk in formation, and perform impressive tricks, all the while maintaining perfect rhythm, sound clarity and synchronicity. The big day arrived, and the girls didn't miss a beat. The Opening Ceremony whip cracking display was phenomenal. The music played loud, tap dancers tapped out their moves on individual pieces of corrugated iron and smiles were broad as the cracking of whips rang clear and true throughout the entire Sydney Olympic Stadium. Unquestionably a day that will forever fill both Aleshia and Tahnee with pride.
Bombproofing brumbies
Aleshia's whip mastery also lent itself to producing the quietest of horses. Dad would always go out and catch wild brumbies and I would break them in. A great little black brumby named Parrot still holds a warm place in Aleshia's heart. I used to stand up on his back where I'd crack two whips, slide down his bum, jump back up on his bum and crack the whips again that was just one way of getting them quiet when we were breaking them in, they're pretty bombproof after a while.
Parrot was so quiet, that even when Aleshia accidently hit him with the whip while practising, he'd just calmly stand there. I had him for years and years and he's still around. He's about 24 years old now and lives with a lady in Sydney her kids have learnt to ride on him.
Whipping up inspiration in the next generation
While Aleshia doesn't hit the whip cracking circuit herself anymore, she finds people are still interested, whether they're young or old. Recently, Aleshia began teaching three girls from Benambra. She lights up as she tells me about the ability of her young students, They're so amazing, so natural at it! One little girl went from hardly ever cracking a whip in her life to cracking whips in two hands at once, she's great, amazing. It's good to teach people.
Aleshia's philosophy for learning whip cracking tricks and teaching others how to perfect this art has probably served her well. Some people go in real hard, but if you do it soft and gentle, at least if you hit yourself it doesn't hurt as much, she says, no doubt speaking from experience.
Like many rural past times, whip cracking is not as prevalent as it once was. We don't really have the Bush Races anymore. There used to be about twelve of those competitions a year, but they've faded out, so there aren't nearly as many whip cracking opportunities for the younger generation these days. They do still have the Cattlemen's competitions in about four to five locations a year; the kids that travel from far and wide to give it a shot really enjoy it. Even with the decline in competitions, whip cracking is only getting better. I'm not half as good as some of the young people out there doing it now, they can do tricks I've never seen before, says Aleshia.
Aleshia is nothing short of encouraging to anyone who might want to get into whip cracking. Go buy a whip, she says matter-of-factly. Start off with a cheaper one and give it a go. We grew up with an old, run of the mill 4-plait whip. When you start getting into competitions, you're better off with more, finer plaits. They can be made from cow hide or roo hide, neither makes a better sound, just personal preference.
While Aleshia doesn't have a YouTube channel, and rejected my idea of wearing a fake moustache so she could start one, jumping online for some inspiration and guidance won't go amiss. To sneak a peek at some elaborate lash work, Aleshia suggests checking out a guy called Nathan Griggs, aka Whippy Griggs, who is quite entertaining and whose friends haven't locked him up yet.