Written by our European based contributor, Jessica Morton. Note: This is not a sponsored or promoted article. All the products in the article were independently selected.
Right from the beginning, jeans and the wild west have always been associated with each other. Originally developed in 1873 for the goldminers in San Francisco, Levi Strauss and Jacob Davis invented the first blue jeans using a patented process of securing clothing at "points of strain" with rivets. The result was a resistant pair of working-class trousers that were known as "The Two Horse® Brand" (the logo shows two horses trying to pull the jeans apart unsuccessfully) – and it was only in 1928, that the company adopted its modern-day Levi's® trademark.
Whether you go for a classic tried and true design, or a modern cross-functional look. We know how tricky it can be to find the perfect riding jeans.
Keep scrolling for our pick of the top brands…
Jeans are synonymous with western riding. And this holds true even for the urban cowboys and cowgirls. While Levi's® were the first brand of jeans to be used by working cowboys, it was Wrangler and Lee that designed the workwear made for them.
Wrangler Jeans
Wrangler developed the Cowboy Cut model in 1947- it was one of the original Wrangler products and the first ever pair of jeans specifically designed for cowboys. That original design was so popular that it has remained unchanged for over 70 years. Characterized by several saddle-ready design elements, including widely set belt loops to accommodate a larger buckle, flat rivets that won't scratch your saddle, a smooth inseam to prevent chafing, high pockets, and large zippers that riders can negotiate with gloves, these jeans were made for wearers to ride and work in them.
Oftentimes, sticking to the classics is the best solution.The Women's Cowgirl Cut Ultimate Riding Jean is a staple as old as time – and with added input from the American Quarter Horse Association, this broken-in style has remained exactly right for long days in the saddle.
Just like the original version, this is a jean that delivers the ultimate in comfort and function. Available in two classic washes, they feature horsegirl-friendly elements like flat seams, a no-gap waistband, and vented leg openings to show off your cowboy boots.
Cinch Jeans
The Cinch brand was founded in 1996 and is especially well known throughout the competitive rodeo industry, with many world champion athletes promoting the brand. Cinch jeans are constructed for durability and performance, using premium denim that won't lose its shape, and western details like embroidered pockets and hand sanding. These tried-and-true farm classics were designed to flatter a variety of body types.
Rejoice! The Women's Ada Relaxed Fit Jean is more forgiving than other cuts. These jeans are waist-defining but also have a generous cut on the bottom and thighs that is very much appreciated by horsewomen all over the world. Available in four different on-trend washes.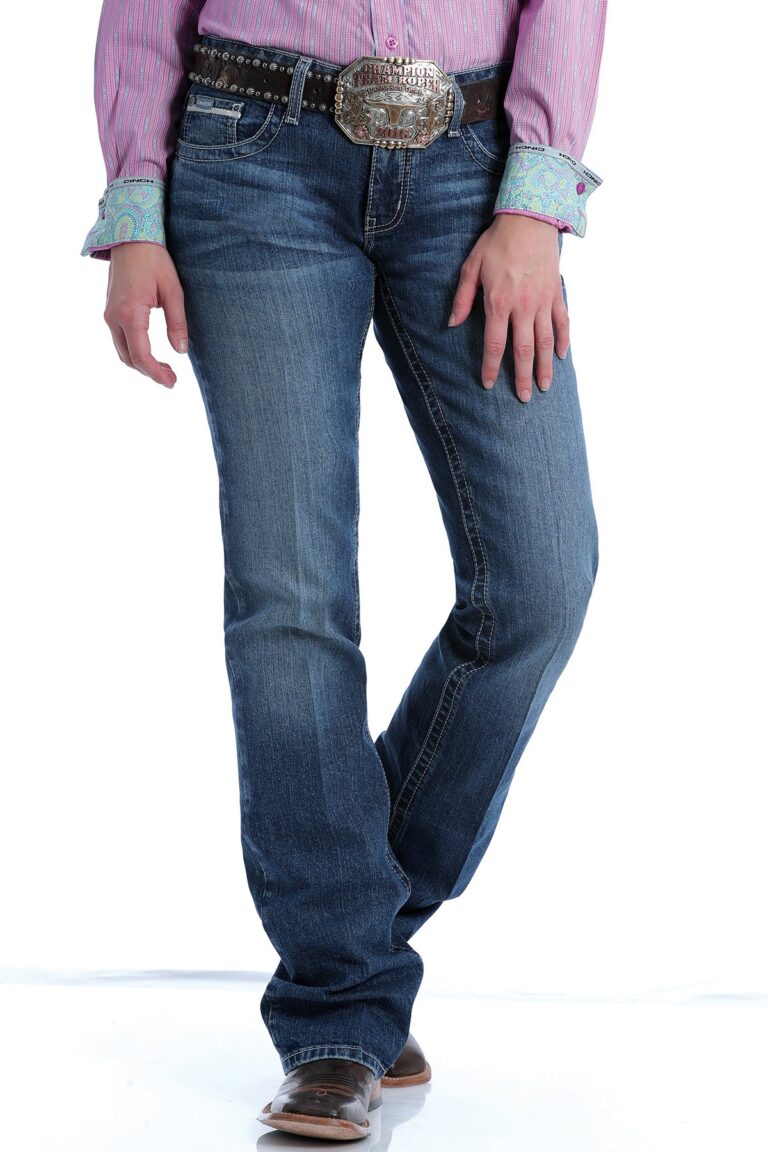 Pure Western
Pure Western is Australia's largest owned family country clothing company. Founded in 2010 to meet the demands of western riders in the Southern Hemisphere, they have a comprehensive collection of durable and comfortable women's denim constructed with the right mix of detail, stitch, stretch and fit. If you are looking for riding jeans that are simultaneously fashionable and comfortable, The Louisiana Relaxed Rider jean is for you. Constructed with stretch denim for comfort in and out of the saddle, it has a fitted silhouette that relaxes through the leg and a slightly higher rise at the back to keep your shirt tucked inside.
In 2009, cult brand Kimes Ranch (formerly Longhorn Jean Company) was created to fill a void in the denim marketplace. Its popular styles soon became wardrobe staples for cowboys and cowgirls everywhere. The Betty jean is one of the brand's most popular styles – purchase a pair and you'll soon see why. You can count on cutting a contemporary figure in a pair of Kimes Betty jeans. Made with 99% cotton premium denim, Betty jeans have a mid-rise with a fitted upper thigh and knee. The boot opening is slimmer than in other western jeans, making it versatile to wear stacked over boots, tucked inside, or rolled up after riding.
Ariat International
Ariat International was founded in the 1990s thanks to Beth Cross and Pam Parkers vision of improving equestrian footwear because "traditional boots were stiff, heavy and hard on the feet."  Ariat International, a company formed in Parker's home in 1992 has since become the largest equestrian footwear and apparel brand in the world – with over 6,500 retail locations and a team of 500 employees. Ariat continues to lead the market in designing, developing, and manufacturing the most innovative footwear, apparel and denim for equestrians who ride, work and play outdoors and in the elements.
If it's no-nonsense comfort and performance you're looking for in your jeans, here you have it.
The Ariat Marne boot cut jeans are a powerful combo of style, comfort, fit and functionality. Featuring a flattering high-rise cut and a non-gap waistband, the tapered fit and slim leg of these jeans gives them that little something more interesting than your standard pair of riding jeans. They are durably constructed out of premium denim that has a touch of spandex for added mobility in the saddle – and the bootcut opening fits nicely over even the widest boots.
Cowgirl Tuff
CEO and experienced cowgirl Lisa Bollin created Cowgirl Tuff western apparel for strong, independent, sassy women, and her collections reflect these ideals. Her denim is designed to fit women of all shapes and sizes. Each design (and there are many) is available in 15 different waist sizes and 4 different lengths (there's no reason for scuffed hems anymore). With western details like embroidery, printed inserts, and heavy stitching – these jeans are designed to be comfortable but still look chic in all circumstances. After the year we've had, our lives are in need of a little color, and Cowgirl Tuff riding jeans have the answer.
The Terracotta Tuff Flex® jeans have an exposed button fly, natural waist, flared frayed hem, and barbed wire pockets. These standout hippie-style jeans have been constructed with premium stretch denim that is 98% Cotton and 2% Spandex for maximum movement in the saddle.
What about English Riders?
Denim is durable, practical and it stays stylish in and out of the saddle season after season, year after year. Wouldn't it be great to find the perfect hybrid pair of denim breeches to carry you from the stable to the high street? Denim Breeches jeans are a fantastic alternative to riding jeans.
HKM
HKM Sports Equipment is a market leader providing a full range of equestrian products in Germany. Klaus Egbers grew up in a riding school, and his team created HKM to enable young riders the chance to purchase equestrian products at affordable prices without forgoing quality. Fans appreciate the brand's affordability and on-trend looks.
The ALOS Miss Blink Denim Jodhpur is a bootcut style that is so comfortable and versatile, you can wear them when you're at the stable (of course) but also when you're out running errands or hanging out with friends. The high waist, vegan-leather full seat and carefully placed pockets make these breeches a high-quality performance piece suitable for everyday wear.
Equitago
Equitago is a new Italian brand that makes equestrian wear that stands up to the demands of daily riding and work while looking fashionable. Equitagos denim breeches are a bridge between streetwear and equestrian styling. Popular for schooling and trail riding, they have the benefit of looking like skinny jeans but with the comfort of a stretch breech.
The My Pocket Dressage Jean is designed for fit, form, and function. These beauties fit like a second skin, hugging your body in just the right places thanks to premium two way stretch denim. They have a high rise, full seat grip and an especially nifty (and big) pocket on the front of the leg for your phone.
About Jessica
Jessica Morton is a freelance journalist living in Florence, Italy specializing in digital storytelling and equestrian news.