Lisa Martin is a remarkable para equestrian who has overcome huge challenges. CHRISTINE ARMISHAW discovers what makes her tick.
Lisa Martin's story starts like that of many other horse-mad kids, riding ponies from a young age and dabbling in a bit of everything from polocrosse to eventing. "Mum and Dad had horses, so it was just in my blood, something that had to be done," Lisa recalls. She wasn't given a saddle, but had to jump on bareback, get down to the back paddock and bring the cattle in. "Mum didn't want to send me out on a 100 acre property and have to worry about me falling and getting tangled in the stirrups or something," laughs Lisa.
From playing on ponies and attending Pony Club with her best friend, Lisa started to narrow her focus. Initially, she spent a lot of time chasing red and white flags. "Heath [Ryan] tried to get me eventing, but I just wasn't gutsy enough and was never going to make anything of being an eventer."
She then pivoted, turning her attention to dressage with Rozzie Ryan. "I was one of the first students to train with Rozzie when she came to Australia. I spent a lot of years working with her." Lisa was then lucky enough to have her parents buy her an amazing FEI mount from her aunt. Over the next twelve years, that horse took her all the way to winning multiple FEI championships and secured her places on several national dressage teams, opening up many exciting new opportunities.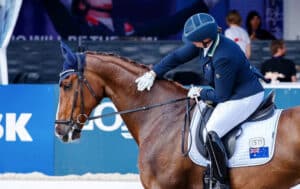 At the 2022 World Championships in Herning with Juicy Wiggle (Image © Australian Equestrian Team/Libby Law).
Ups and downs
Along the way, Lisa's life got an unexpected and life-changing shake up. "I was training a heap of horses at the time and I came off a young horse. I landed awkwardly on my right leg and the tibia went down through the bottom of my foot and split all the joints." Sixteen surgeries were required to save Lisa's leg, but her ankle was never the same again.
However, not to be deterred, she continued to pour her heart and soul into dressage and doors of opportunity continued to open for her. One year, at the Australian Young Horse Championships, Mary Hanna asked Lisa if she'd like to fill her spot and ride in a masterclass clinic with the German gold medallist Hubertus Schmidt (Mary's own horse had been side-lined). "So I said yes and did the masterclass without a clue who this person was," says Lisa. "After the masterclass, Hubertus mentioned
that if I ever wanted to head to Germany, he'd love to help me out and teach me a bit more." Lisa, still baffled as to who Hubertus was, contacted Rozzie to see if it would be a worthwhile adventure. "Rozzie said 'are you serious?', and told me how lucky I was to be offered such an opportunity." Then, all in a bit of a whirlwind, Lisa got herself to Germany and spent the next twelve months refining her craft there and throughout Europe, riding Grand Prix at some of the equestrian world's most prestigious dressage events – Hartpury and Hickstead to name just two.
Getting classified
Still riding in able-bodied dressage, it took a while for Lisa to be convinced that she should become graded for a para classification. "While over in England, I watched the Australian Para team compete and their physio at the time helped me out with my ankle because it was giving me a lot of trouble," Lisa explains. "They kept telling me that I should ride in para dressage, but I thought no, that's only for people in wheelchairs. I really had no idea what para was."
Juicy Wiggle at her first WEG qualifier at Boneo (Image by OneEyedFrog Photography).
Time went on and it was while Lisa was competing at the Australian Dressage Championships that the subject of para came up once again. "I was told that if I was interested in getting classified, I could have the chance to ride for my country." She thought about it, decided it could be a wonderful opportunity and three weeks later went to Boneo Park and was classified as a Grade IV para rider.
She did her first qualifying test 24 hours later, then did another qualifier in Sydney and days later was on a plane to South America! Lisa and her spectacular mare, First Famous, made it all the way to the Rio Paralympic Games. They performed very well, but in a somewhat controversial conclusion, missed out on medalling by point one of a per cent to finish fourth. But she'd had the opportunity to ride for her country and a whole new world had opened up.
Resilience
Lisa continued to ride in both able-bodied and para dressage until a couple of years ago. She had been in the arena doing a rein back when her mare got her hind leg caught over the arena kick board. Scrambling backwards, she lost her legs before coming down on top of Lisa. "I ended up breaking my sacrum and my pelvis in multiple places, my pubic bone was smashed, the bottom of my spine was badly damaged, and my internal organs all got squashed," Lisa tells me.
In Time, Juicy Wiggle's half-brother, competing at Grand Prix (Image by Half Steps Photography).
During a nine month hospital stay, she underwent multiple operations, the first of which was to have steel plates put across from one side of her pelvis to the other.
When a short time later the plates became unstable, Lisa suffered through the skin in her pelvic area being degloved, and spent months having fluid drained and new bars added to support her pelvis.
Finally, over a year later, Lisa is back to riding but admits there are new challenges she's had to overcome: "I struggle with sitting trot now and it really frustrates me. Normally you sit in a saddle and tilt your pelvis forward, pushing from the lower back, I can't do that anymore. I have to rely on my lower legs for support."
However, this resilient rider's hard work and commitment has continued to pay off. Lisa was elated to be selected for the 2022 FEI World Championships in Herning, Denmark, with her own horse, Juicy Wiggle (although it was touch and go for a while, with Equestrian Australia almost not sending a para team). "I'll be honest," she remarks, "it's just not good enough to win medals, we [Australia] have to do better than this." But her eye is still on the prize and Lisa has Paris 2024 in her sights.
Just do it
Lisa's advice to anyone sitting on the fence, unsure if they want to ride para or not, is to just take the first step: "Go and get classified, you don't have to compete at that stage. Then, if you want to give it a go, give it a go!" She points out that it helps the horse's education and it's great for young horses to be exposed to the atmosphere. She also believes that riding para tests makes you a much more accurate rider. "You can get away with fancy movement in an able-bodied test, but the para tests really demand accuracy."
And you just never know where it might take you. "How many riders can say they've competed at a World or Olympic Championship?" Lisa concludes. What are you waiting for? Now could be just the time to give it a go.
Watch Lisa's video interview at Equestrian Hub, when she shares her thoughts on para prejudices, and why cross-training is better for any dressage horse.
Feature Image: First Famous took Lisa all the way to the Rio Paralympic Games (Image by Allira Fontana Photography).