Arrowfield Stud is renowned for breeding some of Australia's best racehorses, as well as standing history-making stallions like the legendary Redoute's Choice, four-time Champion sire Snitzel, and more recently Champion racehorse The Autumn Sun. Over the past six years 68 Arrowfield graduates have won 134 Group & Listed Races, including 29 Group 1 races.
More importantly, Arrowfield has also been a foundation employer for many successful industry leaders and managers since its establishment by John Messara in 1985.
If you are an equine enthusiast wanting to learn more or have ever dreamed of making a long-term career out of working with horses, then Arrowfield invite you to step into their office to experience a world-class equine facility on one of Australia's leading thoroughbred studs and work with some of the best horses and people in the business.
No two days are quite the same when working at Arrowfield. Based on more than 2200 acres near Scone in the Hunter Valley, it's home to around 900 thoroughbreds as well as many of the 130 staff who manage and care for them.
With 7 purpose-built barns, two foaling units, a stallion complex, and a 110-box state-of-the-art yearling barn, the facilities are designed to be easy and safe for people to work in, so that horses can be given the best possible care, from birth to retirement.
Even if you're not sure that your long-term career lies in the thoroughbred industry, a year or two working with a large number of horses at the elite level is a great way to fast-track your skills and boost your CV.
There is also the advantage of working with some of Australia's leading veterinarians, farriers and other industry specialists on a daily basis. You'll pick up knowledge that can't be found in a book and skills that will stay with you throughout your equine career, no matter what industry sector you finally choose.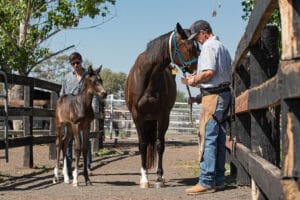 A typical year on a thoroughbred stud is split into two seasons, the breeding season and the sales season. The breeding season officially kicks off on 1st September when stallions begin covering, but we look for seasonal staff to join Arrowfield from late July/early August when our 350+-strong broodmare band starts foaling.
Working during the breeding season truly is one of the most special times to be on the farm. Each day is brought to life by the birth of the next generation with newborn foals filling the foaling units, which are very much like a human maternity ward, only for horses.
No stone is left unturned in the care of these potential future champions with strict procedures in place for every new foal, giving them the best opportunity for a healthy start to life. Your days will be filled with vet work, foal farrier trims, feed runs and visits to the covering shed, all the while enjoying the incredible spring air of the beautiful Hunter Valley and immersing yourself in dozens of the cutest foals you will ever see!
From November through to April, Arrowfield prepare around 200 yearlings for the best Australian yearling sales including Magic Millions on the Gold Coast in January and Inglis Easter in Sydney in April.
Arrowfield has been Australia's leading yearling vendor since 2016, in that period selling 33 $1 million+ yearlings for the farm and our clients, up to the $2.5 million top prices we achieved in 2017 and 2021. Sale-topping results are very rewarding for every member of the yearling team with a huge effort put in to ensure these horses are turned out to the highest standard.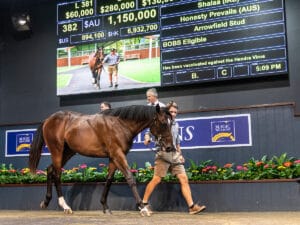 A yearling preparation is one of the most important stages of a thoroughbred athlete's career with a constant focus on the details of handling, nutrition, gentle exercise, grooming and plenty of yard time. It is a great opportunity to really get to know each horse's character and it's a time when future champions often stamp themselves as something special.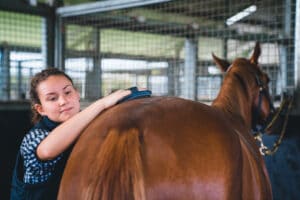 The days can be long and hot over the summer period, but with an on-farm pool and river to cool off in, and a very social team, yearling preparations not only allow you to brush up on your skills with young horses, but also to enjoy one of the best paid summer breaks with friends that you can find.
So why work at Arrowfield? Outside of the cute foals and summer fun, it is a fantastic opportunity to turbo-charge your career with horses, wherever that may take you. They also offer educational experiences throughout your employment and are happy to support your further career development to help you achieve your goals.
A good number of Arrowfield's team members have worked with the farm for more than 10 years, so the knowledge pool is deep, but they warmly welcome the next generation to share an experience that is like no other.
Like to know more? Visit their website for more details: arrowfield.com.au/employment or email matt.hill@arrowfield.com.au.