21-year-old Kaitlyn Summers was born and grew up near Casino, NSW and has worked with Arrowfield Stud in the Hunter Valley of NSW since 2019.
BACKGROUND & THE TIC PROGRAM
What is your background with horses?
My family has always had horses for farm work, so I started riding around the farm when I was a little kid with my parents and chasing cattle. From there I progressed to Pony Club and competing in campdrafts.
Is your family interested in horse racing?
My family has a passing interest in racing. They watch the races on TV every now and then but have no real interest beyond that.
What is the TIC program and what did you enjoy most about it?
The Thoroughbred Industry Careers (TIC) program offers a pathway into the Thoroughbred industry for people interested in a racing or breeding career, but who don't have an easy entry point through family or friends.
It starts with a three month boot camp to teach the basics, then places you in a racing stable for three months of paid work, followed by three months of paid work on a stud farm.
The parts of the program I enjoyed the most were getting to work with two of the biggest players in the Thoroughbred industry, and the quality of the horses I worked with every day.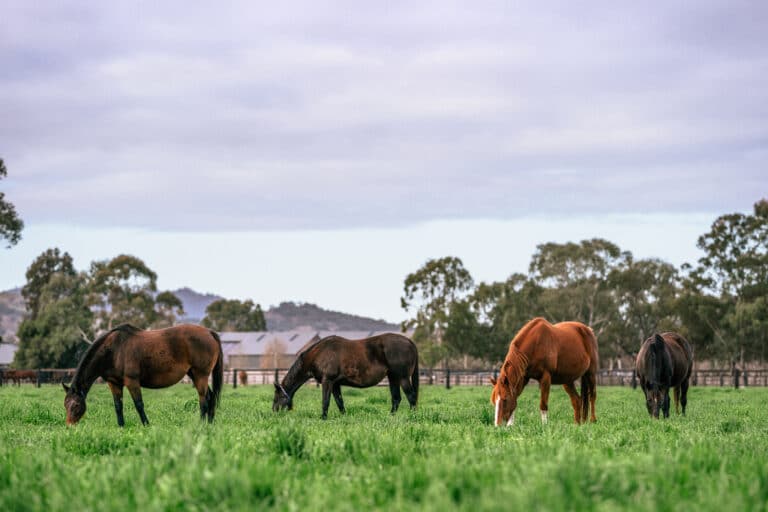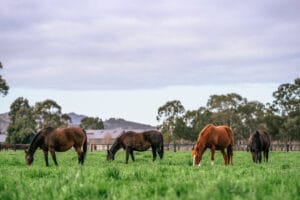 Did you ever see yourself in a career with horses before joining the TIC program?
I wanted to have a career working with horses, but I was always told that there's no way to make money out of it. So I decided to do the program as a gap year while I worked out what I wanted to do – and thanks to TIC, I have now made a career with horses!
What is your role at the Arrowfield farm and how long have you been there?
I've been at Arrowfield for approximately two and a half years. My role is as a general stud hand, predominantly in the Bellerive foaling unit working with pregnant mares, and then with the mares and foals.
What is the first thing you do when you arrive at work?
We usually fill up the feed trailers first, ready to go out and feed the horses for the morning.
What does your typical working day look like?
After feeding all the horses, we clean out the boxes of horses getting special care, which typically takes us through to 7:00am. For the next two hours we check every horse for any injuries or illness, and make sure that all of them are getting enough feed to support whatever stage of life they're at.
From 9:00am we clean the yards, and at 9:30 we deal with any injuries, treatments and vaccinations that need to be done, and then general husbandry tasks. When we come back from lunch at 2:00pm, we spend the afternoon checking the horses again and dealing with any husbandry requirements that arise.
What is your favourite or most rewarding part of your job?
It's seeing the tiny little foals from only a couple of hours old turn into fat, cheeky and healthy weanlings, then seeing them sell as yearlings when they've muscled up more and are well-groomed and looking the best they possibly can.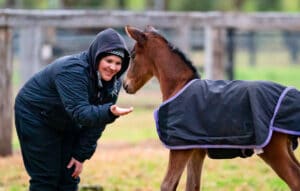 Do you have a favourite horse and what makes them a favourite?
I try not to have a favourite but the ones with big personalities are usually hard to resist!
THE FUTURE
What are your future career aspirations or goals?
At the moment, I want to learn as much as possible and keep improving my knowledge.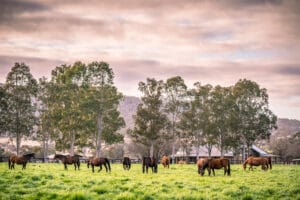 If you could have any role in the Thoroughbred industry, what would it be?
Pretty much what I'm doing now, working with the horses every day is my ideal role and I just want to keep doing it.
What would you suggest as a first step to any young person keen to get into the industry?
Research the industry so you know what you're getting into, do the TIC program if you need to develop your basic skills, and see what opportunities are out there. Then just apply for a job and be ready to learn.
Visit Thoroughbred Industry Careers – TIC is supported by seven Foundation Partners including Arrowfield Stud.