Nicole Tough has been part of the Australian dressage scene for decades, and along the way she's learned a lot, writes REBECCA ASHTON.
Passionate and committed, Queensland based dressage coach and rider Nicole Tough never stops learning and studying her sport despite the wisdom she's already garnered over the years. And her biggest teachers? The horses themselves.
Growing up in a non-horsey family in the suburbs of Sydney, Nicole had to wait until her family moved to Queensland and her dad bought a share in a racehorse before horses came into her life. She recalls: "My dad and Noel Payne, the racehorse's other owner-trainer, conspired and bought me a Galloway of mixed breed called Cha Chi, and my journey began when I was 13 years old. I did Pony Club and Interschool equestrian competitions had just started, so we participated in those." Her first instructor was actually a jockey, Terry Payne, who helped her with all the basics.
However, dressage wasn't Nicole's first love. She was an adrenaline junkie who loved eventing but had to do dressage "to get to the fun stuff." It wasn't until the purchase of an Anglo Arabian for Nicole's dad that things changed. It bucked her off when they went to try him, and 14-year-old Nicole's response? "Oh, I love him. We should totally buy him."
The horse was purchased … and was never ridden by Nicole's dad! It was this horse that taught the young rider that dressage was fun. "I watched the top event horses, and I remember walking the novice cross country courses hoping I wouldn't win because I didn't want to move up the levels to those advanced jumps. When I started to think that way, I started to look at the top dressage horses instead thinking well, I'd love my horses to look like that."
Owned by Nicole and husband Colin, Ferragamo was Queensland's 2021 FEI Horse of the Year (Image by Amy-Sue Alston).
Life started to get very busy for Nicole in 1990. Over the next three years, she finished her Bachelor of Arts, received her teaching diploma, married husband Colin, had their son, and purchased her first "serious" horse Landerlee, an unbroken Holsteiner filly. "While I was studying, I taught aerobic classes and gave dressage lessons and by the time I'd finished, I thought maybe I could make a living coaching dressage," she explains. "It was more flexible in the hours I could work. So I trained to do my EA Level 1 General and later Level 2 Dressage Specialist accreditations."
Since those humble beginnings, Nicole has gone on to train 12 horses to FEI level. All of them have reached the Queensland State Squad, a few made it to the National Squad and there were multiple State and National titles, as well as Horse of the Year awards along the way. Nearly all of the horses were bought unbroken and Nicole had to learn the hard way; training them up, moving them on and then starting again with something that had a little more natural ability. However, she only tried to break in one, after which she decided you really need a round yard and perhaps not a dressage saddle for such adventures!
Life throws ups and downs at you, and Nicole experienced the devastation of a career ending accident to her top horse Glencoe Manhatten during a Squad training session in 2007. Seeing how quickly one bad moment can destroy years and years of training, Linda and Beau Dowsett, her clients at the time, decided to take Nicole horse shopping in Germany, and what began with a tragedy turned into a sliding doors moment. "That started a whole different ball game for me," she remembers. "I sold all my horses to commit myself to Beau and Linda and had some wonderful, wonderful years with them and their daughter Danielle."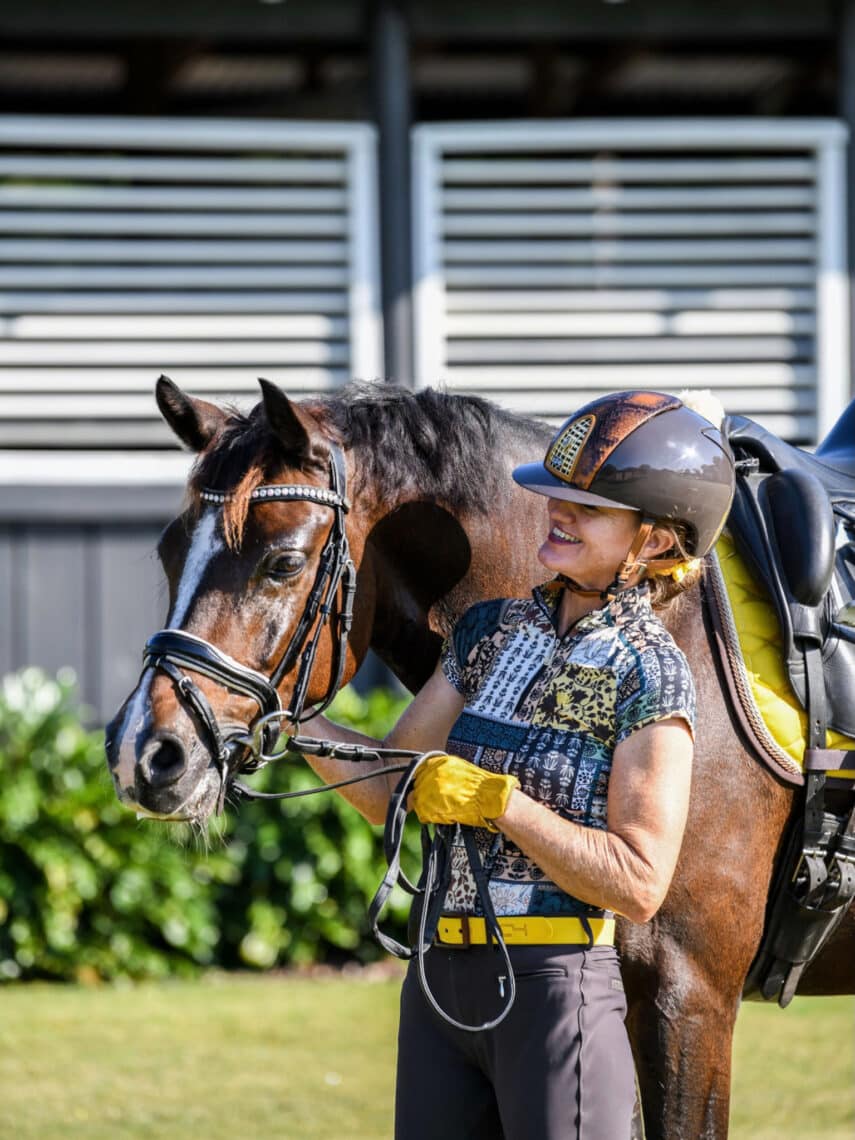 Dumbledore, a Rivermead Estate QLD State Talent Squad member and the first pony in Queensland to make an open squad (Image by Christy Baker Photography)
Nicole still remembers that first flight over to Germany: "We hit a random air pocket while flying over Afghanistan and the plane just dropped, and I thought, that'd be right, I get this amazing opportunity to help buy horses in Germany and I get shot out of the sky before I get there!" Happily, Nicole landed safely in Europe and after some training with Leonie Brammal, rode a multitude of horses in two weeks. Expat Robert Schmerglatt guided the Aussies through their buying experience and three horses were brought back to Nicole's for training: four-year-old Flavio; Dante, a five-year-old; and two-year-old Furst Tyme. "I didn't pick the fanciest horses," says Nicole, "I picked the horses I thought I could work with and make a difference with." All the horses made it to Grand Prix.
A real student of her sport, Nicole has always been committed to learning as much as possible, never resting on her laurels thinking she knew it all. Over the last 30 years, aside from perhaps the Christmas period, she's never gone a week without a lesson. For the past 12 of those years, her weekly coach has been Traci Baldwin with Matthew Dowsley traveling up from NSW once a month. "There are some months where I might have six lessons in a week, and every other week I'll have two or three with Traci." Nicole believes you can't get anywhere without a coach, without those eyes on the ground to stop bad habits creeping in.
Other influential trainers have been Hubertus Hufendiek, Edgar Lichtwark, Carlos de Cleermaecker, Clemens Dierks, and Di Jenkyn. Nicole was also fortunate to participate in masterclasses with Steffen Peters and Charlotte Dujardin. "There is a degree of control that Steffen has that really resonated with me. He said riders shouldn't do anything in the saddle out of habit." From the German-born Olympian, Nicole learned about extreme body control, never doing anything without a purpose and never without producing a response. Never using the rein, or putting the leg on, or giving a seat aid, without a reason.
Aboard Emma Weel's German Riding Pony Deveron Nintendo (Image by Christy Baker Photography).
It was Olympic gold medalist Charlotte Dujardin's mental strength while competing that astonished Nicole, and she quickly realised that you can't be a winner and be scared of losing. "Charlotte rides ten after ten after ten when there's huge pressure on her, especially after London. And yet she kept producing big scores. You can't ride for a ten in an extended walk if you're worried about breaking and getting a four. If you have that worry, you'll ride for a seven not a ten." There's no room for doubt in the competition arena.
But the biggest teachers in Nicole's life have arguably been the horses. "Every horse I've taken through is special to me," she says, "and every horse has had something to teach me whether I wanted to learn it or not." The Australian bred horse Cherenton Armani taught Nicole to never let a horse get test smart. Dante, with the help of Warwick McLean, showed Nicole how to get a horse in front of the leg. Furst Tyme taught her to be the courage he lacked: "Everywhere we went was Mordor!" she laughs.
Borsato, purchased in the Netherlands and owned by Tracy Bolt was perfection personified. He was brave, had talent to burn and always gave 100 per cent. However, Nicole tells me he could have "little brain farts" just before going into a test, and forget how to do the simplest of transitions, like walk to trot. German bred Faberge, owned by Emma Weel was born to be a dressage horse. "He was always, 'pick me, pick me, it's my turn to train!'" she recalls.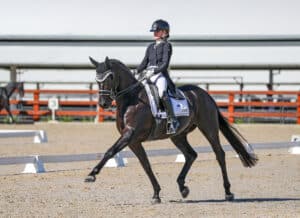 Competing with Ferragamo at this year's Tamworth Dressage Club event (Image by Amy-Sue Alston).
Emma and husband Paul continue to support Nicole and own one of two German Riding Ponies that Nicole has recently started campaigning. She explains: "They're bred to be miniature Warmbloods. They have all the movement, confirmation and character of a Warmblood, just in a smaller package. That's great for Australians because adults can ride ponies in Australia. A lot of us aren't tall like the Germans, or we're broken and can't muscle a big 17hh horse around." She says Emma's six- year-old pony Devron Nintendo is like an Eveready battery, while her own five-year-old, Dumbledore, is by Bundeschampionate winner Double Diamond.
Nicole continues to compete the big horses, the most recent special one being Ferragamo, which she and husband Colin imported from Germany. It was Ferragamo who was by Nicole's side during 2017, a tumultuous year when she was diagnosed with a melanoma that had to be cut out of her ear. The silver lining was the addition of a roof over her arena to protect her from the harsh Queensland sun.
Nicole with Florenz and owner Emma Weel (Image by Christy Baker Photography).
Quirky Ferragamo, along with Emma Weel's big moving Florenz, are Grand Prix contenders, and Nicole still happily travels the country from Queensland, to Willinga Park, to Melbourne to compete as well as support her team of students, who are like a big family. "I think your vibe attracts your tribe. It's important to me that we all support each other. It's a tough sport; our venues aren't up to standard and that can be frustrating, and so much can go wrong. I think we need to stop the tall poppy syndrome and instead build each other up. If I can't do that on a large scale, I at least do it on the scale I can," she says.
Work with the horses is now balanced with the job of grandma, a role Nicole was thrilled to take up in March. She's promised her son that she won't pressure her granddaughter to ride, but I'm sure one of those German ponies will come into the picture a few years down the track!
Nicole is philosophical of her life and career thus far: "I guess my biggest regret is that I wish I had ridden in my 30s the way I'm riding now in my 50s and that I wasn't as broken as I am. But then I couldn't have got here without the 12 horses that I learnt everything from." And the journeys on those horses also taught her to be the coach that she is today. That's a lot of tools in your toolkit.
Feature Image: Nicole and Emma Weel's Grand Prix contender, the big moving 9-y-o Florenz (Image by Christy Baker Photography).