It's all about attention to detail
Custom White or Ivory Cream Stock Tie with Rose Gold Piping and
Swarovski Elements. Finished with a stunning Pearl and Rhinestone Stock which can be
removed. RRP: $75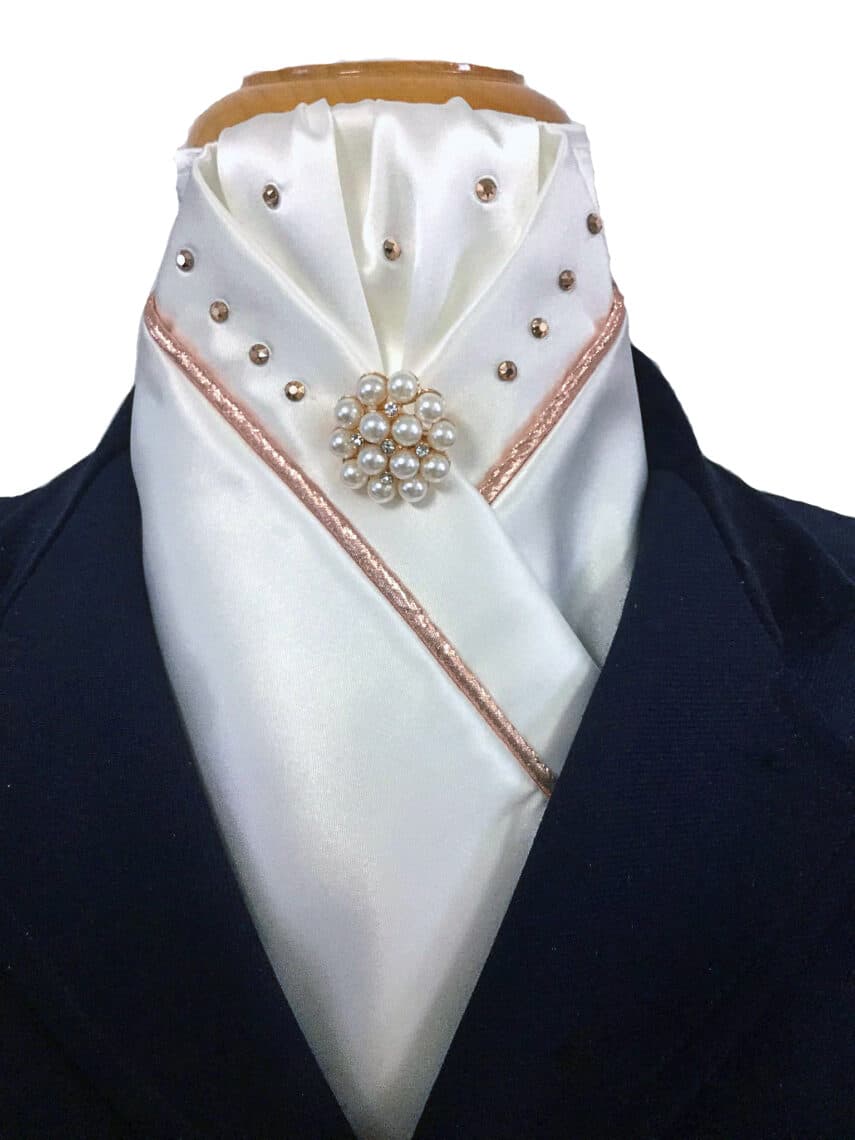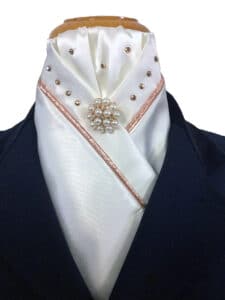 ThinLineis a thin, shock absorbing non slip breathable foam and is the only product endorsed by surgeons, master saddlers, riders and veterinarians. ThinLine is sewn on top of the high-quality cotton with medical grade sheepskin under the panels and at the front roll. Underneath the ThinLine layer is a pocket to insert shims to help with minor saddle fit adjustments. RRP: $399.95
Australia's favourite 'No Fuss' Mane and Tail detangler and conditioner spray. Gone are the days wasting hours of time pulling manes and wrestling with tangled hair and tails. Save time and frustration by using Australia's widely recognised hair de-tangler and conditioner – NRG No-Nots. This water-based grooming solution is free from harmful chemicals, simple and easy to use, and doesn't leave an oily finish on the coat or on you! From $20.80
NRG Proplaits keeps the hair manageable while plaiting and has a gentle yet firm adhesive quality that holds the hair in place without being tacky, and because its water based, NRG Proplaits simply washes off in water without any sticky residue.
Covered in luxurious velvet with sophisticated safety technology, theFian is the ultimate hunting and showing hat.
Luxurious velvet
Slim tan harness
Satin lining
Meets multiple safety standards
Perfect for general riding, showing, dressage and hunting.
The Charles Owen Fian helmet combines elegance and comfort, whilst complying with all the new regulations regarding safety standards for helmets in Australia. RRP: $395
Hairy Pony Taming Wax provides you with a long lasting, smooth, sleek & shiny finish to your plaits, bands & braids. This easy-to-use, twist-up, strong-hold plaiting wax is specially formulated with Bees Wax & Vitamin E to promote healthy hair & minimise damage during the styling process. RRP: $24.95
Exclusive Equetech® tweed show jacket in an olive green tweed with subtle brown and green over checks.Features flap pockets with concealed zip pockets, rich gold Equetech® jacquard lining, rich Navy collar and pocket jets and double back vents. RRP $265
Magictails® Shine Serum is highly concentrated product can be easily applied to give a shiny healthy coat or tail with long lasting professional results. Shine Serum is a grooming aid formulated to be used on domestic and show animals to maintain the coat, mane and tail. RRP: $22.95